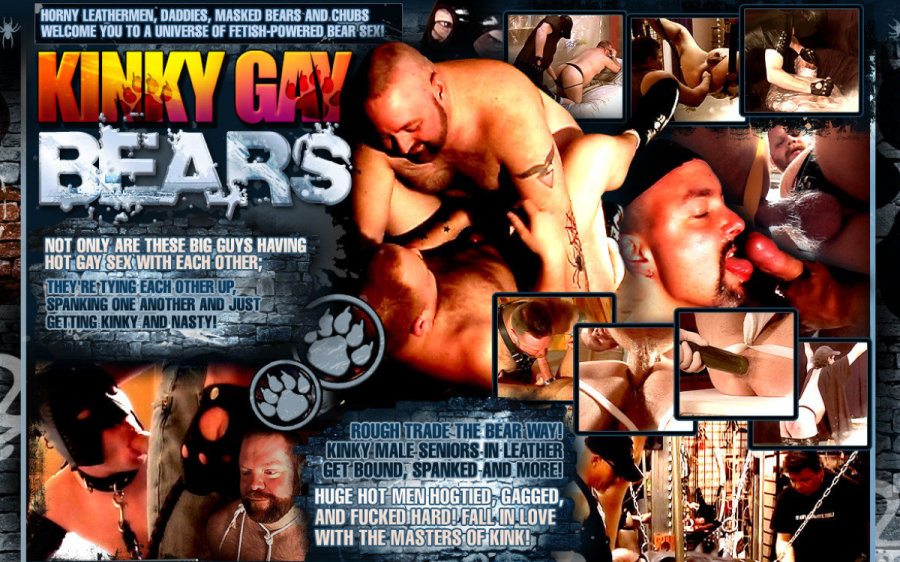 Kinky Gay Bears offers us a variety of hairy men, bears, daddies, and leather men in suck and fuck action with plenty of the scenes involving bondage, spanking and flogging, dildo fucking and ass play with other things, men mummified in plastic, and all kinds of rough play. We've never reviewed this site before, although we have looked at the other 8 sites in this network, so let's get inside and see just how kinky these bears really are.
There's a variety of men here from in-shape masculine guys to big-bellied bears with hairy fronts and backs. The men are on the mature side, so expect an over-thirty crowd with lots of daddies, doms, leather men, and plenty of men who look like truckers or rednecks. There's a good selection of bears and cubs here, but there are also other types of men ranging from average bodies to stocky or chunky builds. Just think about walking into a bear bar or party and all the different types of men you'd see there.
And these men like to play rough. In "Bear Ass Tag Teamed," a bear is restrained on a St. Andrew's cross in a leather gear shop while a bigger bear and a leather man work him over with dildos. In "Horny Bear's Craving Cock," a bald daddy bends over a construction horse in a workshop while his masked buddy fucks his big beefy ass; the top doesn't even take off his clothes, he just pulls his hard-on out of his jeans and pumps hole. I saw a couple of men wrapped in plastic and then their doms tease and edge their cocks. "A Feast for the Ass" has a man lying across a kitchen counter and his daddy top has an array of cucumbers, zucchinis, squashes lined up to use on his bottom's ass. And "Play with the Mummy" has a man wrapped in plastic then pushed on the couch where his dom throat-fucks him and plays with his dick.
The fun happens in bedrooms, living rooms, and kitchens, but the men also play in garages, basements, playrooms, and dungeons. Sometimes these doms use their cocks or dildos, but I saw one bear getting fucked with a wrench and a hammer handle - even a baseball bat - and I saw at least one fisting scene. So there's lots of ass play, and sometimes the bottoms are restrained or tied with rope, while others times they're not. There's corporal punishment, too, with floggers, belts, or gloved hands. Many of the men are masked, while others are not. And there's a good mix of duos, threeways, and up to five or six men in groups. Finally, the men wear a variety of clothing from leather and denim to nothing at all or jockstraps and wife beaters.
Kinky Gay Bears offers 44 videos and these appear to be mostly full scenes, although several were parts of a two-part series. You can download the videos in WMV format at 720x540 and as MP4s at 640x480 (the MP4s should be compatible with most mobiles). The videos are average quality or a little better and downloads don't use DRM, so they're yours to keep. You also can also watch them in a streaming Flash player at 720x540, and they play smoothly. Since the original videos aren't top-notch quality, they don't look the best in full-screen mode; they're watchable but the picture quality isn't very crisp at all.
Each video also includes a set of screencaps that display at 640x480, and they're decent quality for captures. You can view these in thumbnail galleries and save the pictures individually; as well, you can also enjoy them in a hands-free slideshow or download a zip file.
Now let's talk extras. As a member, you'll get full access to eight other sites in this gay network, including one with heavier BDSM action, another exploring the medical fetish with doctor and patients screwing in the exam room. There are a couple of sites with older men and another bear site; there's a cop site, one featuring double-penetration action, and another offers muscle jocks. There are also 15 bonus videos feeds and a collection of stories.
I didn't love everything about Kinky Gay Bears. While I did enjoy the good selection of videos, there are only 44 of them and they're all arranged on one page, which initially makes the site look much bigger than it is. As mentioned, not every video is a full scene - some are broken into two updates. The episodes aren't dated, but it doesn't matter because they aren't adding anything new to this one site or any of the other 8 sites in the network.
I like Kinky Gay Bears; there just aren't enough sites out there featuring bigger men in rough play. Some of the scenes aren't particularly kinky, like "Hairy Bear Threesome" that features a daddy and his cub sharing another hairy man's ass and throat, but others like "Domination in Gear Shop" have a beefy bottom worshiping his Master's crotch and boots before getting his ass strapped, then the Master sits back and plays with his own nipples while his big boy sucks him off. I was also quite happy with several of the bonus network sites that also featured bears, older men and cops in suck and fuck action as well as more rough play. Kinky Gay Bears and the network offer a good number of videos to keep you turned on during your membership, but without any new content, your stay will likely be short.
Click here to visit Kinky Gay Bears
---
Bookmark and Share
---