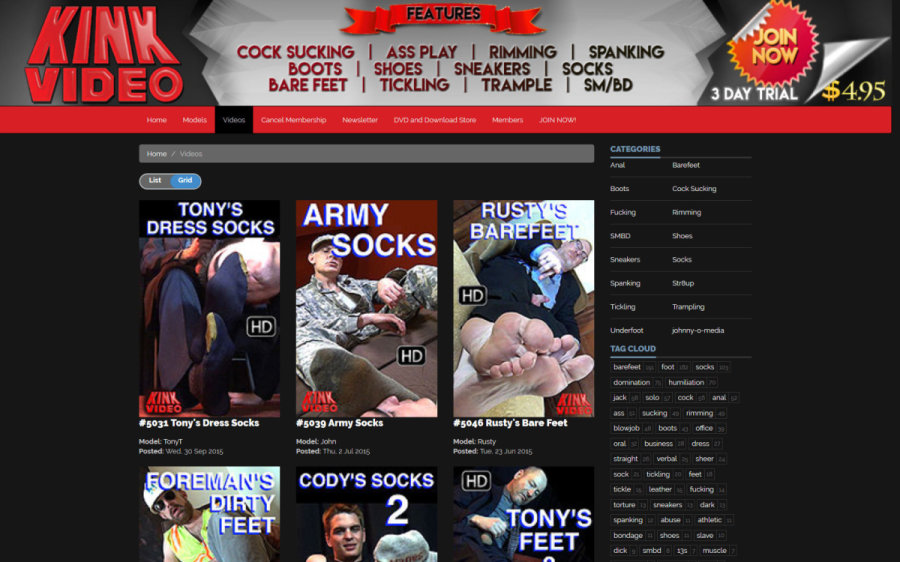 Kink Video sure does live up to its name with a horny variety of dirty action. While the site focuses on feet and foot play, there's plenty of cock sucking and anal action, too. But if you like boots, shoes, sneakers, socks, and bare feet, you'll get an eyeful of them here. We haven't visited this site for over four years, so it's high time we head back and see what's been happening.
There's quite a variety of guys on the site from twinks to daddies, lots of leather men and bad boys, some punks and skinheads and lots of cute guys and jocks. You'll find clean shaven faces and others with mustaches and bearded, and likewise the bodies come in all shapes and sizes and in hairy and smooth varieties. Most of the performers are amateurs, but I did recognize several porn regulars from years gone by including Andy Dill, Erik Mann, Frank Parker, Michael Soldier and others, but most of the guys are one-name unknowns.
The men here are primarily masculine with many in their thirties and forties. Tony T is a bald daddy who appears in quite a number of scenes. He's handsome and usually sports a couple day's worth of face scruff. He's got a hairy body and a decent-sized dick, which he enjoys getting serviced. But he loves having a guy work over his shoes and feet, both socked and bare. And Tony is quite dominant and vocal. In one of his videos he's playing an executive in a suit sitting at his desk and twenty-something comes in with some papers for him. "Is there anyone else in the office?" Tony asks. The intern says that everyone's gone home. "Okay then, you know what to do." The intern gets down on his hands and knees and worships Tony's shoes and then his socked feet, all the while the boss tells him what to do and how to do it.
When it comes to foot play, the guys worship all kinds of shoes from sneakers to dress shoes as well as boots and some guys smell and lick socked feet while others get dirty with a big pair of bare feet. There's a series of jack-videos called Underfoot that has us staring at each guy's soles while he jerks his cock. There's some trampling and tickling and there are even 20 videos featuring women servicing men's feet. There are 52 cock-sucking scenes, 45 rimming sessions and 17 others featuring anal sex of one kind or other with fingers, cocks, or dildos. In the tag cloud I see things like humiliation, office, tickling, leather, spanking, puppy, bondage, military, jockstrap, medical, voyeur and skater, cowboy, soldier and lots more, so there's quite a variety of fetish play here.
The videos here really get you into the action. The sock fetish content is a good example. They focus on men's feet in sheer dress socks and gold toes with enough closeups to get you into the sucking and licking as each man's socked feet are worshiped passionately. And you'll see the reactions of those men as their socked feet are treated to a soft tongue and a warm mouth. The same is true of the other sections, as the camera guys do a great job getting fetishists into the action. And there's no soundtracks to get in the way of the natural sounds, which make the videos all the hotter and more real.
Kink Video offers members 510 full scenes and most are more than an hour long. The videos are offered as streaming MP4s and their original size is 640x360, but they are shown in a player at 556x312. They're offered at two speeds and the one marked HD is definitely the better of the two, but it's not really HD. Still, the quality is pretty decent, although the older ones aren't as crisp and they come in around 416x312. There is a full-screen option and the newer scenes fare pretty well, while older ones have noticeable quality loss.
And the good news is that the videos are mobile compatible, and they worked on my Android phone (they hadn't during our last review four years ago) and Apple devices shouldn't have a problem since the site encoded the videos using the proper codec. The videos are not offered for download.
Since our last review, Kink Video has added scene descriptions, and while the older ones tend to be short, the newer ones are quite detailed. The site has also added an A to Z model index, so you can find more of your favorite guys. However, there's no description or profile information on most of them, just a picture of the guy and links to his movies. There are also 16 categories (sneakers, socks, tickling, trampling, fucking, spanking, etc) and a tag cloud featuring dozens of keywords to help you hone in on your favorite types of guys or activities like tops or cowboys and verbal or dildos.
And now the issues. Kink Video has taken care of a number of our past complaints like adding scene descriptions and a model index, but then they pressed the pause button. They haven't added a new scene in the past 16 months, which is too bad because the content is pretty horny. Nevertheless, it's still worth joining as you'll have a huge back catalogue of videos to enjoy. Also, as mentioned, the oldest videos aren't good quality, but even so the action is hot and the newer videos aren't bad at all.
Kink Video has a lot going for it. The foot play is top notch and there's a good variety of other things like ass eating, dick sucking, and of course lots of foot and shoe worship. There's a very nice variety of men including daddies over 40, leather men, skinheads and regular-guy type amateurs, many masculine, and there are some cuties and twinks, too. The site grew nicely to 510 exclusive streaming videos that are mobile compatible, each a full scene and most exceeding 60 minutes of horny play. Because there's so much and the action's so hot, despite the lack of updates, Kink Video is still definitely worth checking out, especially if you love male feet.
Click here to visit Kink Video
---
Bookmark and Share
---