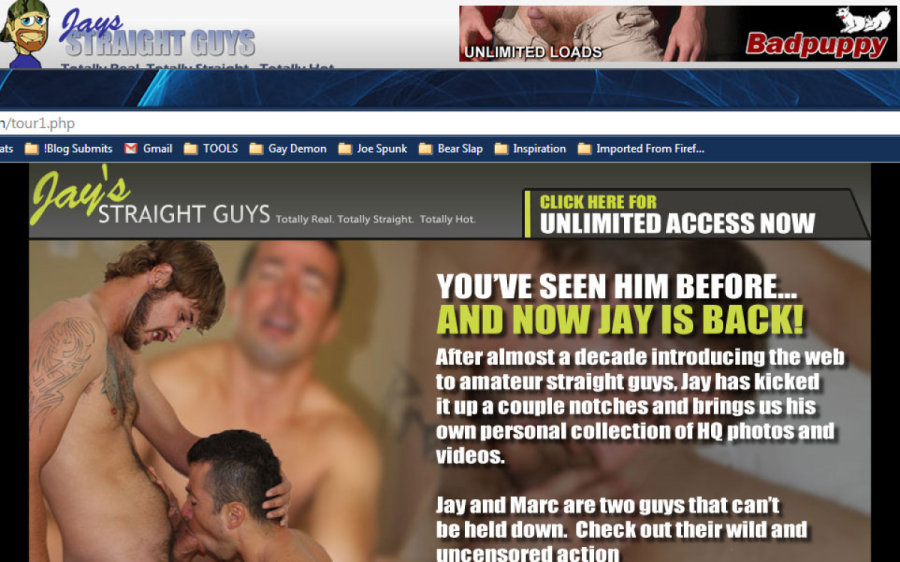 Jay's Straight Guys is a resurrection of an old site called Amateur Straight Guys, which was run by Jay and Marc. I'm not sure what happened to Marc, but Jay has created this new site. Jay and Marc ran one of the most successful straight guy sites back in the early years of the new millennium, so I'm anxious to see what's happening with this new venture.
The guys here are billed as both amateur and straight, and most appear to be the real deal although I did recognize one guy (Dominik Ryder) who went on to do quite a lot of porn. But they're mostly just regular guys that you'd see walking down the street, guys in their twenties varying from average to good looking. A lot of the performers have a blue-collar look, some a little redneck, the kind of bros you'd more likely find hanging out at the local watering hole than the gym. Jay seems to like guys with facial and body hair, so you'll find lots of those types on the site.
Bentley is a blond guy with shaggy hair in his mid-twenties. He has a fit body with some definition, he's furry with a big tattoo across his chest and he appears in four videos. Chad is a sweet-faced, 21-year-old guy who's a little twinkish, and he's also one of the few completely smooth guys on the site; he jacks off in one video. Jack is a sexy dude in his mid-twenties who wears short-cropped hair and a goatee, he's also hairy and heavily tattooed. He has a fit body, but lacks much definition; he has an uncut cock and big balls, and he appears in four videos. Roman is a fit and smooth guy with trimmed pubes, in his twenties like the others, he's clean shaven, cute, and he appears in a shower video. You get the idea.
Jay's Straight Guys brings us amateurs playing with their dicks and getting off, and most of them are doing it for the first time on camera. But there are very few guys who do the deed by themselves - Jay ends up sucking off quite a few of them, and many of the guys also get into side-by-side jerking and some stroke or blow each other. There's even a threeway that gets started in the shower and ends up with jerking and blowjobs on the bed. And while there's a preview video on the first page of the site's tour, there are actually only six videos with anal sex in the members area.
There are 49 videos on the site and they are available in streaming Flash and play at between 535x356 and 560x376, although there may be other sizes around this range. These are amateur productions with decent picture quality, but they aren't crisp or clear by today's standards, which means that the videos don't fare well in full-screen mode. The site gives you unlimited streaming, but the videos aren't offered for download.
Each episode comes with a gallery of 12 pictures. Some are screencaps at 586x338, and some are digital stills at 600x900. You can only view the pics in a pop-up slider with forward and back controls, so there's no hands-free slide show. There are no downloadable zip files, but I found I could download individual pictures by right-clicking a thumb and then "save image as."
Most of the drawbacks with Jay's Straight Guys revolve around not knowing more about updates. There are 14 more videos than there were 11 months ago, which averages out to just over one update per month. The videos themselves aren't dated, so there's no way to confirm an update schedule. The site's FAQ says they're updating a couple of times a month and aiming for weekly updates, but so far it doesn't appear that they have met those goals, and we can't be sure about current update frequency. Likewise, the FAQ says that video downloads are in the works but after nearly a year there are no downloads. While it appears the online community may be live, it requires a second sign-up and approval, which is still pending for me. There are also tons of randomly placed ads in the members area.
Based on the viewing sizes, which are small by today's standards, and the average picture quality, it appears the videos here aren't new releases. Having said that, one of the recent updates on the site features a 35-year-old man named Nathan who filmed videos when Amateur Straight Guys was operating back in 2000. And I found a page where Jay says he's putting up a "new lost video" every week, so it appears the updates are older productions that haven't been available for a while.
In spite of the site's drawbacks, if you like regular guys, many of them scruffy and blue collar, I'm still inclined to recommend you check out Jay's Straight Guys. I'm not a fan of plucked, polished, and perfect-looking guys, so if you're like me and you life furry guys with facial hair, tattoos, and bushy pubes, you should find these guys right up you alley. The site has added 14 videos in just under a year, now offering 49 vids total, and while these were shot some time ago, these are truly hot amateur guys, so I can forgive the site a lot. The memberships aren't expensive and there's certainly enough here to keep you turned on.
Click here to visit Jay's Straight Guys
---
Bookmark and Share
---