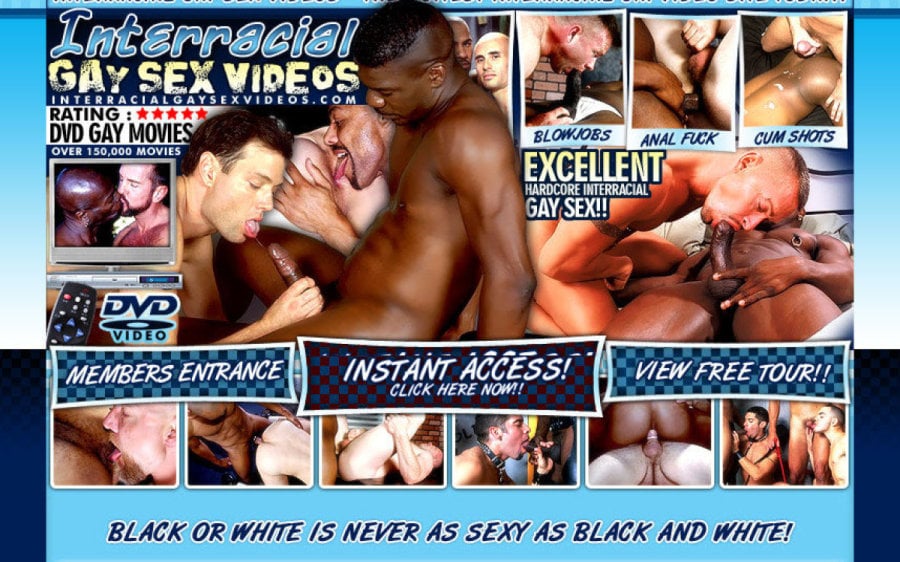 Hot ebony guys, cute Latinos, sexy amateur white men - they're all to be found at Interracial Gay Sex Videos. This site offers a collection of non-exclusive DVD movies featuring guys from different races who come together to cum together. You're going to find a wide range of models, from muscled hunks with smooth, ebony skin, big cocks and tight asses to cute and blond white guys with uncut cocks. There's a nice line up of Latin men, too - slim guys, chubbier guys, and we're talking mainly first timers. You'll find mostly amateur performers here, so no porn star attitudes, though several have porn star physiques.
We're looking at mainly two-way action in these scenes, with duos, one black and one white or Latino, and occasionally there's a threesome with two of one and one of the other. It's about mixing the races, and it's also about giving you variety: plenty of blowjobs, lots of anal, with the races swapping roles. You might also find the occasional black on black video, which doesn't quite fit this particular bill, but in for a penny, in for a pound. It's hardcore all the way, with varied guys in varied scenes.
Interracial Gay Sex Videos offered 146 videos when I was visiting. WMV and MP4 are the two file types in use, sized at 640x480 plus smaller sizes, and the quality varies with age. Naturally the quality and look of the newer movies is better than the older vids, which are below average quality or a little better. The smaller MP4 files should be suitable for mobiles, but not for full screen viewing. Movies are also available as MP4 clips and are there to stream in MP4, again at 640x480.
The scenes have a released DVD feel to them, like they've been taken from someone's video collection. Some have music playing all the way through. There is no information about them, apart from runtimes at around 25 minutes on average, and there are only basic descriptions. It's neat that you can take clips and full scenes, there are no DRM restrictions and the movies are easy to access and play. However the quality is variable and there have been no updates since 2014.
Now then, if you want bonuses, and don't mind straying from the interracial theme, then you do well with this membership. Okay, so things may not be exclusive and the quality may be variable, but you have 19 sites in total in the network and a drop-down list which changes the site without you having to leave the page or re-enter access details. In that list of sites you've also got Black Gays Hardcore, Hard Latin Gays, and Raw Black Gays, along with plenty of white guys, and men of all ages and types from smooth to hairy. There are also several transsexual sites and many straight sex sites, too. Additional bonuses come in the shape of 103 feeds, where the niches are varied and everything stays on a gay theme.
There are a few issues with Interracial Gay Sex Videos, some minor, some more serious. To start with, watch out for the two pre-checked offers on the sign-up page, as you will end up with two recurring limited trials to two other sites unless you uncheck them. When I logged in I was met with the latest updates, but they were all transsexual videos from another site, a kind of surprise advert if you like. (I didn't.) And talking of updates, this site has not added anything new since 2014. Don't expect the best quality here; these are scenes from DVDs, some of which look pretty old. Although there is a model index with some 95 guys shown, there are no stats and no information about them. You can rate scenes and leave comments but, again, there's not a lot of detail about the movies.
Interracial Gay Sex Videos offers horny black studs with white or Latin guys in a big mix-and-match of interracial action. The content is non-exclusive but it does stay on the interracial theme, and there are 146 videos that can be downloaded, streamed or played on your mobile. There have been no updates for some time, so don't expect any new content to be added to this site. You then have a wealth of bonus sites, some with shared content but with over 3,000 scenes promised, and the network as a whole does seem to be updating every day. There are good things and not so good things here, a kind of mix of light and dark, but then again, that's exactly what the site is all about.
Click here to visit Interracial Gay Sex Videos
---
Bookmark and Share
---