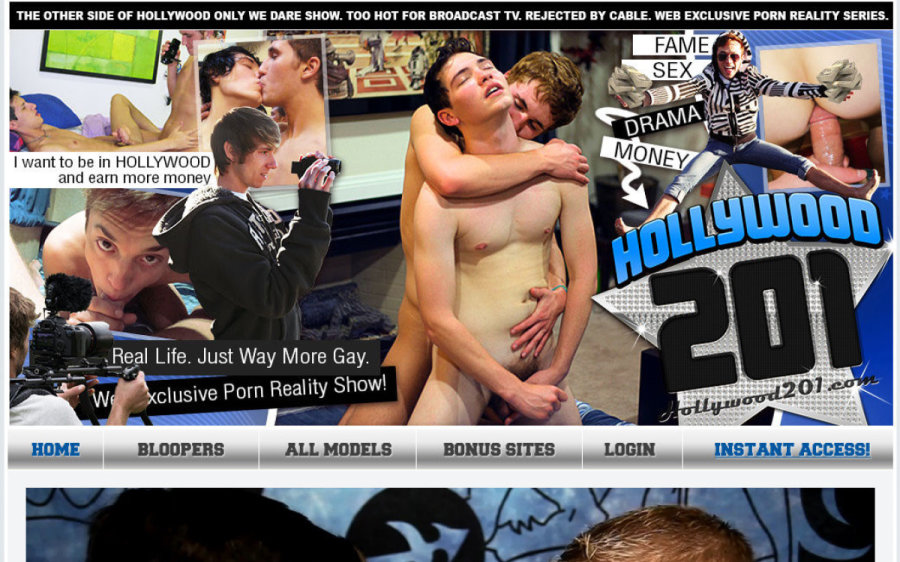 Hollywood 201 is a gay porn reality site subtitled "Real life ... just way more gay." Given the popularity of watching other people living their lives, wouldn't throwing in some real sex guarantee a runaway hit? Hollywood 201 is a porn site that comes the closest I've seen to the reality TV model, and yes - there's sex.
Twink porn regulars Ashton Rush, Jayden Ellis, Jae Landen, Brice Carson, Kayden Daniels, and Preston Andrews are the principal residents in a house, although there are a handful of others who flit in and out. The guys are opinionated with exaggerated personalities, and when you get this many drama queens in one house, there's bound to be trouble, antics, yelling, and yes, even pushing and shoving, especially when they start sleeping around.
There are 12 episodes, which they consider a season, but an episode is made up of several segments. Let me explain. "Episode One - Kain & Jayden Take a Shower" gets things off to a bang with Kain Lanning and Jayden Ellis swapping head in the shower, then Kain fucks Jayden. There's POV filming during the blowjobs and a stationary camera outside the shower records the fucking.
"Episode One - Rushing" introduces us to four guys who jump right into the drama. They each talk to the camera à la Big Brother's confession booth, filling us in on the latest goings-on. Brice Carson and Ashton Rush have been hooking up all through the first week, then Ashton goes gaga for Caleb Coniam, and the trash talk soars into the dramasphere. You get the idea.
"Episode One - Lizard?" has Brice Carson doing some singing, there's a kitchen debate over the content of Kool-Aid, Jayden Ellis and Kain Lanning have a dramatic fight after their drunken shower session, and Brice Carson and Krys Perez practice a dance routine and end up in a full-on brawl.
Between each main episode there are lots of short one to two-minute clips like one with four of the guys sitting at a bus stop heckling people in their cars; one guy catches another smoking in a second video (apparently he had been denying it); a third clip has Brice Carson defending his girlish wardrobe; and a fourth sees the guys trying to pick air freshener at the store.
There are 84 videos on Hollywood 201, but only 24 of them are between 10 and 30 minutes long. There are a few videos between five and ten minutes including a two-guy jerkoff session, and over 40 of the videos are short clips of only a minute or two. Only 14 of the videos include sex; the rest are interview reels, drama confessions, or short clips of antics like when a couple of guys draw on a sleeping guy's face with Sharpies, and the other scenarios I just described.
Each video is available at either 1280x720 plus two smaller sizes or 1920x1080 plus three smaller sizes. The quality is decent, especially considering that the guys are often using hand-held cameras with lots of moving from guy to guy. The smaller videos are mobile compatible, and there's a video for every device - your cell phone, tablet, laptop, and desktop computers. There are also good-sized streaming videos in the same resolutions as the downloadable videos. While many of the videos are good amateur quality, the sex scenes have an amateur look and feel, as if we just popped into the bedroom on one of the house cams.
There are also 45 picture sets. Some offer average to good amateur quality digital stills sized at 750x1000, and some of these pics are actually selfies. The sex scenes and some of the short clips have screencap galleries with as many as 200 pictures each. You can view the pics in thumbnail galleries, save them individually, or download each full set in a zip file. There are no slideshows offered.
The nice thing about Hollywood 201 is that it's a part of larger network that offers 12 bonus gay porn sites and several bonus video collections, and full members get access to them all. Expect plenty of twinks, some barebacking, and the bonus videos include hunks and regular guys. Altogether you get a total of 2,037 updates, and in the past two weeks there have been 12 updates, 11 of which included both pictures and video and one that was pictures-only. Members also get limited access to seven additional gay porn sites, each offering from two to five additional videos.
Unfortunately Hollywood 201 hasn't updated in eight months, so if you join, be aware that you'll have to rely on the bonus sites for fresh content. There's a pre-checked offer on the billing page, but it's easy to uncheck it if you wish. Trial members get limited access; a three-day membership can watch "up to six to seven" and a seven-day member can watch up "up to eigth to 10". Inside the members area, expect ads from all sides - I counted six ads on the homepage, one of which has a full sized trailer at the top of the page. One final caveat: Hollywood 201 lists picture updates and videos as separate updates, all in the Videos section, so the site's stated video count is inflated a bit.
I give Hollywood 201 full marks for creating something different. Some of the clips are fun and silly, some offer up masturbation or gay sex, still others are content only a reality show fan could love, but it's all entertaining. The sex videos really do feel like we had popped into a bedroom without the guys knowing we were there. The sucking and fucking felt natural and unrehearsed and was quite titillating, but I wish there were more of it. I also wish that the site hadn't stopped updating. Still, if you like reality TV and you're looking for something unique, Hollywood 201 might be up your alley. And with 12 bonus sites and even more bonus videos, there's plenty of content to keep you busy.
Click here to visit Hollywood 201
---
Bookmark and Share
---