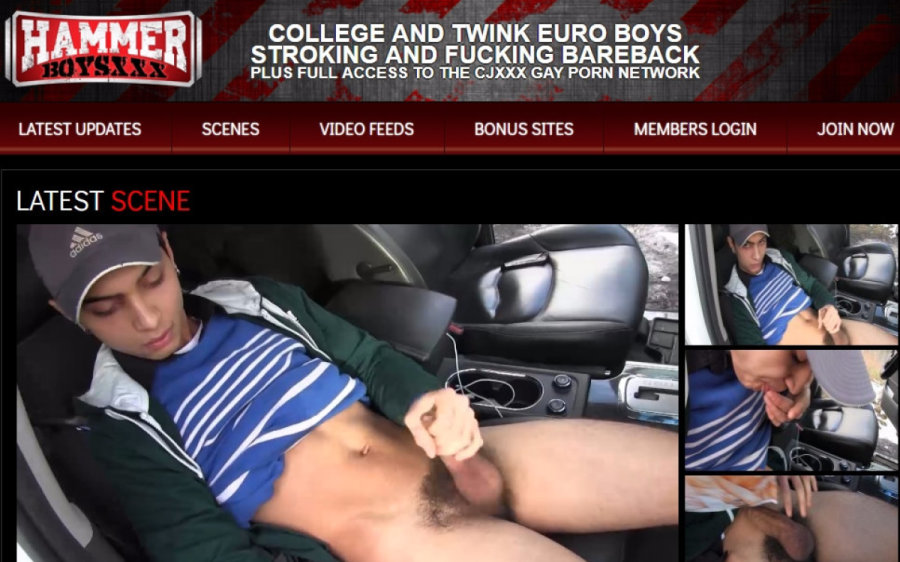 Hammer Boys is a European studio that films Czech, Slovak, German, and Roma guys in a mix of solo stroking and hardcore gay sex scenes. The guys here are cute, and they mix it up in indoor and outdoor sessions with no download or streaming limits. Hammer Boys XXX is a part of the CJ XXX Network, which sits at 32 sites now, and it's been a while since we've reviewed this one, so let's head back.

The guys on Hammer Boys XXX range from 18 years old to their early to mid-twenties, and as I mentioned, they're a mix of Eastern and Central Europeans. There's also a number of Gypsies, who are now more commonly called Roma and are not prevalent in porn, which makes these videos a little more unique. You'll find lots of natural bodies with untrimmed pubes or small patches of fur on their chests, as well as lots of smooth chests and bellies and some shaved pubes, too. Europeans are generally uncut, so foreskin fans will be happy here. Some of the guys are on the twink side with slender bodies, others sport athletic physiques, some with nice definition.

You'll find amateur first-timers here, as well as some established porn performers. Unfortunately, Eastern European performers like to confuse us by using different names for each studio, so I recognize more faces than I do names.

The action is a close split between solo strokers and hardcore fuck scenes. There are just slightly more solos where the guys play with their cocks or sometimes use sex toys. One video that I watched featured a cute lad sucking on a red dildo, then he jacks his thick uncut cock and fingers his butt hole rather vigorously; he finally shoves the toy inside and jerks and fucks himself until he comes. Sometimes a hand appears from off camera and helps out the masturbator, giving him a handjob until he cums, but lots of guys are alone from start to finish.

The action videos are full scenes featuring horny duos; there are a couple of exceptions, and these are group scenes that are broken into multiple updates. In the duos the guys suck and fuck in both indoor and outdoor sessions, and some of these latter scenes happen in nature settings or cars. Sometimes the guys fuck bareback, and in others they use condoms. And sometimes the action gets a little kinky with ass play involving both fingers and sex toys; a few of the scenes have guys pissing on themselves, and there are some military-themed sessions with guys in gear playing against camouflage backdrops.

There are 211 videos in the Hammer Boys XXX members area.The videos are DRM-free and offered in MP4 format in two downloadable sizes. The SD videos play at 640x360 (good for mobiles) while the HD are larger at 1440x1080, and these are average to good amateur quality. You can also stream the videos in a 614x346 player and use the optional full-screen feature, although some videos fare better than others.

There are also 243 picture sets. These are screencaps sized at 1440x1080 at average quality, and you can view them in thumbnail galleries. The picture viewer has forward and back controls, but there's no hands-free slideshow. You can save the pictures individually but there's a technical glitch that requires you to rename each pic since they all have the same name, so it's easier to download the zip file.

Your membership gives you access to the 31 additional sites in the CJ XXX network. These feature a mix of American, European, Latin, and Asian guys mostly in their early to mid-twenties, and there's lot of bareback sex. As well, a couple of sites offer mature men and daddies. You can also watch more videos in the included 66 third-party video feeds featuring a variety of gay porn niches, and there's also a bonus theater with another 1,000 videos.

Unfortunately the site is no longer adding new content, although they are recycling updates so the release dates make it seem new content is being added; in reality, they take older videos and re-date them. The other thing to mention is that the non-recurring membership option costs $20 more than the monthly, but since it's easy to cancel a recurring membership there's really no need for you to spend the extra money, even if you don't plan on staying. And as already mentioned, all the pictures have the same name; if you save individual pics, you'll want to rename each photo or you'll overwrite them.

Hammer Boys XXX features sexy, horny European guys, and there's lots of uncut cocks, so while I enjoyed watching them suck and fuck each other, I also got turned on watching them stroke their foreskinned dicks, especially when a considerate producer helps them to a creamy finish with some handjob action. There are 211 videos to download, stream and watch on your mobiles as well as some pic sets. While the site has stopped updating and is recycling updates, there are 31 other sites in the same network and you get access to all of them along with 66 third-party video feeds, so you won't run out of horny stuff to watch for quite a while.
Click here to visit Hammer Boys XXX
---
Bookmark and Share
---