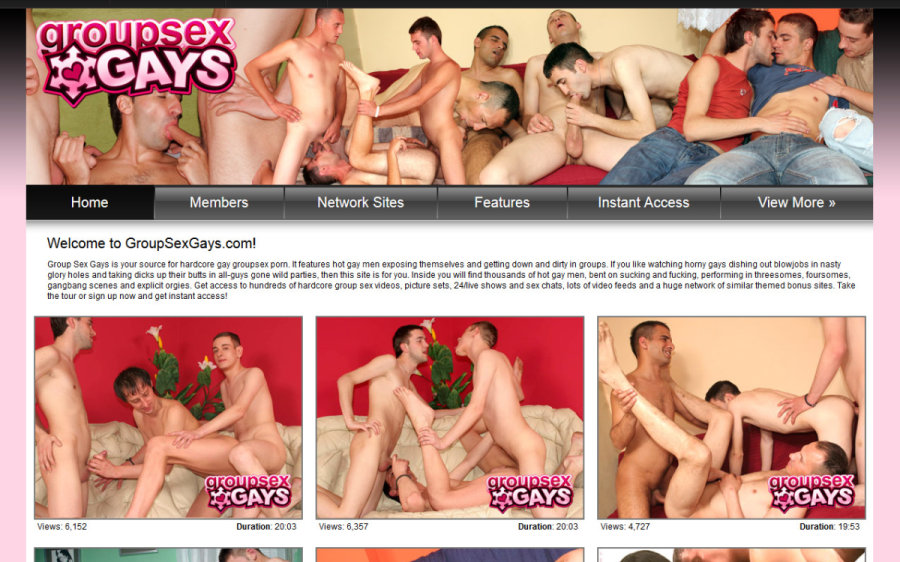 Group Sex Gays offers hardcore threesomes and foursomes plus some larger group action. The performers are a mix of mostly average guys, twinks and jocks, black studs, Latin guys and hunks - pretty much the type of variety you might find on the street or at the store, although I'd say there are more regular dudes than any other type. Ages here vary, but most of the guys are between 19 and their early thirties. While there's a lot of smooth chests, there are lightly fuzzy guys plus some who are nicely hairy all over. Some of the models have a trimmed beard or tattoos, there are both cut and uncut cocks, and there are some performers who are muscled, others who are slender and a couple guys with a few extra pounds on them.
Not surprisingly, most of the action here is group sex. There are plenty of threesomes, a fair amount of foursomes plus the occasional group of 5 or 6 horny men, not to mention some duos. You'll find some bareback sessions, as well as black-on-white interracial action, threeway suck sessions, spit roasting and bottoms who take on two or more cocks at one time. You'll find group jackoff sessions that end with one guy catching several loads of cum. Most of the scenes are indoors, but I did run into a few outdoor sessions, as well.
Group Sex Gays offers 154 DRM-free videos. The newer vids are offered in MP4 and WMV formats; they're sized at 768x432 and shown at good amateur quality. There are a couple smaller WMVs available, as well as a smaller MP4 for mobile users. The newer videos are downloadable full scenes, and there are WMV clips available, as well. The older videos are available in 2 sizes in MP4 format, the larger version sized at 640x480 at amateur to fairly good amateur quality, and the smaller sized for mobiles. All vids are available to stream for those who don't want to download them. Some vids that fall between old and new have small WMVs and larger MP4s. I believe the videos here are ripped from gay DVDs.
Many of the videos comes with pic sets. Some contain good amateur quality digital stills sized at 683x1024 while others contain fairly decent quality screencaps sized at 720x480. All the galleries include downloadable zip files, as well as hands-free slideshows in case you want your hands free for... er... other activities.
Let's talk about extras. This site is part of a network that contains 17 gay, tranny and bi sites in a variety of niches, as well as over 60 straight and bisexual porn sites. And if you want more, there are 33 gay and tranny porn feeds, as well.
Before we go further, it's important to know that this site does not update, and hasn't added new content since 2012. And let's take a look at the other issues. The first thing I ran into when I went from the site's warning page to the tour was a pop-up, and it popped back up each time I went to the join page, as well. There's a pre-checked offer on the billing page that will sign you up for an additional site's membership if left ticked. While this site's terms don't say the trial membership is limited, I believe it could be, and the trial recurs at $10 more than the cost of the monthly recurring membership. One last thing worth mentioning are the claims on the join page. Daily updates, gay group live cams, huge video collection? While they might be referring to the entire network, it's obvious they're not talking about this site.
Group Sex Gays offers horny guys in hardcore groups including threeways, foursomes and moresomes, as well as some duos. There are 154 downloadable videos, and streaming and mobile versions are also available along with over 100 photo sets. Unfortunately this site stopped updating a while back, but members do get access to a nice selection of gay, tranny and even straight bonus sites and feeds. While this site does have some issues, and is not the place to find porn stars or models, Group Sex Gays delivers average guys (and some hunks and twinks) in hardcore gay sex, including plenty of group action.
Click here to visit Group Sex Gays
---
Bookmark and Share
---