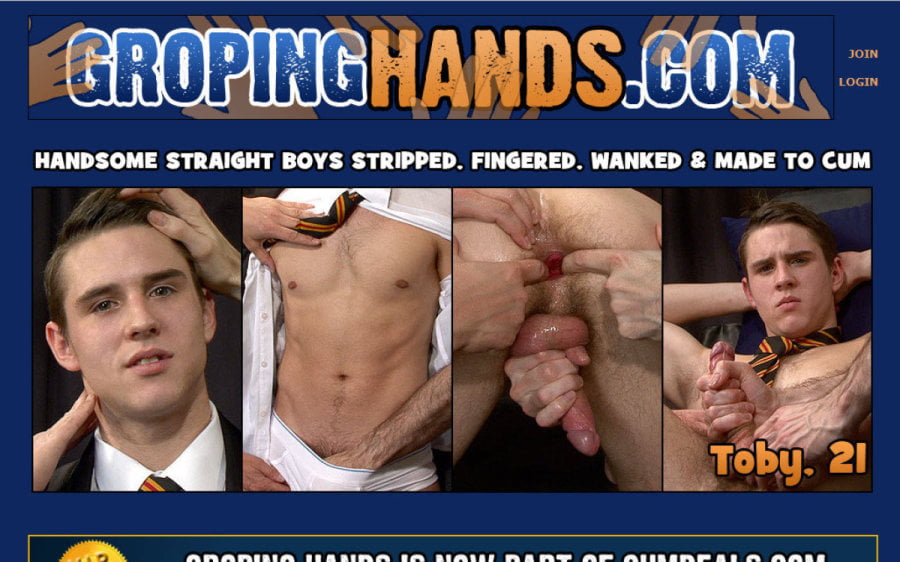 Groping Hands features amateur British straight guys who agree to be touched, rubbed, fondled, fingered, poked, and stroked off. They are the center of attention while two men strip them naked, paw their bodies, finger their butt holes, and finally, wank their hard dicks until they explode. The concept of the site is easy, yet it's pretty hot, too. It's been well over two years since our last review, so it's time to head back for a fresh look.
The guys at Groping Hands are straight British guys in their twenties, and they're mostly amateurs although many of them appear on other sites operated by this company and a few you'll recognize from other porn sites. There's not a particular type of guy here; they range from near twinks to muscled jocks. Sean is a blond footballer who's Irish and 23 years old with thick thighs and a furry body. George is a 28-year-old construction worker with close-cropped hair and a tattooed body. Bobby is a blond, 18-year-old school boy who's innocent-looking, handsome and slender, and he sports an average-sized dick. Wayne is nearly 30 and he's a footballer, one of the few non-Brits on the site and hails from the Czech Republic - he's tall, lean and smooth and sports a pretty big dick.
Most guy's sessions are divided into three segments. The first is called "Touched Up," and this is where two sets of hands touch the guy's face and hair, rub his clothed body, and begin stripping him, then continue rubbing and fondling every inch of his naked body. The guys have a variety of reactions from looking as if they're going to giggle to feeling uncomfortable, maybe even a little humiliated. Some even look a little bothered or pissed off when their cocks betray them and stiffen up.
"Deflowered" is the second part of each session, where a guy's uncut cock and ass are fondled and fingered. And in many episodes, anal toys like butt plugs and dildos are used. The final video is called "Manhandled" and this is where the guys are finally jerked off. Some of them try to cum without making a sound because they don't want to admit that they're enjoying a man's hand on their cock. Some of the guys have a "Stripping" video as well, where they introduce themselves while they take off their clothes, but not of the guys do; also a few of the guys don't submit themselves for a handjob.
Groping Hands offers 60 full episodes. There are no full scene versions offered of the videos, but each of the guys has his session offered in two to four parts that are available in one size of WMV. Depending on the age of the session, these will play at 720x540 or 480x360. The videos are offered in streaming Flash as well at 640x480 or 640x380. The vids are good amateur quality with some excellent close-ups of the guys and their bodies. There's just one camera angle, but you won't miss a single body part.
Each full Groping Hands episode comes with a photo set that contains between 100 and 150 screen captures. These are good quality (for screencaps), and the action is caught pretty well. The images are sized at between 900x675 and 1200x675 depending on the set. The photos open in a script-based viewer that lets you navigate through the pics via "next" and "previous" links. Unfortunately there is no hands-free slideshow or downloadable zip files, but you can save the pictures individually by right-clicking each thumb and saving as.
Every episode comes with a brief model description and some basic stats. There's also a description of every part of the scene, which has been written from the groper's perspective and gives you a good idea of how they experience the sessions. Some of the groped guys share about their experience at the end of the video after they've shot their loads, but not all do.
Are there any issues? As previously stated, the site is no longer updating. I was disappointed that there is only one size of video offered in each session, so don't expect special versions for slower bandwidths, and there are no mobile-compatible formats offered. While the site looked okay on my Android tablet, I wasn't able to watch the videos; I had to use my desktop computer. While the tour is accurate about the number of sessions, their claim of 769 videos is exaggerated even if you count each session's parts and the streaming version as separate videos. Last, when joining, you'll be charged a $1.95 processing fee.
Groping Hands is a reality-style gay porn site with a unique concept that offers 60 exclusive videos that you can download or stream. While I was disappointed that there won't be any more updates, it's a turn-on to see these cocky straight guys realize that their bodies and hormones can easily betray them. I enjoyed watching these self-confident, and often tough, straight lads humiliated as they're groped, stroked and deflowered and made to cum by total strangers.
Click here to visit Groping Hands
---
Bookmark and Share
---