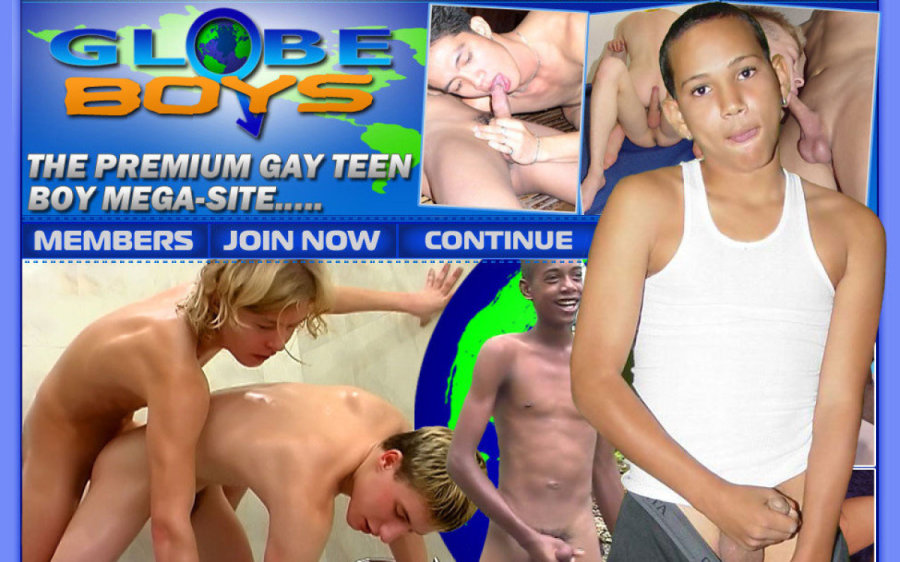 Globe Boys a variety of types of guys. The performers include lots of white and Asian twinks, jocks and amateurs as some chubs, black men, Latinos and a few daddies. While the focus here isn't on twinks, the majority of the guys are between 18 and 26, and many have slim, average or athletic bodies, and while there's lots of smooth chests, I found a fair amount with natural body hair. Some of the performers are quite attractive, others are "regular guy" types, and some fall somewhere in between, and you'll find a mix of cut and uncut cocks in all sizes.
You'll find both hardcore and solo action here, the newer vids mostly hardcore and the older with more solos. The gay sex scenes are mostly duos with some threesomes thrown into the mix. There's kissing, cock sucking, ass eating and of course lots of fucking. Some of the sessions include dildo play, cum eating, facials, inter-generational or interracial action. There are indoor shoots on couches, in beds and bathrooms, and there are some outdoor sex and masturbation sessions, as well.
Globe Boys offers 139 videos in DRM-free MP4 format. These are offered for download at 640x480 or 640x360 plus one smaller size, and both sizes will be compatible with most mobiles. There are also streaming versions offered in two sizes each. The videos are average to good amateur quality at their original sizes, but since they're not very big, you can expect a loss of sharpness and clarity if you enlarge them to full screen; still, some hold up pretty well.
There are also 304 picture sets. Some sets (165 of them) are standalone sets of average to good amateur quality digital stills offered in a wide variety of sizes from 512x640 (the oldest) to 1704x2272 (pretty old), as well 667x1000 (newer) and more. All but two of the videos come with sets of screencaps sized at 640x360, 640x480 or 720x480, most at average quality. Each picture set can be downloaded as a zip file or you can save individual pics; while there are no slideshows, you can easily navigate from pic to pic using the arrow keys to the left and right side of each photo.
Using the video dropdown menu and choosing Globe Boys lists 306 scenes, but not all these "scenes" are videos; 139 of the oldest are standalone picture sets with no vids, so they're not really scenes, and there are 28 additional standalone picture sets scattered through the newer scene listings.
Globe Boys is part of the Britains Boys network, which means full members get access to 12 bonus sites and a total of over 1,200 videos and 627 photo sets. Most of the content inside the network feature twinks, Brit boys and Latinos, plus more variety in the 38 included bonus videos. You will also get limited access to seven more gay porn networks from the same company, which means you can only watch only the most recent scenes for each network (one to three each) before you need to buy an additional membership.
Now let's talk about issues. First, the site no longer updates, but don't worry, as the network adds three to five updates each week. There's a pre-checked offer on the billing page that, if left checked, will sign you up for a second site membership when you join Globe Boys, but it's easy to uncheck. Trial members get limited access; as it says on the join page, "7 day membership will be able to view up to 10 - 13 films during the trial period". There's no mention of whether trial members get download access or only streaming. By the way, at the top of every member area page is a large ad with a trailer, and at the page bottoms are two rows of thumbs that are actually an ad for a live cam site.
Now let's talk about claims. The tour offers high resolution videos, but that's not what you'll find inside this site where the vids are smallish and average quality, although some of the bonuses offer good quality, full HD vids. And the focus on the tour is slim 18 and 19 year old boys, but there are a lot of guys in their mid-twenties or older in the member area including somewhat hairy guys, some chubs and a few daddies. Also all the latest updates feature American guys according to the tags, and there's usually no mention of where the guys are from in the videos and no real focus on an international collection of performers.
Globe Boys features twinks, jocks, average guys, amateurs, chubs and a few daddies in a mix of hardcore and solo action. Most of the performers are a mix of white and Asian guys, but there are also some black studs and Latinos. There are 139 videos to download, stream and watch on your mobile, each with a set of screencaps, plus 165 standalone photo sets. While the site no longer updates, full members get access to 12 bonus sites and three to five weekly updates plus limited access to seven more gay porn networks. While the videos here are probably older DVD scenes, overall the network offers enough updates and content, including some sites with HD videos, to make a membership a good value.
Click here to visit Globe Boys
---
Bookmark and Share
---