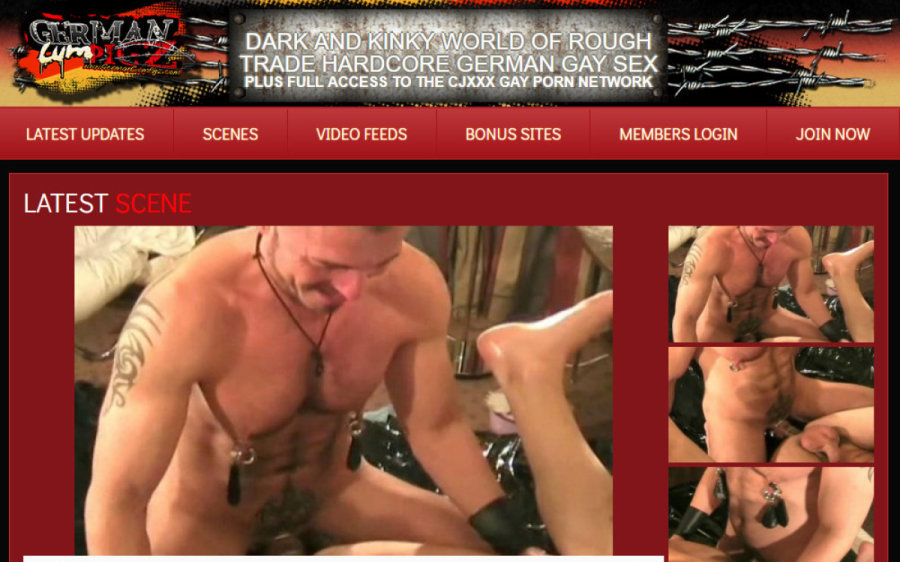 I love German men. They usually have uncut cocks (foreskin is one of my fetishes), and they're often well-hung. I also really love skinheads, so German Cum Pigz is right up my alley. I found lots of skinhead types with shaved heads, faded jeans with suspenders, and combat boots. But the site also offers a nice selection of younger guys in their twenties and mature men (many with facial hair) with a variety of looks from slender to muscle men. There are also quite a few tattooed and pierced performers. Not all of the men on this site are German - I know for a fact that Cristian Torrent is British; another guy is French, and a third I spotted is Spanish, but for the most part the site does seem to feature German men.

Most of the action takes place in bedroom settings, although there are a few movies filmed in bars or dungeons as well. Most scenes feature duos in suck and fuck action. There are some hot and nasty barebacking scenes, but there may be condom sex, too. You'll find some fisting, threesomes, dildo fucking, and ass play action, but this isn't specifically a fetish site, and I even found some men stroking their cocks solo including an oiled up and super masculine Cristian Torrent. I watched a kinky scene where the men stay dressed, and all the sucking, rimming, and cumming happen through holes torn or cut in their clothes. There's a lot of variety here.

German Cum Pigz offers 100 video updates. Many are full scenes, but some updates are only part of a full scene, so there are probably closer to 75 full scenes. The videos are DRM-free MP4s, the downloadable versions sized at 540x360 and 720x480 at decent amateur quality; both sizes are compatible with most mobiles, and the smaller size is compatible with most older mobiles. And for those who prefer to stream rather than download, the videos are sized at around 620x454, although the player is a bit larger. These also look decent, but expect a definite loss of sharpness and clarity if you enlarge either downloadable or streaming videos to full screen.

German Cum Pigs also offers 124 picture sets. I'm not sure why there are more sets than videos, so some of these could be from another site in the network. Some sets offer up good amateur quality digital stills, while others have average quality or below screencaps. You can view the pics in thumbnail galleries. There's no hands-free slideshows, but there are forward and back controls on the picture viewer. There are zip files, and you can also save individual pictures if you don't mind renaming the files to get around a technical issue, but it's easier just to download the zip files.

German Cum Pigs is part of a gay porn network, so members get access to 31 bonus sites. Many of these are twink sites, and you'll find Latinos, amateurs, straight guys, and several Asian fetish sites, as well as another site with masculine, older men. All in all, there's plenty of content, and if you want more, there are 66 gay feeds in a variety of categories. You'll find the feed versions of sites like Falcon, Jake Cruise, and Treasure Island Media, and some of the feeds update as well. There's also a bonus theater with 1,000+ videos in a variety of niches.

My main concern here is that while the newest videos show weekly updates, the site hasn't grown any larger; in fact, there are four fewer videos than there were just over a year ago. We call this recycling updates, which means that the site is removing older videos, then adding them again with new update dates. Another downside is that the non-recurring membership costs a full $20 more per month than the recurring version; since you can easily cancel the recurring membership whenever you want, I don't see an advantage to spending the extra $20. There's no model profiles or info and no clickable model names. And I'd have liked to see bigger, higher quality videos.

There is a free-form search field in the members area, but it's of limited use as it only searches words that are in a video's title or description, and these aren't very detailed. And something else I didn't care for is that these searches give you results found throughout the entire network, not just German Cum Pigz. There are also no tags or categories to help find similar content.

The men and the action at German Cum Pigz lived up to my expectations. I watched lots of raunchy German guys having sex, and I found the dicks are mostly uncut and good-sized, the fucking was hot and the cumshots were juicy. There was enough raunch and fetish sex to keep my dirty side turned on but not so much so that non-fetishists would be turned off. The site has 100 video updates to download, stream, and watch on your mobiles, 124 photo sets, and while updates are now being recycled, there is a good-sized collection of bonus sites and feeds to keep members busy. Also, several of the bonus sites update weekly with fresh content. While I'd like fresh updates and better video quality, those who like real amateur content, German men with uncut cocks and raunchy sex could find German Cum Pigz is worth a look.
Click here to visit German Cum Pigz
---
Bookmark and Share
---