Gemini Men
27 May 2019 Score 84 / 100 geminimen.com Not Mobile friendly
---
Videos

4 stars

Pictures

3 stars

Unique

5 stars

Size

4 stars
4 stars

Cost

4 stars

Updates

4 stars

Usability

4 stars

Claims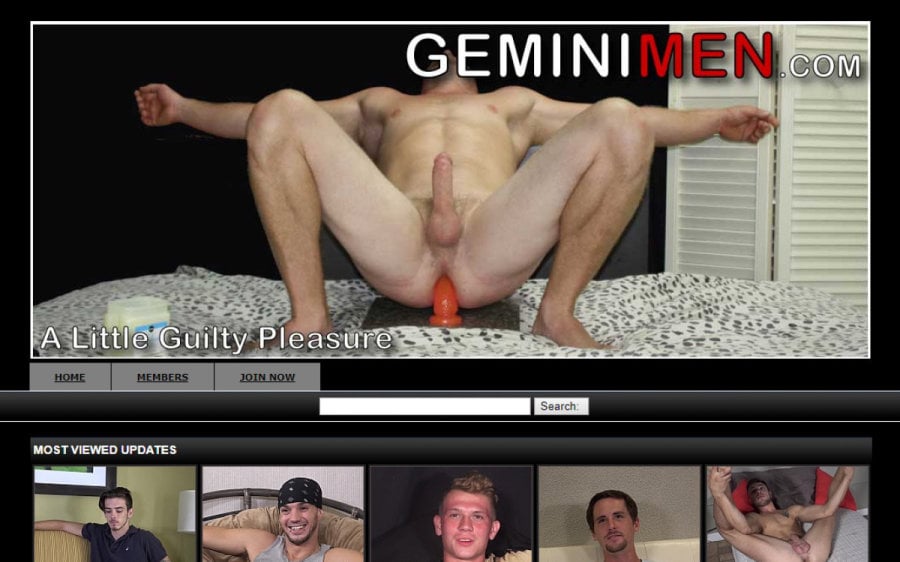 Click here to visit Gemini Men
Introduction to geminimen.com
Gemini Men features 100% exclusive and anally-oriented homemade videos of straight guys jacking off and exploring their butts with fingers and dildos plus some gay sex and lots of helping hand action. Nearly 1,000 videos to download, stream and watch on your mobile, and a new video is added weekly. Real amateurs, lots of ass play.
Video info
Videos offered for download and streaming
990 exclusive videos. Newest: MP4s at 1280x720 at good amateur quality plus smaller 3GP and MP4 version for mobiles. Newish vids also available in WMV format. Older: WMVs, MP4s and QuickTimes at 640x480 at decent quality plus 3GPs for mobiles. Streaming available. No DRM used.
Picture info
990 picture sets. Pics are amateur to good amateur quality screencaps sized at 640x480 (older) or 1280x720 (newer). Slideshows available, no zip files offered. Pictures can be individually downloaded. 100 pics per set.
Site issues
4Gb per 24 hour download limit.
Membership cost of Gemini Men
Monthly: $24.95 (recurring every 30 days)
Monthly: $34.95 (30 days, non-recurring)
Gemini Men Review
Gemini Men has been around for over 12 years, and it's a breath of fresh air. While many sites try to sell us supposed straight guys, the guys at Gemini Men are mostly the real deal, and they're definitely real amateurs. Gemini Men loves bringing us guys who are discovering and exploring their butts, usually for the first time, but it doesn't end there - these guys get into all kinds of action including sucking and fucking. This site is one of our favorites, so we're always happy when it's time to do a new review.
You won't find porn stars and adult actors at Gemini Men. These guys are mostly previously unfilmed amateurs, although some come back to do more than one shoot; in fact, some come back over and over. What I liked best is that the guys are regular Joes; you'll find construction workers and blue-collar workers, skateboarders, surfers, jocks and athletes, alternative dudes, rednecks and the guy next door, all looking to make a bit of cash and explore their curiosity.
The men range from 18 to 40 years old, but most fall somewhere in their twenties; they're in good shape with regular bodies. Most of them don't spend hours at the gym (lots don't work out at all), and there are hairy guys and smooth, some with tattoos and many with hairy armpits. Some of the guys are more well-defined, and some definitely work out. Expect clean-shaven guys as well as those with a variety of face scruff, lots untrimmed pubes, calloused hands and even dirt under their fingernails. Think of the kind of men you might find at a Home Depot on a Sunday afternoon.
The owner of Gemini Men loves filming straight dudes as they discover that playing with their assholes can be fun. The audition videos start with Mark interviewing the men - first sexual experiences, turn-ons, and if they've had sex with guys - all the while getting them to strip out of their clothes and get comfortable being nude in front of the camera. They continue talking, and Mark throws out the odd instruction like, "bend over and show me your ass" or "spread your cheeks". The guys get so comfortable with the easy-going, nude chitchat that they take their cues and do what the director asks. The audition videos end with the guys jacking off and shooting their loads.
Some guys come back for future sessions where they finger their asses, play with butt plugs and other toys; others return to try sex with another guy. But there's not heaps of guy-on-guy anal action, there are 82 videos under the Fucking category, but there are plenty of sessions where guys play around in other ways than anal sex. There are also some duos where guys give each other handjobs, suck each others' dicks or jack off together. The other videos are jack-off auditions or dildo fucking and masturbation solos, and the site owner is often willing to lend a helping hand, but this site is mostly about guys discovering how good their butts feel.
Let's look at a couple of the guys and their videos. Link is a handsome guy with a hot athletic body and a big dick. He's also one of the site's most prolific performers with 54 videos in his library. In his latest video he gets his cock sucked by a recent newcomer to the site, and in another recent session, he shows off his hairy pits, then shaves them. He's done butt play videos with toys, jack off videos, fuck videos and more. And one video sees him blowing a pair of Russian brothers. Link has bottomed and topped, and he's pissed on a guy in the shower. Kyle is the most popular guy at Gemini Men, and he's appeared in 62 videos, topping a number of guys and bottoming or flip-flop fucking, as well - sometimes bareback. He's also appeared in piss videos, bones a fuck doll, and has done it all.
Gemini Men has grown to 990 exclusive, DRM-free videos. The newer videos are good amateur quality full scenes offered for download in WMV and MP4 formats at 1280x720 plus small 3GP and MP4 versions for mobiles, although newer mobiles should handle the larger MP4s, as well. The very newest vids are offered in MP4 and 3GP only. The older videos are available in WMV, MP4 and QuickTime at 640x480 plus a 3GP version for mobiles, and these are fair to good amateur quality full scenes that are also available as clips. All the videos are also available to stream in the same formats. These are good amateur productions that are usually filmed in the site owner's home with decent lighting and sound.
Each video comes with a set of pics. These are screencaps sized at either 640x480 or 1280x720, depending on the age of the video, and each gallery has a hands-free slideshow as well as pic-to-pic navigation. Quality varies from amateur to good amateur, depending on the age of the shoot. You can save the pics you like individually, although there are no zip files offered. One thing worth noting about the photo galleries is that sometimes there will be a few black frames or title frames from the video at the start of each set, but the rest of the pics are images.
I'm happy to tell you that the site continues to update weekly on Fridays. Sometimes there's an extra update added, too - last month there were two extra videos added, and there was an extra update added the month before. This month there haven't been any extras, but we've still gotten our regular Friday updates, and the month isn't over yet.
How about any negatives? The current terms say "security software is in place to regulate excessive downloads" but doesn't specify a limit or tell us what they consider excessive; the site owner says you're limited to 4Gb per day. As well, you can only read the terms and conditions using the link outside on the tour; the member area link doesn't work. The filming here isn't always perfect and has the normal shakes and bumps that occur with amateur filming as cameras or microphones get jostled. But this style works for the site and gives it personality - it's almost like a friend is showing you what he likes about each model. While not exactly a negative, the models ages listed are the age they were when they first appeared on the site, not the age they are now.
One last thing worth mentioning is that - the 3GP videos wouldn't stream for me because I uninstalled QuickTime after it was declared a security risk. The good news is that each video is available in at least one other format of MP4 and some in both MP4 and WMV format available to stream, and the MP4s should play fine on most mobiles. Btw, I had no problem playing the downloaded 3GP videos because I use a player that handles a number of different video formats.
I liked Gemini Men the first time I reviewed it, and it's still a winner in my book. It reminds me of the good old days of porn surfing from a couple of decades ago when amateur guys were playing around on their amateur cameras. There are nearly 1,000 exclusive videos to download, stream and watch on your mobile; each comes with a pic set and the site updates every week, sometimes more. I love that these are regular guys - gritty and unpolished - who aren't plastered all over the web. Gemini Men seduces these amateur dudes into discovering that shoving things up their asses feels good; some are happy doing it once for some cash, others come back a bunch of times because they enjoy it so much. There's a lot to love about Gemini Men, and the periodic guy-on-guy fuck video is just icing on the cake.
Things we liked
Exclusive content & unique filming style
Straight guys and amateurs explore their butt holes
Masturbation,, dildos, helping hand and some gay sex
Videos are downloadable (no DRM used)
Regular weekly updates
Can do 4+ simultaneous downloads
Mobile-compatible videos available
Things we disliked
4Gb daily download limit
Older vids smaller, not as crisp as newer
3GP vids won't stream without QuickTIme player