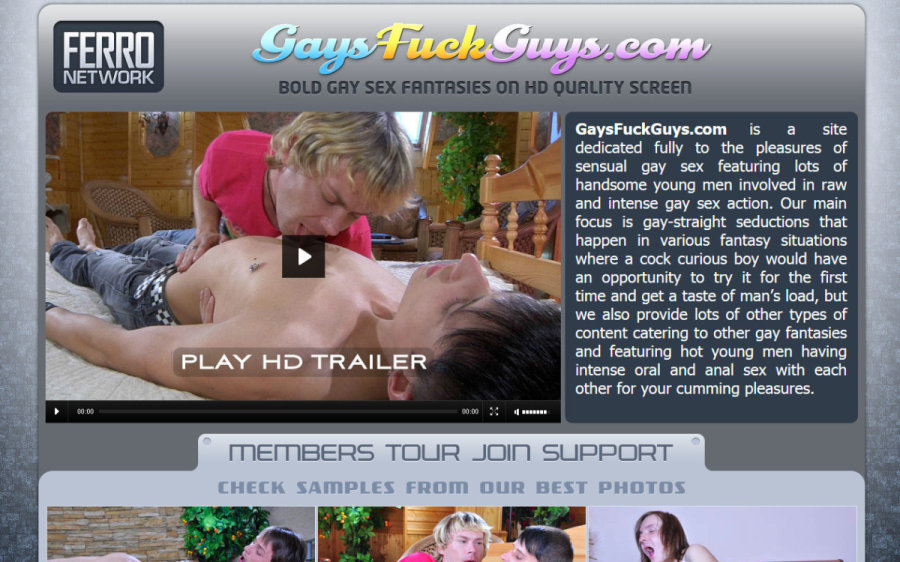 Gays Fuck Guys, but only if those guys are paid for it. It's all about gay-for-pay at this site where the guys are amateur, East European models. We're in for a lot of uncut cock and low-hanging nuts on smooth and often-slender, decent-looking guys in their 20s and 30s, and there is a goodly amount of variety in the models. Some are older than their counterparts, some slightly chubby, and more straight looking than others. They all stay around the white, Mr. Average kind of range, some with big cocks, other more normally proportioned, and there is a good mix of straight-looking, straight-acting, even possibly genuinely straight men sexing out with gay guys, as that's the premise of the scenes.
Straight guys will put out for cash - that's the theme - with hardcore always happening after a little financial foreplay. Mind you, it's not as obvious as some persuasion sites where you hear the guys being offered cash to go that one stage further. Here we have our gay guys set up with a straight guy who then gets to fuck or be fucked, depending on the scene. The tour promises us slow seductions followed by humping hardcore, and that's what we get. There's a mix of bareback and condom sex in here; it's mainly duo-action, there are blowjobs and 69s, finger fucking, explorations, first-time fucking, too, and plenty of the all-important cum shots at the end. So it's kind of general gay hardcore from Europe, but with a straight guy bent to it.
When we last saw Gays Fuck Guys there were only 37 videos; now I can report that there are 104, but the last one was added in November 2014, and there have been no more since. Movies here are good quality, though, and come in WMV and Flash formats. 1280x720 was the top resolution for the WMVs which are downloadable, and the Flash streams were at 1024x576 in size. Older movies have slightly different specs, as I found some at 640x480, but still the filming quality was fine. There are no DRM restrictions and the movies are exclusive to the site.
There has also been an increase in the number of photo sets since our last look, with 185 galleries now available. Again there had been no updates since the end of 2014 and there is no news to say if or when anything else will be added. The images are decent quality, though, with no airbrushing, and solo pics go up to 1280x960 in size, and they are sharp and clear. Older sets may have smaller pics; I found some at 1024x681, for example. Numbers per set vary from 40 to 100, and you can download zip files. The photography looks professional, though the models are clearly amateurs.
Here's something a bit odd: There is a model index listing loads of guys and girls, not for the site but for the entire Ferro Network, from which this site comes. However, joining Gays Fuck Guys won't give you access to that network; if you hit upon a model you want to see more of, you will have to log in to the site he or she is from. The only way you can do that is to join the Ferro network itself rather than just Gays Fuck Guys, and that will set you back $84.95 for the first month, recurring at $49.95 every 30 days thereafter. Pick yourself up off the floor, and bear in mind that you will be able to access over 50 sites for this, with exclusive content, though a lot of it is straight and shemale, with only a couple of gay sites. That being said, this is probably the priciest such network we've seen.
So, no great bonus offers exist with Gays Fuck Guys, and there is no great interactivity either. There are some other issues to be aware of: you will have to log in twice each time you head to the member area and the first time you want to see content, be it galleries or videos, you will have to register your IP address via email. It shouldn't take long though. There have been no updates for a while now and before they stopped the update schedule was not wonderful, around one new piece every month.
But, all that said and done and duly noted, what you do get with Gays Fuck Guys is a collection of 104 exclusive videos where straight (looking/acting) guys get seduced by cute and amateur gay guys, and plenty of them have uncut cocks. Videos are downloadable and the quality is fine, there are basic but decent viewing options, and you also get access to a nice set of 185 galleries. It's hard to tell who is straight and who is gay at times, but there's some nice hardcore in here all the same. Don't expect updates but do expect some gay-for-pay fantasies featuring horny East European natural amateur guys and plenty of sucking and fucking.
Click here to visit Gays Fuck Guys
---
Bookmark and Share
---