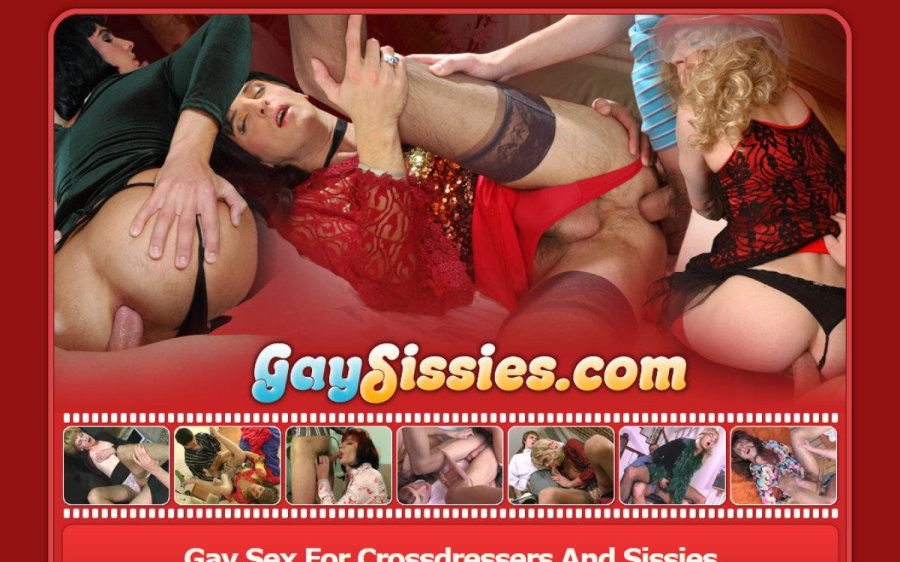 Gay Sissies are the kinds of guys who like to dress up to be put down, and that's exactly who we see playing out their deepest fantasies at this site. Hot bottom-boys dressed as girls getting their willing asses filled by men; that's the gist. It's a Ferro Network site which means exclusive East European content with amateur East European guys - in this case dressed as girls.
The guys here are sissies. That means they enjoy dressing up as girls and pretending to be girls but they are crossdressers, rather than tgirls or shemales; they are all hot bloodied average males who simply like sissification. They put on their skimpy dresses, their lingerie, their stockings and makeup, and then they let other average kinds of guys fuck their asses. They service real men's cocks while dressed as Aunt Mame, while wearing wigs, and pretending to be the ever-so-respectable lady of the house, while all the time getting off on being used as a woman.
Many of the videos take place at home indoors, and there are certain guys you will get to see more than once. Eddie, for example, is fond of a silver wig and ass-play. He gets shafted by Silvester, Benedict and Herman while Silvester then gets to play with Jacob and Owen. All of these guys look to be in their 20s to 30s. It's transvestite porn that's played out in scenarios, with a variety of men as the models.
When we last looked at Gay Sissies it sported 78 movies; now it holds 112 but has not actually added any content since September 2014. The movies are available in WMV and Flash. The newer WMV files are sized at 1280x720 at good amateur quality, the older movies at 640x480 at fairly good amateur quality, and the movies can be streamed at 768x432 in Flash. These are DRM free movies, exclusive to the network, there are no download restrictions, and average running time is around 15 to 20 minutes per scene.
There are 191 photo sets, and the most recent set was added back in 2014. The images click up to 1500x1000 in more recent sets, 1024x768 in older sets, though sizes may vary, and the quality is semi-pro or professional. You're able to browse online or take zip files of complete sets although there were no slideshows to use. You can expect to find between 40 and 70 images per set, and the action depicted in the galleries is all on the same lines as the videos: amateur guys dressed up, sissified, fucked and fingered.
This network used to run (and still suggests) a bonus site program where you receive an extra site over time, and more as your membership rolls on. But I saw no bonuses attached to this site. Instead there is the network access available which will cost you $84.95 for the first month and then $49.95 every thirty days thereafter. For this you will be able to access two gay sites, several mainly straight-themed ones including 19 pantyhose and nylons sites, eight shemale sites, five strapon sites, and a list of some 27 other themed sites.
As for issues, there are a few. Obviously the lack of recent updates is the main complaint, and though the tour still advertises updates, it is clear that none have happened for a while now. Also, when you log in you have to enter your access details twice, so keep them handy and then, when you first head to the videos or galleries, you will have to register your IP address. I've only found this on the Ferro Network, and it only needs to be done once (per IP), but it does slightly delay your access to the content, at first.
Putting the issues aside, Gay Sissies is a pretty unique site with exclusive content, a decent amount of it and all of it staying on the same theme: 20-something amateur East European boys dressing up in ladies clothes to be used sexually by horny and sometimes older guys in hardcore action. You've got downloads and streams, decent quality videos and pics, and the site is easy to access and use. Without update news you may not want to stay around for long, but you will want to stay long enough to see these sissy boys get a good dressing down as you save their content and add it to your collection.
Click here to visit Gay Sissies
---
Bookmark and Share
---