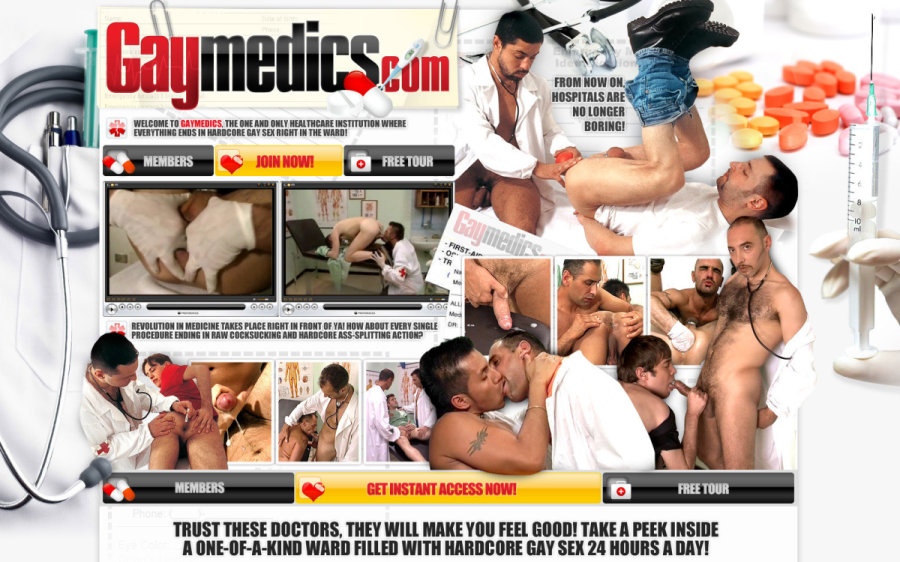 Gay Medics is a light medical fetish site where doctor and patient get to know each other intimately on the exam room table. The sessions start with a patient arriving to see the doctor about one bother or another, the doctor begins the exam and then "Oh doctor, my cock is in your mouth!" Gay Medics is a part of an 8-site network and it's been four years since our last review, so I'm heading back for a new look.
The guys here are European men, and the movies I watched featured German-speaking performers. Most of the patients are guys in their twenties, although not all are as I did see a couple of older guys in their thirties. The patients' physiques are generally slender or athletic and they're a mix of smooth and hairy. The doctors themselves don't appear to be that much older than their patients, and a couple of the doctors do multiple appearances. And since the performers are European, there's plenty of uncut cock here.
The videos take place in exam rooms that include all the trimmings: tongue depressors, speculum, rubber gloves, stethoscopes and genuine medical examination tables. What happens is a patient arrives to see his doctor, who is wearing the standard white coat and sometimes scrubs; the patient explains his problem and the doctor begins his exam. Regardless of what ails the patient (we never know exactly because there are no subtitles), he always ends up getting some anal probing with the doctors finger, then there's lots of sucking and fucking.
Most of the action is doctor and patient, but there's one fourway in a hospital room with a doctor, his male nurse, the patient and his visitor. Another doctor dildo-fucks two patients on the same hospital bed, and there are a handful of other scenes where doctor and nurse work over a patient together. I saw a speculum used in one scene, and in another a patient finds a cock pump while waiting for the doctor, so he tries it out. There's lots of fingering and fucking; I also saw a couple more dildos used and one patient actually got fisted. One horny doctor gave his own semen sample in a petri dish between seeing patients.
Gay Medics offers 29 videos, and unlike other sites in this network, these are full scenes. The downloadable videos come in WMV format and play at 864x496 (older) and 720x528 (newer), and there's an MP4 that plays in the same sizes. The videos are average quality and don't use DRM, so the downloads are yours to keep. There's a streaming Flash video as well that plays in a couple of different sizes: 864x500 or 720x530. There is a full-screen mode available, and while the videos are still watchable, they do suffer a bit of quality loss when enlarged.
Each episode also includes a set of pics. These are screencaps shown from 720x528 to 864x496, and are actually pretty good for screencaps. Each set can be viewed as a gallery, enjoyed as a hands-free slideshow or downloaded in a zip file.
Now let's talk extras. Gay Medics members get full access to eight additional gay sites, including some that are pretty kinky. There is a gay BDSM site, a double-penetration site, a cop sex site, a bear bondage site, another features muscle jocks and two more offer older men. There's also 15 bonus videos feeds plus a story collection that is shared by the entire network.
The existing videos aren't dated and the site has only added 7 videos since our last review in 2011, so I'm fairly certain it isn't adding anything new; as well, most of the other 8 sites in the network haven't seen changes in their video counts, if so it was negligible. So, what you see is what you get. Finally, the videos are not in English and there are no subtitles, which, in my opinion, takes a little away from the fun.
Gay Medics delivers light gay medical fetish content with hot doctors sucking and fucking their patients. The site offers 29 episodes, each with downloadable DRM-free videos and photographs, and while it's no longer updating, you get access to a network of 8 other sites. As well, there are 15 video feeds and a collection of stories, so there's plenty to see here. If you've ever had a fantasy about fucking your doctor or just enjoy watching patients getting it on with their physician, this site might be up your alley.
Click here to visit Gay Medics
---
Bookmark and Share
---