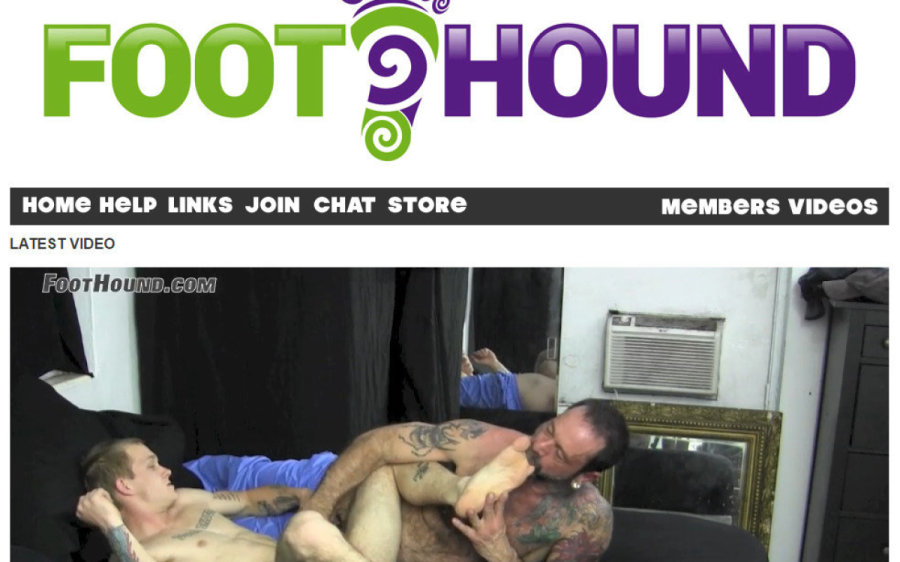 Foot Hound is a foot fetish site from a well-known producer named Franco who runs two other sites. Franco is a hairy daddy in his forties with a hairy chest and beard plus lots of tattoos and a taste for male feet, and he loves playing around with guys in their twenties. Foot Hound is where he explores his fetish, so let's take a look at what we can expect inside.
Evan is a cute, 22 year old guy with an athletic body who wears a beard, has a few tats, and he's packing a big uncut cock. He's got big feet with boney toes and trimmed nails, and he has bit of hair on his big toe. Victor is also in his twenties with a well-defined, furry body; he's clean shaven with big nuts, hairy pubes and a pretty good sized dick. He's got nice feet, too, with hairy toes. Warren is blond and in his early twenties with good looking feet (Franco sure knows how to pick them) that are a little on the small side; he's got a slim and smooth body, golden pubes, and a couple of tattoos on his leg. Warren's cock isn't as big as either of the other two guys, but it's a decent size.
Warren and Victor sit in a tall chair that allows their legs to dangle well above the floor, then Franco lies on the floor and snorts their socked feet before he removes the socks and gives their bare feet a tongue bath. Franco licks their soles, sucks their toes, all the while jacking his own dick. He really loves servicing a guy's feet. Victor watched a porno on his cell phone while Franco does his thing and doesn't pay much attention to Franco; after stroking his bone for a few minutes while his feet are worshiped, Victor leans forward and drains his nuts on Franco's hairy body. Warren, on the other hand, got off playing with Franco's cock and gave him a foot job for a few minutes. Franco grabs Warren's feet and fucks his soles until he squirts all over then, then the blond leans forward and unloads on his own feet with some jizz falling on Franco, too.
Evan's scene is a little different in that he's lying back on a padded, reclining table. He starts off wearing underwear and socks and sneakers, and when Franco removes them, he snorts both the sneakers and smelly socks. He goes to work on Evan's sexy feet, licking his soles and sucking his toes, just like the others. With all the guys Franco does suck their dicks, but it's really just token head, he spends most of his time on their feet. I was a little disappointed that when the guys blew jizz on their feet that Franco didn't clean it up with his tongue - that would have been a nice bonus.
Foot Hound offers 35 exclusive streaming videos. The videos are offered in MP4 format at 960x540, and they'll play on newer smart phones and on most tablets. The vids are good quality full scenes with decent sound and lighting. They are also offered to stream in WMV format, but neither my editor nor I could get the WMVs to work in Firefox or Chrome, which both cited missing plugins even though I have Windows Media Player and VLC installed on my computer. Still, since the MP4s stream easily, it wasn't a problem.
Each episode includes a gallery of 28 screencaps. These are good quality, displaying at 960x540. Unfortunately there's no slideshow, but there are forward and back controls to navigate through the gallery. There are no downloadable zip files, but you save the pictures individually by right clicking a thumb and saving the link as.
Now let's talk about the downsides. I was disappointed to note that Foot Hound stopped updating. Downloads are no longer available on the site; the videos are now streaming only, and while the price is very reasonable at $9.95, I'd have preferred to have the option to pay more and get access to the downloads, as well. Last, there's the technical issue with the streaming WMVs, but like I said before, there are streaming MP4s that play just fine.
Foot Hound focuses on male feet and foot worship. The site owner, Franco, really gets off servicing guys' feet, and he loves licking them and sucking toes with some cock stroking and dick sucking, too. He's a full-service foot pig who also pays attention to sneakers and socks. The 35 exclusive videos can be streamed in MP4 format (and maybe streamed as WMVs for some), are compatible with newer mobiles, and they're well produced. I was disappointed that the site has stopped updating, but the new monthly streaming price is nice and low. And most importantly, the guys and the action at Foot Hound turned me on. This is one for foot fetishists to check out.
Click here to visit Foot Hound
---
Bookmark and Share
---