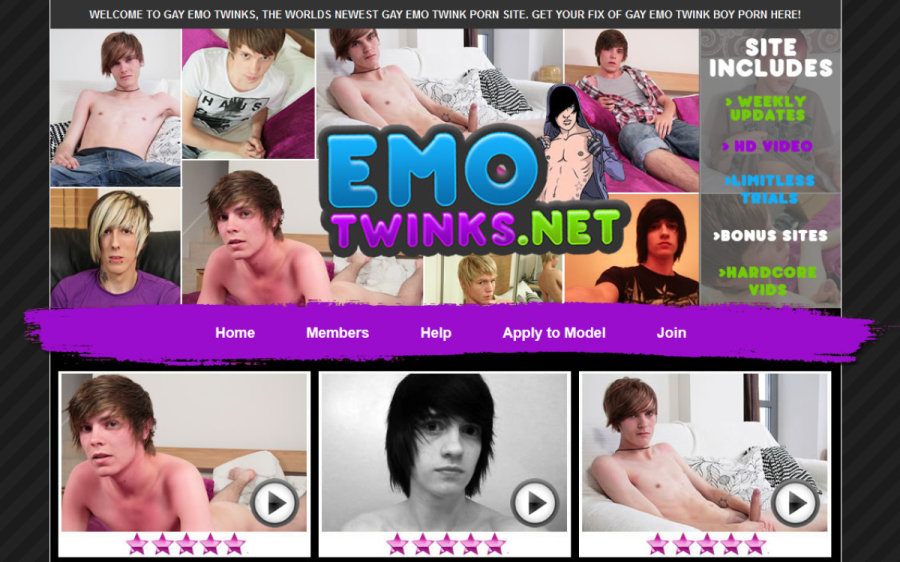 Emo Twinks focuses on cute, smooth twinks with slender bodies and often thick bangs or a geometric hair cut, and a few have hair that's dyed so it's more than one color. The guys are between 18 and 25, and while the site doesn't specify, I believe they're from the UK - in any event, they have uncut cocks, always a plus for foreskin fans. While a couple guys do sport some tats, overall the models here are not very inked and some look like boys-next-door gone emo.
What you'll find here are twinks who start out fully dressed, strip for the camera, then show off their cocks, first in undies and then fully exposed. Expect plenty of pics as the guys pull off their shirts to show off their hairless chests, unzip their pants, and remove their shoes. Once their underwear comes off, the guys play with their dicks for the camera. By the way, cock sizes vary, and one guy who starts off with a pretty small cock turns out to be a grower and ends up pounding a very nice sized piece of meat.
Emo Twinks is a small site offering 7 exclusive picture sets and no videos - luckily the bonus sites (more about those shortly) can still make this site worth joining. The site doesn't update either, although again, the bonus sites do, so for now let's talk about the pics. These are good quality digital stills sized at about 667x1000, and there are over 140 pics per set, although some of the pics are repetitious. Still, they show off the guys very well from fully dressed to stripping and stroking their cocks. You can download each set in a zip file or save the pics you like individually.
Now let's talk about those bonus sites - Homo Emo, Homo Scene and Exposed Emo. They're from the same studio, so you can expect plenty of smooth, slender emo boys. The two smaller sites offer solo emo boys, and the largest of the three sites - Homo Emo - offers 251 videos, including hardcore duos and threesomes. Then there are over 500 bonus videos, including plenty of twinks, amateurs and barebacking. While not emo boy content, the videos definitely add value for anyone who isn't exclusively an emo aficionado. And members get limited access to several additional gay porn networks.
Now on to the issues. There's a pre-checked offer on the join page that will sign you up for an additional site membership if left ticked, but it's easy to uncheck. With only 7 photo sets and no updates or videos, the tour claims of weekly updates and HD videos obviously apply to the network, not the site. These things are going to greatly impact the site's overall review score. And lest I forget, there's a full sized trailer which is an ad for another site on the top of almost every page in the member area plus animated thumbs which are also ads on the page bottoms.
Emo Twinks is a puzzle. On the plus side, the performers are smooth and slender emo boys, and the content is exclusive. But there are only 7 photo sets, and we rarely see sites this small; what made me decide to review it is the bonus content - over 250 emo videos, the largest bonus site does update every week. Then there are all those other gay bonus videos and picture sets, as well. Those into emo boys will find them at Emo Twinks - only they'll find them inside the emo bonus sites rather than the site itself.
Click here to visit Emo Twinks
---
Bookmark and Share
---