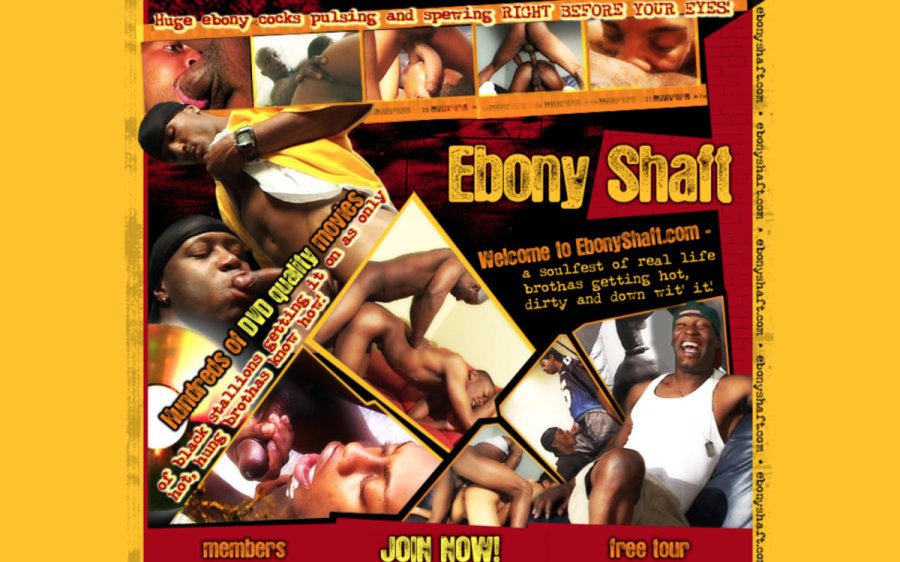 Ebony Shaft offers horny black men who love cock. There's a variety of types of guys here from shaved-headed thugs and muscled hunks to average ebony guys and well-built jocks. Some of the performers are bad boys with attitudes where others simply want to get off. Most of the models are in their twenties and thirties, although there are also a few studs who appear to be in their forties. I found lots of nice, round asses and some definitely big cocks, and I spotted some gay porn regulars and some porn stars from a few years back, as well.
There's all sorts of action here. Most of the scenes feature hardcore duos, although I did find some group sex and masturbation solos. There are men kissing passionately, ass fingering, lots of guys sucking black dicks and plenty of fucking, including some serious ass-pounding sessions. I ran across a few interracial videos, although there were a lot more ebony-on-ebony scenes, and there are performers catching cumshots on their faces, asses and across their bellies.
Ebony Shaft now offers 200 videos - 162 black-on-black gay videos, 15 classic ebony vids and 23 bisexual threesomes. While that's up just over 100 videos from our last visit years ago, it appears the site stopped updating a while ago; the latest update is dated January of 2011. The videos are taken from DVDs; they are all DRM-free, and are offered as downloadable WMVs and streaming Flash. The newer WMVs are sized at 640x480 and the older ones at 576x432, and the vids are also offered in 1 smaller size. Quality is average or low-average, so expect a loss of sharpness and clarity if you go full screen, however most of the videos look fine at their original size. The streaming Flash videos are similar to the downloadable versions in both size and quality.
Each video comes with a set of pics. These are screencaps, and they're about average quality for screencaps, so expect some blurring and lack of sharpness, but these are pretty good for previewing the action. The site doesn't offer slideshows or zip files, but you can save any pics you like.
Now let's talk about extras. There are 27 bonus photo sets, a collection of stories and what's sort of a bonus gay site that's self-hosted. It doesn't appear that any of the extras update, but they do add something else for members.
The main issue here has already been mentioned; the site no longer adds new content. While there are no other major issues, I found that the tour's claims are not very specific and are sometimes exaggerated or inaccurate. There's no mention of the number of videos, the tour promises regular updates when there are no updates at all, and there are claims that are really a stretch, like "the world's best looking ebony guys", "horse-hung" guys and DVD quality movies. Last, while not precisely an issue, the videos could be better quality - I've seen better DVD rips.
Ebony Shaft features black men giving blowjobs, getting ass fucked, jerking off and shooting loads of cum. There are 200 downloadable videos that are also available to stream, and quality is average for DVD movies. Each video comes with a set of screencaps and there is also bonus ebony male content and stories. It's disappointing that the site no longer adds new content, nor does it offer third party feeds or bonus sites. Still, the action at Ebony Shaft is hot, there's lots of black studs in action, and there's enough videos to keep members busy for a month or two.
Click here to visit Ebony Shaft
---
Bookmark and Share
---