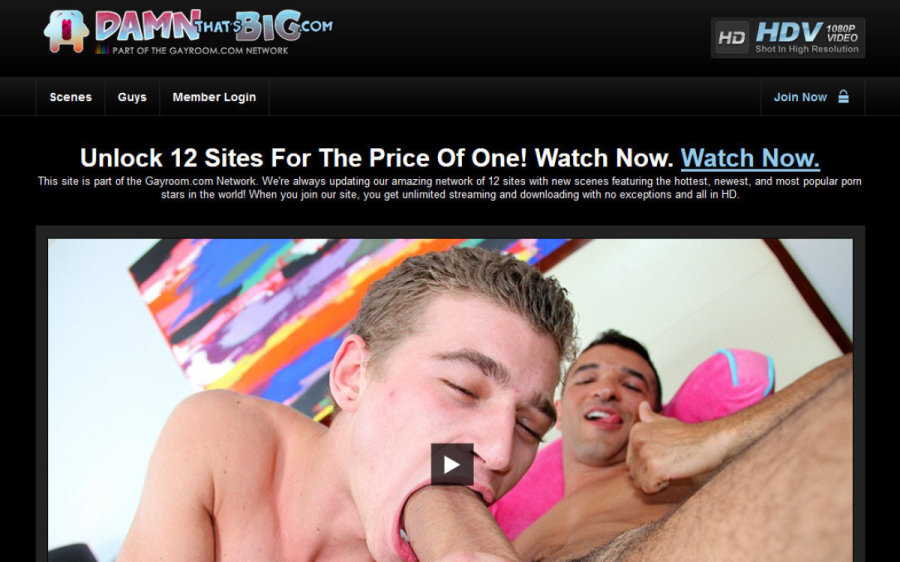 Damn That's Big features men with massive cocks getting sucked and drilling tight asses or getting stroked till they shoot huge loads of hot cum. The guys here are mostly in their early to mid-twenties, with body types ranging from fit to hunky, so expect six-pack abs and muscular arms and chests. Most of the performers are good looking, a mix of cute and boyish guys from 18 to around 25 and more masculine and handsome men somewhere in their twenties. You'll also find a few guys over 30 including some rough, tattooed daddy types. You'll find some well-known porn stars in the mix as well as horny guys who may be amateurs or just launching their porn careers.
The action here is mostly duos, with guys showing off their cocks, giving blowjobs (I especially love the men who can give head to REALLY big dicks!), taking massive rods deep inside their (sometimes hairy) asses, then blowing their loads all over their partners' faces or freshly-fucked butt holes. The performers in the duos mostly have really good chemistry, so they feel almost like fuck buddies in a lot of the scenes. And there are some solos, as well. Sometimes the guys in the solos didn't consistently look as well-hung as they actually were, but then the camera man would get a better angle and you'd realize the models were really well hung.
Damn That's Big currently offers 186 exclusive, DRM-free videos, most in MPG, WMV and MP4 formats. The MPGs and WMVs are sized at 1280x720, the MP4s a little smaller at 950x534 except for the newest videos, where the largest MP4s are sized at 1920x1080. The videos are good amateur quality or better, and the MP4s will play on a variety of newer mobile devices, which is handy. There's also a streaming version of each video, should you prefer to watch rather than download. The oldest videos aren't as varied; they're only available in WMV format at decent quality, but they're not as sharp and clear as the newer vids.
The newer videos each come with two sets of pics. The first are good amateur quality digital stills sized at around 850x638 or they can be enlarged to a whopping 3000x2250 for those of us who know that bigger is better. And each episode also includes a set of screencaps that are decent quality and allow you to preview the video. The older episodes only come with screencaps, and these are average quality or better. Sets of digital stills can be downloaded in zip files, and both digital stills and screencaps can be saved individually.
Now let's talk about updates. On our last visit, new content was being added sporadically and infrequently. About two and a half months ago, that changed when the site stopped updating altogether. The network, however, does add two videos per week, so you will still have something new to check out for the duration of your membership, although the updates are not necessarily big dick themed.
Damn That's Big is part of the Gay Room network, so full members get access to 11 additional sites. These include Thick and Big, Bath House Bait, Men POV, Office Cock, Gay Castings, Massage Bait, Boys Destroyed, Man Royale, Gay Creep, Out Him and Gay Violations. These all the same quality content and production values, and the network offers over 1100 additional downloadable videos, and there's enough big dicks here to definitely add value for full members.
There are some issues to discuss. First of all, there's a pre-checked offer on the billing page that, if left checked, will sign you up for a second recurring site membership when you join Damn That's Big. Next, trial members do not get full access to the content, and the trials recur at $10 more per month than a regular monthly subscription. Some of the sites inside the network no longer update - including Damn That's Big. Something else I noticed is that the member area has a fair number of banner ads that could easily be mistaken for content. And last, the tour claims are about the network, not this site, and the claim of daily updates isn't true of the network, either.
Damn That's Big delivers guys getting fucked by some impressively big cocks. Many of the performers are well-hung, and some have huge pieces of meat swinging between their thighs, although some have big dicks that aren't as huge as the camera angles would make them appear. The site offers 186 videos to download, stream or watch on most mobiles, and each video comes with photos. While the site no longer updates, full members get access to 11 more gay porn sites from the same network and studio. While some of the performers here definitely have bigger cocks than others, there are some impressive slabs of meat getting sucked and filling hungry asses at Damn That's Big.
Click here to visit Damn That's Big
---
Bookmark and Share
---