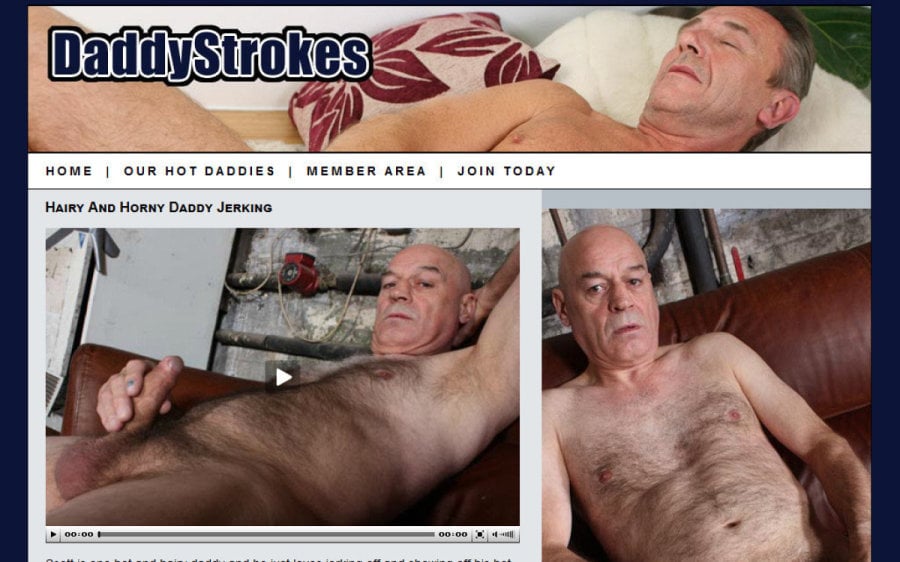 Daddy Strokes emerged on the scene back in 2010, and it was a welcome addition for those of us who love mature men. Most of the men here are in their 50s and 60s a mix of silver daddies, rough tattooed older men, "regular" older guys, grey-haired grandpas and salt-and-pepper muscle bears. You'll find lots of men with a few extra pounds from chubby to heavy including some with big bellies as well as guys with slender to average bodies. Some of these daddies are hairy, some are smooth and some sport face scruff or beards while others are clean-shaven. You'll also find lots of younger guys in their twenties who like playing with older men, and these guys range from slender to athletic.
With a name like Daddy Strokes, you'd expect to see lots of masturbation - and you'd be right, although there's also plenty of hardcore. A great number of the early videos feature older men stroking their dicks and unloading their nuts with little man-on-man action. Plenty of these men were shoving dildos up their asses, too. There were a good number of scenes with these older men playing with younger guys. But newer updates seem to be running with one third jack-off videos and two-thirds hardcore daddy-boy sex, and of the ten latest scenes, only one is a solo. The rest show daddies sucking cocks through gloryholes, getting sucked or stroked by guys in their twenties or getting their cocks serviced.
When it comes to the sex, these older men often play with 20-something guys with mutual sucking and jacking off. In the latest video, an older daddy named Marc Fletcher with an average build and lightly hairy belly sucks a dick through a men's room gloryhole, finally jerking himself off. Another video has older daddy Mike, who is slender, calling regular fuck buddy Aiden to come over and drain daddy's balls. Aiden is late so he gets a bit of a spanking before he sucks his daddy's dick, and after Mike shoots his load he sucks off this lad. There's also a scene with four naked daddies together in a really hot group blowjob and jerkoff session.
There are a good number of gloryhole scenes where we watch a daddy sitting on a toilet and sucking a cock that pops through the hole in the wall. These are filmed totally from the cocksucker's perspective and we never see the guy who is getting blown, just his stiff dick and a cock-hungry daddy feasting on it and gobbling up a creamy cum load.
There is an occasional kinky scene with light dominance or a guy using a Fleshjack, and that fourgy I talked about ends with one guy taking three cumshots on the face. There are also heaps of scenes where the men and their boy toys are simply swapping head back and forth. I checked a good number of the videos and didn't see any cock in ass fucking, but I didn't watch every scene. Overall, any anal sex on the site involved men getting their asses fucked with dildos.
Daddy Strokes offers 149 exclusive videos, and these are available in streaming Flash. Older videos play at 720x540 and newer come in at 720x405. I found the newer videos had much better image quality, the older ones tended to be a little on the fuzzy side. The videos are available in three different quality levels (high, medium, and low) to suit your bandwidth, but the size is always the same; only the quality changes. I found the videos played well with no buffering or starting and stopping, but they are not available for download. There are also no picture galleries on the site.
When it comes to issues, one stands out; the site has stopped updating. When we last visited, updates were irregular and despite claims on the tour and join page, the last scene was added in January, 2016. Also while not exactly an issue, I was disappointed that the videos aren't offered for download. I was also disappointed that the videos won't play on most phones or tablets as most of these devices don't support Flash; I tried the vids on my phone and an Android tablet, and not only the video but also the player wasn't visible on the pages I checked. I also wish the older videos could be remastered to be sharper and clearer.
If you love men in their 50s and 60s stroking their daddy cocks, sucking dick and fucking dildos, chances are you're going to like what Daddy Strokes has to offer. And if you like daddy-boy sex, you'll love the inter-generational sex scenes. I also really liked their gloryhole scenes, particularly because we never see the guy getting blown. The other thing I liked about Daddy Strokes is the wide variety of men from beefy, hairy daddies to smooth, skinny grandpas. There were lots of grey-haired men, some wearing glasses, clean-shaven daddies and men with facial hair. There really is something for every daddy lover's taste. And with 149 streaming videos, even without updates you'll find plenty of horny older men at Daddy Strokes.
Click here to visit Daddy Strokes
---
Bookmark and Share
---