---
Videos

4 stars

Pictures

2 stars

Unique

5 stars

Size

3 stars
5 stars

Cost

2 stars

Updates

3 stars

Usability

3 stars

Claims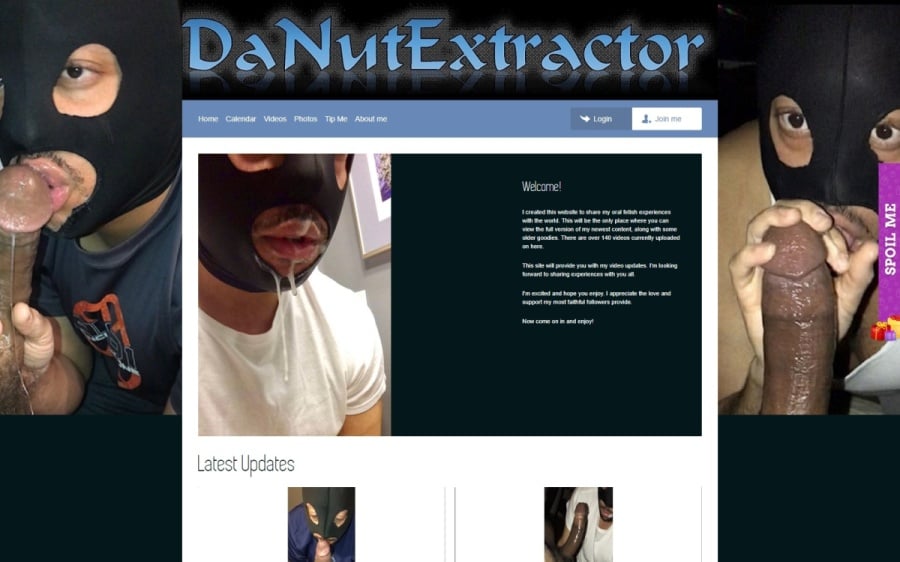 Click here to visit Da Nut Extractor
Introduction to danutextractor.com
Anonymous masked cock-sucker travels the country to find amateur guys who want anonymous blowjobs, and many do. He loves sucking fat cocks, then extracting every drop of cum on his mask or on their own cocks. There are 153 videos to stream on your desktop and mobiles, and while updates can be infrequent, the insanely low monthly price makes this site well worth joining.
Video info
Videos are streaming only.
153 streaming videos in MP4 format. Videos are amateur to good amateur quality. They resize to fit your screen, and play on mobiles and desktops.
Picture info
2 picture sets. Pics are probably screencaps.
Site issues
Very irregular updates; sometimes he updates once a month, but sometimes there are several months between them. Pre-checked email subscription on page between join and billing page. Notification pop-up on tour.
Membership cost of Da Nut Extractor
Monthly: $3.99 (recurring every 30 days)
Quarterly: $10.50 (recurring every 90 days)
Da Nut Extractor Review
Da Nut Extractor is an anonymous guy who wears a ski mask while sucking cock on camera so neither we nor the guys he sucks can see his face. It's obvious he loves giving head, and he prefers big cocks, and some of the men come back more than once to experience his oral skills. We never see his face, but he appears to be an average guy in his 30s with a few extra pounds on him, a small mustache and a passion for getting horny guys to bust a nut on his mask or spill their jizz down their own cocks, and the videos really show off the cum after each guy gets off. We don't usually see the faces of the men he services, either, but we definitely see their dicks and sometimes their bodies. 
It appears the man behind the mask travels around sometimes, finding guys who want to get sucked off in cities around the U.S. I like to fantasize he travels for his job, then when the meetings are over, he arranges a hookup, puts on his mask, puts his phone on a tripod and gets to work, stroking and sucking all those amateur cocks. But it's possible that he's retired and travels just to meet up with guys he meets online and film himself sucking them off. 
DaNutExtractor offers 153 exclusive streaming videos in MP4 format that will play on your desktop on mobiles. Quality is amateur to good amateur, and the videos play vertically, so I'm guessing they're shot on a cell phone. Some enlarge to full screen pretty well while others may lose some sharpness and clarity. No downloads are offered, but there are a couple picture sets that seem to offer decent quality screencaps of DaNutExtractor in action.
Each video comes with a description, and while some are on the short side, some are longer and definitely worth reading. They often tell about the guy who gets sucked - his age, if he was nervous, whether this was his first time - and also a bit about the session, which may include how DaNutExtractor hooked up with the guy, what city they were in and so on. At least one guy was a site member who wanted to get blown on camera. It's hot stuff.
Let's talk about updates. The site sometimes updates once a month, then may take a few months' break, but this is easy to forgive as this membership has the lowest price of any site we've ever reviewed. While it's been over two months since the most recent video was added, it isn't unusual for the site to take a few months' break between updates, but so far, updates start up again, and there's enough there to keep members busy for a month or so.
Nothing in life is perfect, so what are the downsides at DaNutExtractor beside the sporadic updates? On the page between the join page and the billing page, there's a pre-checked email offer; you can uncheck it if you're not interested, check that you're over 18 and go on to join. There's a notification pop-up on the tour; if you share a computer, you might want to block notifications. I was disappointed that there were no downloads offered, not even for an additional price. While some of the videos are satisfyingly long, running from nine to over 20 minutes, others are pretty short at five minutes or under. I'm not sure why the site even has a picture section since there are only two galleries, both added four years ago.
If you're looking for anonymous blowjobs and real amateur guys, I think you're going to enjoy what's on offer at Da Nut Extractor. The action here is all oral, with lots of cocks getting sucked and guys blowing their loads while they get no-strings head from a dick-hungry amateur who never shows his face. The site offers 153 videos to stream on desktops and mobiles, and updates are added, although sometimes with several months' breaks between them. But the action is hot, delivers exactly what they tour leads you to expect, and DaNutExtractor himself loves servicing fat cocks and getting men to shoot their cumloads on camera. And at only $3.99 per month, this site is quite a deal.
Things we liked
Exclusive content
Anonymous blowjobs and oral action
Site and videos are mobile compatible
Low membership price - $3.00 a month
Things we disliked
Updates are sporadic
No downloads available
Some videos are quite short
Da Nut Extractor Screenshots