Cum Here Boy
17 Nov 2023 Score 64 / 100 cumhereboy.com Mobile friendly
---
Videos

4 stars

Pictures

4 stars

Unique

4 stars

Size

2 stars
2 stars

Cost

3 stars

Updates

3 stars

Usability

3 stars

Claims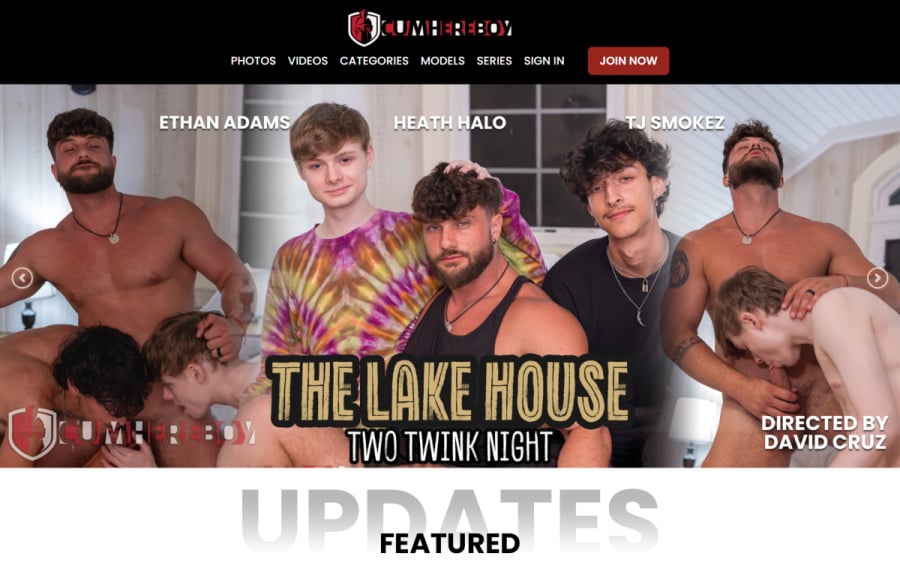 Click here to visit Cum Here Boy
Introduction to cumhereboy.com
Twinks and daddies in hot situations and titillating role play sessions with lots of sucking and fucking. New site with 12 videos to download, stream, and watch on your mobiles. Lots of size options of these good quality productions. Photo galleries available too and site adds 2 to 4 updates per month.
Video info
Videos offered for download and streaming
21 exclusive videos in MP4 format. Downloads in four sizes from 1920x1080 to 854x480, plus a 4K version at 3840x2160, videos are good quality. Streaming in adaptive player in multiple resolutions, full-screen option with good results. Mobile compatible.
Picture info
30 picture sets. 18 sets of good quality digital stills displaying up to 8192x5464 (they resize to fit picture viewer). Also each episode has set of average to good quality screen caps sized at 3840x2160. Pics can be saved individually; digital stills have zip files, screencaps do not. Slideshows available.
Bonus content
Access to another twink site from the same studio.
Site issues
Signing up gives site permission to communicate with you by email. Videos appear under both Videos and individual model pages, entire catalog does not appear on one single page.
Membership cost of Cum Here Boy
Monthly: $9.95 (recurring every 30 days)
Quarterly: $19.95 (recurring every 90 days)
Cum Here Boy Review
Cum Here Boy is a new gay porn site that brings us twinks and daddies in hot situations. The site started producing and uploading content in May 2023 and they launched in October. There's a hot selection of guys and men and I'm looking forward to watching some hot older-younger sex, plus there's a bonus twink site that I'll be checking out. Join me while I take a look inside.
Let's talk about the daddies first. They are a mix of regular gay porn performers in their thirties and forties. You'll find Alexander Garrett, Dalton Riley, and two fairly new men, Heath Halo and David Cruz, and David Benjamin who is actually the oldest man at 49 years of age. They all have gym fit or muscular bodies and they're a mix of smooth and hairy and all of them so far have facial hair. The twinks are a mix of known performers and fresh faces. You'll find Jack Waters, Donavin Rece, Ethan Adams, Benvi, and others, but there were also plenty of guys I hadn't seen before. Some are a little more boyish looking with slender and smooth bodies while others are a little more filled out with athletic physiques. Each model on the site has a profile page with age, height, weight, and dick size. 
In "Birds and Bees" David Benjamin is trying to get his stepson (Joseph Bella) out of bed to get him off to school. He sits on the bed to have a talk with Joseph about finding gay porn on the family computer. He wants to see if Joseph has any questions or needs help with anything. But it's the stepdad who needs help with the boner in his sweatpants. "My Ankle" opens with Dalton Riley helping his friend Benvi home with sprained ankle. Dalton's foot and leg massage gets Benvi excited and he pops a boner and it's not long before Dalton swallows it. In "The Tutor," Heath Halo is trying to help Jordan Haze get ready for his finals, but when the boy becomes flirty, the handsome tutor kisses him. Jordan is quickly on his knees taking care of the man's cock and they head to the couch for an exciting fuck session.
As you can see, there are all kinds of older-younger situations and not just the overused stepfather-stepson set-up. There's a therapy session that crosses the line and another with a delivery man collecting his tip by fucking his twink customer's ass. There's a hot series called "The Lake House" that features a group of twinks and older guys going to a cottage to celebrate the end of the summer, and of course, celebrate means sucking and fucking. Most of the action is in duos, but there are some threeways and foursomes (one of those sees two men fucking one another's stepsons side by side in bed). There's lots of sucking and fucking with kissing and rimming. The fucking is bareback and the men often cum inside their bottoms, but we often get to see the cummy cock or cum dripping out of the twink's asshole; sometimes the guys cum on one another. Disappointedly, the twinks don't often cum themselves.
Cum Here Boy offers 21 exclusive videos in MP4 format. These are mostly self-contained scenes, but there is "The Lake House" series that has two parts, and one of the videos is also the full-length feature with both parts in one long 166-minute video. Downloads are good quality and come in four sizes up to 4K at 3840x2160. There's also a fifth version called "source" which seems to be the original edited footage before it was optimized with a reduced file size. You can also stream the videos in a player that resizes them to fit your device's screen. They play well and there's a full-screen option with good results. The site and videos are also mobile compatible.
A final note about videos before I move on. All of the sites videos appear on the members homepage, but they aren't all included on the Videos page. I'm not sure why, but some videos only appear on a particular model's page like Jack Waters' "Detention" and "Locker Room" or Max Romano's "Found You." Since you can't find all the videos on the Videos page, it's best to click the site's masthead to browse the Latest Updates page, and do check out the Models section as there are galleries you won't find in the Photos section.
Each episode has a series of good quality screencaps sized at 3840x2160 with around 60 good quality per set. All but four of the episodes also have digital stills galleries with around 100 pics each. There are also solo galleries for four of the guys, but check each model's page as ten of them actually have solo photo sets. These display even larger, as big as 8192x5464. The picture viewers have forward and back controls, and there's a slideshow feature, too. You can save all of the pictures one at a time, but only the digital still sets are available in downloadable zip files. The picture sets, whether digital stills or screencaps, appear in tabs on the episode page, but the digital stills also appear under Photos.
CumHereBoy updates are a mix of photo galleries and videos that appear together on the members area homepage. There were two video updates in each of May, June, July, and August. But with the site's launch in September 2023, they seem to be headed toward weekly video updates, but not quite: they added four videos in September 2023, but the second week of the month was only a photo update. Also, these updates happened on Thursday, Friday, or Saturday, it'd be nice if they were consistent.
Your membership also includes access to another twink site run by this company. Nasty Twinks offers 41 videos featuring twinks and a few jocks in both solo masturbation sessions and hot suck and fuck action. It updates regularly, but not consistently. Also, there's no link to Nasty Twinks in the Cum Here Boy members area, so you'll need to manually visit the site and log in.
CumHereBoy doesn't have many downsides, but no site is perfect. One glaring issue is around VR videos which the join page says are included. There's no information inside about how to access these. Do I just put on my VR glasses and watch any video? Nasty Twinks had some videos that were labeled VR, but Cum Here Boy doesn't. Some instruction would be nice. When you sign up, you give the site permission to communicate with you by email, but you should be able to opt out after the first email. And I'd really like to see all the videos listed in the Videos section; having some vids only on models pages means members might miss them.
Cum Here Boy is a hot site with titillating situations between twinks and daddies. Some of them are fauxcest themes with sex between men and their stepsons, but others offer sex between therapist and patient, delivery man and his twink customer, or sometimes best friends with a difference in age. The site offers 21 exclusive videos you can download, stream or watch on your mobile devices. Updates are happening, but so far aren't consistent, although September very nearly included weekly video updates. Bonus access to another twink site makes this one worth checking out. I enjoy the twinks and daddies and the sex was hot!
Things we liked
Mostly exclusive content
Twink/daddy sex including fauxcest
Action is all bareback
Videos are downloadable
Site and videos are mobile compatible
Things we disliked
Irregular updates (site does update)
Not all models have solo galleries
Some videos not listed on Videos page