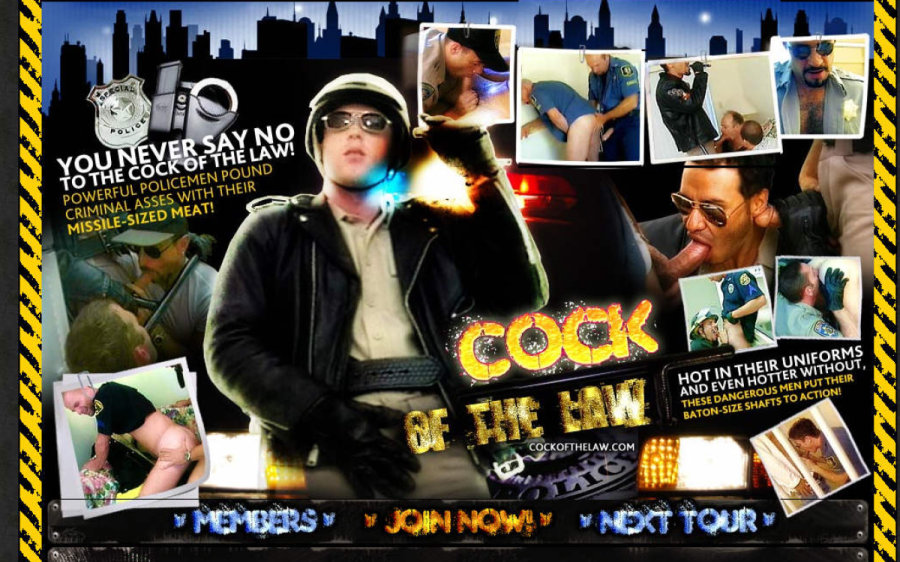 Cock of the Law puts the focus on uniformed police in action - hardcore action, that is. If you have a cop fetish, looks like this site may be just up your alley, as the cops (well, porn stars dressed in police uniforms) on this site know that some guys will do anything to keep from getting a ticket or going to jail. The tour shows plenty of previews of officers getting sucked by guys hoping to avoid being arrested, cops giving rimjobs and fucking tight criminal asses.
The cops here have the sunglasses and the attitudes you'd expect from real officers. Some are pretty bad assed, and most have an aggressive, masculine look. Most are in their thirties and forties, which works well as these men in their prime project authority. Their partners are mostly hunky guys, although some are more average "dude next door" types, and they're mostly in their twenties and thirties. The videos here aren't quite up-to-date, so don't expect the perfect male-model types you'll find in some of today's porn sites; these guys have a somewhat rougher look, which works well for the content and the action.
Cock of the Law offers 47 videos, the same amount they had at the time of our last review. While the site doesn't update, it has added MP4 versions of the videos in addition to the WMVs and streaming Flash vids that were already available. The downloadable WMVs and MP4s are sized at 640x480 at average quality or better, and it's worth noting that the MP4s should play on most mobiles including iPhone and iPad. The videos are DRM-free full scenes, and for those who prefer not to download in order to watch the videos, they can also be streamed.
Each movie also comes with a set of pics that are all screenshots. While they are lower in quality than digital stills, these aren't too bad and will definitely help if you want to preview a movie before watching it. If you find a set you like, you can download the pics in a zip file or watch them all as a hands-free slideshow.
Cock of the Law members get access to 8 bonus sites from the same network in some interesting niches including older men, hairy guys and BDSM. There's also a section called Streaming Channels where there are 15 mixed gay video feed. For those who are turned on by the written word, there's a collection of erotic stories here.
Now let's discuss the issues. As already mentioned, this site doesn't update. The videos could be better quality, but they're a bit older and some may have been shot on film. Still, I've seen DVD rips that look better. I also have a complaint about the navigation - each movie listing page has only one video listed on it so in order to browse all 47 of the videos, you'll need to click through all 47 pages.
If you're looking for uniformed police officers in hardcore gay sex videos, Cock of the Law may be just the ticket. The 47 videos are DRM-free downloadable full scenes from DVDs, and they can be streamed if you prefer. I was disappointed that the site doesn't update, but members do get access to 8 exclusive gay bonus sites plus a collection of stories and page of video feeds. There aren't a lot of cop sex sites around, so while the site and content aren't all that they could be, I enjoyed watching the men in uniform in action at Cock of the Law.
Click here to visit Cock of the Law
---
Bookmark and Share
---