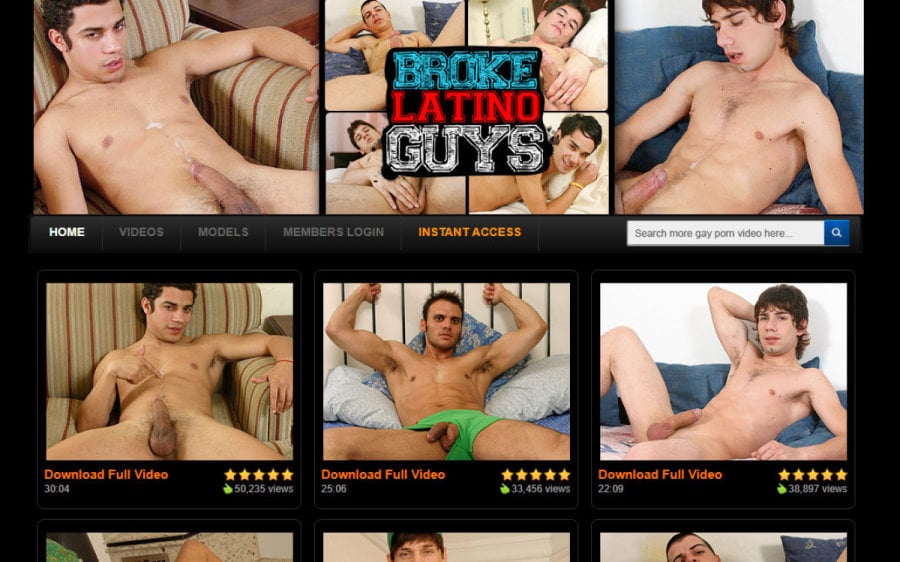 Broke Latino Guys features a variety of horny Latin performers from twinks to jocks, amateurs and regular guy types with bodies ranging from slender to muscular, average builds to guys with a few extra pounds on them. Some of the performers are tattooed, and while some are smooth, others have hairy thighs and sometimes unshaven pubes. Many have golden brown skin, dark hair and eyes, and they appear to be from Mexico, Brazil, and other places in South America, and there are darker-skinned Blatinos, as well. Cock sizes vary from average to a few that made me exclaim "OMG!" and I'm happy to report that some are uncut.
The action here ranges from duos sucking and fucking to solo jerkoffs as well as a couple threeways and some rimming and light kink. You'll find some face fucking and deep-throating, and bottoms get boned in all sorts of positions including missionary, standing and doggy style, although there's only a few barebacking scenes and a handful each of outdoor sessions and scenes that end with facial cumshots. And while there's a few rough sex videos, for the most part the action here is good clean fun.
Broke Latino Guys offers 124 videos in MP4 format, most at 640x480 plus one smaller size at average to fairly good amateur quality. The videos are playable on most mobile devices, and there are streaming versions are available, also in MP4 format. Oddly some of the newer videos are smaller and lower in quality, which might be explained by the fact that the vids here are DVD rips, and in some cases the source material is probably older and only average quality.
The site offers 133 picture sets. Nine sets of the pics are standalone sets of digital stills found in both the video listings and in the Photos section; these are sized at 1000x1500 at amateur to good amateur quality, although these may be shown smaller in your browser. The rest of the pics are screencaps that are included with some of the videos, and these are sized at around 720x406. The photo sets here can be downloaded in zip files or you can save individual pictures if you prefer; while there are no slideshows, you can easily navigate from pic to pic.
Broke Latino Guys is part of the Latino Gay Pass network, offering about 1,200 videos from five Latin sites - Cocky Latinos, Brazilian Dicks, Raw in Brazil, Broke Latino Guys, and Arabian Dicks, which despite the name actually features Latin men. Sadly none of the Latin sites update any longer. Then there are several bonus twink sites, two of which still update. These are nice sites with full HD videos that are shared with a couple other networks owned by the same company. There are also 38 assorted gay bonus videos. Last, members get limited access to seven additional gay networks, most offering between two and seven videos before you must sign up to view more.
Now let's talk about issues. First, as already mentioned, is that neither Broke Latin Guys nor the other Latino network sites update any longer. Next, trial members get limited access; they can "view up to six to seven" of the latest videos. Be aware that most of the claims on the tour refer to the network, not just this site, and that most of the thumbs on the tour won't be found in the members area videos. Nine of the listings under "Videos" are actually standalone picture sets with no associated scenes and no descriptions. And there's a large ad on top of every members area page and two rows of animated thumbs on the page bottoms that are live cam ads. There's also a banner below the video player.
Broke Latino Guys delivers horny Latin twinks, jocks and average guys in hardcore gay sex and solo action. The site offers 124 videos to download, stream, and watch on your mobiles. These are average quality DVD rips but they do look good on smaller screens. There are also picture sets, and while the site no longer updates, what really makes Broke Latino Guys worth checking out is that it's part of a good-sized gay porn network that includes four more Latino sites and some hot non-Latin twink sites for a total of over 2,200 videos.
Click here to visit Broke Latino Guys
---
Bookmark and Share
---