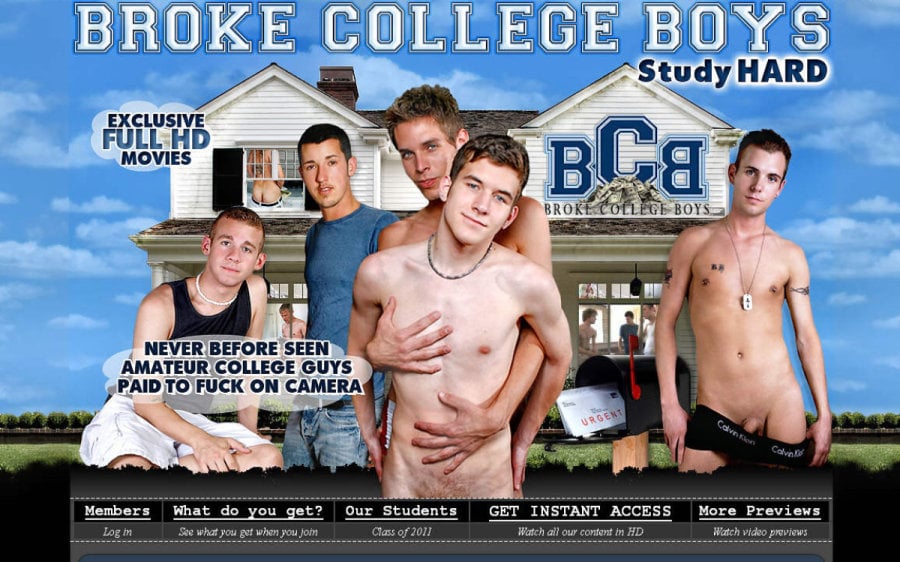 Broke College Boys offers horny college guys who decide to do porn because they need some quick cash. While we don't know if the guys are actual college students (or actually amateurs), I'd say that most of them are between 18 and 25, so they're college-aged. The performers range from slender to athletic, and they're a mix of twinks, jocks, and average guys. Some of them are clean cut all-American guys, and some have regular average Joe looks while others are on the scruffy side with the kind of look I associate with skateboarders. Cock sizes range from average to large, and some - like Scud - are growers whose dicks can impress after they're hard.
When it comes to action, expect duos, threesomes and a fourway, as well as a few solo guys. This is one of those sites where things start off with a chat with the camera man, so we get to know each guy a bit before things get going. Then the camera man starts offering the guys cash, first to undress and then to go further. When it comes to the action, expect plenty of kissing, guys sucking dick and rimming, and this all leads to fucking. While the site theme indicates the performers are amateurs, some come back to do videos several times, so they're no longer first-timers. And a few seemed to know there way around a dick pretty well to be first-timers, but maybe they've had gay fantasies they wanted to make come true.
Broke College Boys offers 94 DRM-free exclusive videos. The downloadable versions are available in WMV and MP4 formats in several sizes, the largest of which is called "HD Quality" and is sized at 1280x720. These look good and expand to full screen pretty well. Both formats have two smaller sizes and there's an even smaller MP4 for mobiles; the second-smallest size (called medium) would be perfect for most mobiles except for the high bitrate that keeps the file sizes fairly large. Some phones and most tablets can use the mediums, but if yours can't, don't worry, the "portable" versions are fine. And for those who prefer to watch rather than download, there's a streaming Flash version of each video that's a little lower in quality then the large downloadable versions but are still pretty decent at their original size.
Each episode also includes a picture set. The pics are good amateur quality digital stills sized at either 902x509 or 902x1352 depending on orientation. One set I checked out might have contained screencaps, but if they were, the quality was as good as the digital stills. There are over 80 photos in each set that show off the guys and the action, although some might be a bit repetitive. There are no slideshows or zip files available, but you can navigate from pic to pic using simple buttons, and the photos can be individually downloaded.
Full members get access to four bonus sites from the same network. Two of the sites - College Dudes (900+ videos) and Boy Gusher (300+ videos) - have exclusive content and still update, and a third - Ass Lick Boys - has exclusive content but no longer updates. The fourth site, HSBoys, is packed with all sorts of gay feeds in a variety of niches.
The site has some issues. First, and most important, is that it no longer updates - what you see is all you'll ever get, but the bonus sites do help out with this. Next, there's a pre-checked offer on the billing page that, if left checked, will sign you up for a second recurring site membership when you join Broke College Boys. Full members are limited to 15 downloads per day, and while that should be enough for most people, power users will want to take note. The trial membership recurs at $10 more than the regular recurring monthly membership, and trial members may get limited access to what the site has to offer. Last, while the tour has a very school-like theme, the members area is more basic with no real theme.
Broke College Boys delivers the guys and gay-for-pay action you'd expect from the tour, and that's a good thing as there are some cuties, and many of the guys do look like the real deal. Others look less collegiate, but the action is no less hot, with plenty of dick sucking, rimming, kissing and fucking for cash. The 94 videos are exclusive and DRM-free, and they can be downloaded, streamed or watched on your mobile. While it's disappointing that this site doesn't update, two of the bonus sites do and they offer over 1,000 more videos for full members. While I do wish the site still updated, I did like the playful and horny boys getting it on and shooting their loads at Broke College Boys.
Click here to visit Broke College Boys
---
Bookmark and Share
---