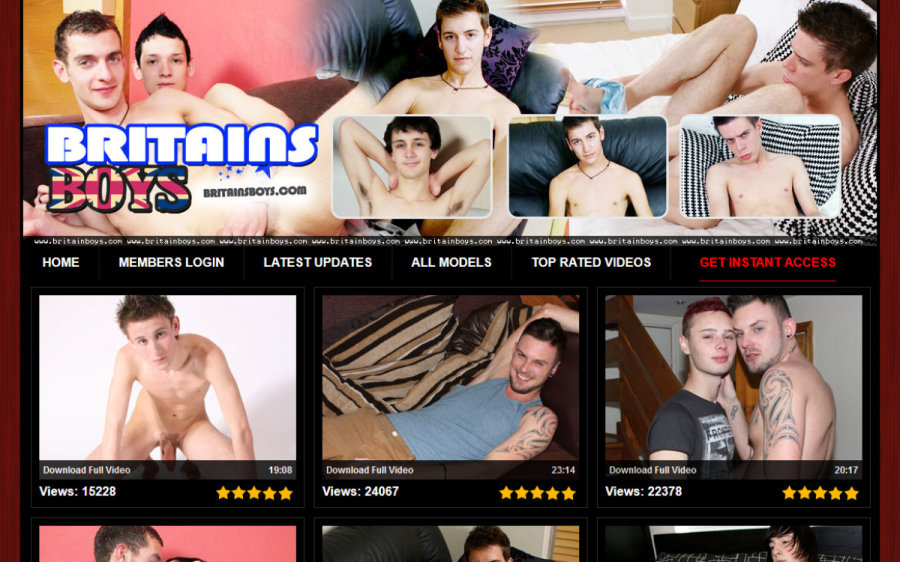 The guys on Britain's Boys are a variety of lads from 18 to around 24 years of age. You'll find twinks, jocks, a few emo types, sporty lads, and a handful of other European boys. The guys are mostly white with slender or skinny, smooth bodies, but some are a little more on the athletic side. You'll find a few who have a tattoo or two, but not many that are heavily inked. The site is a part of a larger network and members get access to an impressive collection of videos and picture galleries.
While some of the guys are amateurs, I did recognize several faces. Since the site only uses single names to identify performers, I couldn't be sure of their names, but I did see younger versions of JP Dubois and Steven Prior who filmed their scenes at least five years ago. So I'd say the site offers a mix of amateurs, first-timers, and guys who were up-and-comers at the time of filming. And good news is that most of the guys are sporting uncut cocks. The site started out mostly as a jack-off affair with some guys playing with dildos and other sex toys, then shooting their loads in home-like settings with a few shower scenes. But there are also 40 duo and threeway scenes with guys sucking and fucking both with and without condoms. And again, the action happens indoors.
Britain's Boys offers 117 pictures galleries and 79 movies. The 79 videos are offered as MP4 downloads, and you can view these in two sizes for the newer releases (320x240 and 640x480) and three sizes for older scenes (320x180, 480x270 and 640x360). The videos are fair to average quality, and many aren't as sharp I would like to see but they're still watchable, and smaller sizes are good for many mobiles. The videos are also offered in a streaming player that displays at 640x450 in two resolutions. These can also be viewed in full-screen mode with some to a fair bit of quality loss depending on the age of the video.
There are also 117 pictures galleries. Fifty seven of the site's 70 videos have a gallery of screencaps, although the newest movies do not, and some of the photos are good amateur quality digital stills sized at 768x1024. The rest are screencaps sized at 768x432 and they vary from poor to average quality. You can save them individually or download a zip file and you can view them in thumbnail galleries on the site, but there are no slideshows.
Your membership gets you a number of bonus sites, but it's confusing. Clicking "Videos" on the navigation bar gives you 11 network sites with 2,099 videos from Dean's Boys, Euro Twinkin', Globe Boys, Latino Smooth, Straight Wankers, Boy Extra, Urban Brits, Lollipop Twinks, Teach Twinks, Beddable Boys, Twinklight, and Britain's Boys. But clicking "Select Network" at the very top of the site shows that the Britain's Boys Network offers not 11 sites and 1,735 videos, but eight sites and 1,300 scenes. Given that they called everything including picture galleries "scenes," I'm guessing the truth is somewhere between the two figures.
Regardless, you'll have more than enough to keep you entertained for the duration of your membership. And that "Select Network" option will give you limited access to seven other gay porn networks owned by the same company and offers lots more twinks and sporty types. Five of those networks allow you to watch one or two videos before you have to upgrade, and some of the sites in the Britain's Boys network are also in these "Select Network" programs too, so again it's confusing.
Lack of updates is the biggest problem for Britain's Boys - the site updated only once in 2015, and that was in April; it's now December with no new content in sight. But this shouldn't be a huge issue because many of the bonus sites update and also feature more twinks and 20-something lads. Also, some videos are from other sites, as I saw some Britain's Boys videos and pictures watermarked with other site names. And then there's tour claim accuracy: the tour says, "Hundreds of Britain's Boys submit their personal videos every week," which has nothing to do with the site. The content in the members area is not self-shot or homemade porn, it's studio porn and a lot of it wasn't even filmed in this decade.
There are some other problems worth mentioning. There's a pre-checked offer on the join page that will sign you up for another site if you leave it ticked, and trial members get only limited access to the site's content and features. There are lots of ads and links on the site that seek to get you to spend more money. For instance, on the navigation bar there are two menu items - Hookup Now and Cams - that give you more sites that cost extra. Also on the site's sidebar and footer, there are more ads designed to look like content.
Britain's Boys is really a doorway into a larger network of videos featuring 18- to 24-year-old guys, and this is its strongest feature. If you absolutely must see only British guys, then you'll be disappointed. But if you're open to watching lots of different horny and cute twinks and sporty guys, then you should be pretty happy here. While the site itself has 79 videos, the network has hundreds. And while this site itself has stopped updating, the network is adding 20 new videos each month. In spite of its missteps, I think the Britain's Boys network is a good deal for those looking for twinks and network access.
Click here to visit Britain's Boys
---
Bookmark and Share
---