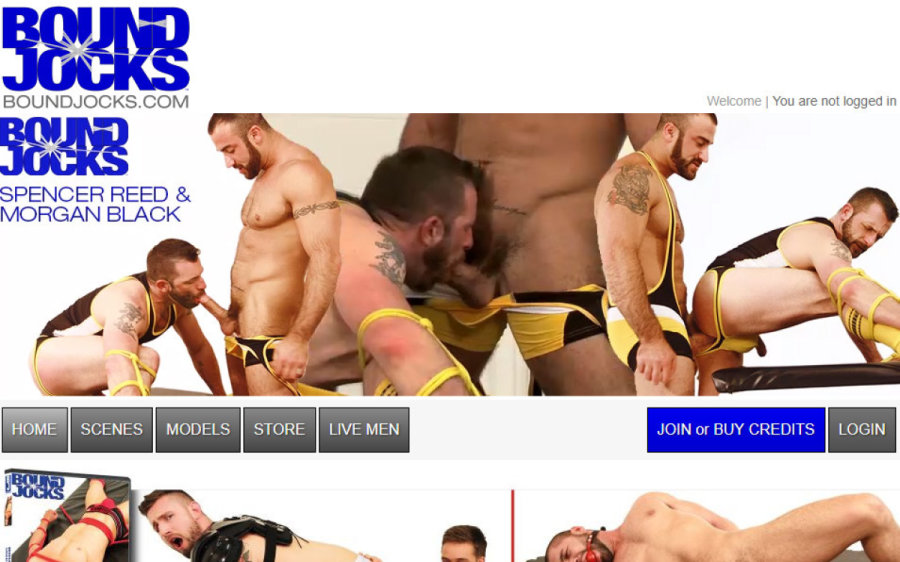 Bound Jocks is a bondage site that's a little different. Instead of the typical dungeon fantasies, these scenes bring us hot guys in athletic gear, jockstraps or wrestling singlets who are tied up with rope. The guys struggle with their ropes and eventually free themselves; they're so worked up now that they have to jack off right there on the mats. The site also features duo scenes where any number of things can happen. It's been almost two years since our last review, so join me as I tell you more about those action scenes.
The men are a mix of guys with mostly gym-fit or athletic physiques - many are nicely muscled but not overly so. The performers are mostly porn stars including Dominic Pacifico, Spencer Reed, Paddy O'Brian, Adam Champ, Dolan Wolf, Marc Dylan, and Angel Rock. There are also lesser-known performers and first-timers with nice bodies who like getting tied up. There's a good mix of hairy and smooth performers, and you'll find some with tattoos or facial hair including some masculine men in their late thirties and early forties.
The action here is a mix of solo guys and duos. The solos show each guy first in undies, shorts, a jockstrap, or wrestling singlet and he's usually alone on the floor, bound with rope and struggling. Dominic Pacifico is gagged and wears a jockstrap and white athletic socks; his hands are tied behind his back and secured to his feet with red rope which pull his legs back towards his buttocks. Dominic has a ball gag stuffed in his mouth. He struggles and rolls around the floor but never manages to break free. Halfway through the scene Dominic's jockstrap is removed and his cock and balls are bound with rope that's secured to his hands behind his back. Dominic discovers that flexing his wrists tugs the rope around his cock and he continue the jerking motion until his cock erupts on his belly. Fantastic! I've never seen anything like this.
Before getting onto the duo scenes, I wanted to talk about the rope work. If you a fan of rope bondage, you'll love these sessions. The guys are bound with colored ropes and proper knots that are quite artistic and beautiful to look at. These bindings aren't haphazard; they're done by a man who is skilled at rope bondage and loves his craft.
Some of the videos feature pairs of men. Spencer Reed wrestles Morgan Black, pins him and removes his shorts, then he hoists Morgan's leg onto the padded platform and ties his arms to it. Spencer drills Morgan's ass for a few minutes, then face fucks him and cums on his beard. In another scene, Angel Rock tosses rings at Connor Patricks' erection like the carnival ring-toss game, while in another session a hunk tickles his bound hunk. Many of the restrained men are edged, and some - but not all - get fucked. This isn't a full-on BDSM site, although there is some domination with tickling, spanking, flogging, dildo fucking, CBT, tit play, dirty talk, and even a couple of fisting sessions. There's certainly a lot of variety and no two duo sessions are alike.
Before we get to the videos, let's talk about the set-up on Bound Jocks. The site offers membership packages in monthly and other options that allow you unlimited streaming videos. You can't download any of the videos on these plans, but the site sells packages of tokens that allow you to download the vids, and these cost about eight credits per movie. You can also "stash to cloud" for five credits, and this allows you to watch the those videos whenever you want even once your monthly membership has expired.
Altogether there are 174 DRM-free videos on Bound Jocks, and of the latest 24 episodes, 15 are solos and nine are duos. The videos are MP4s that play at 890x500, and there are three speeds available, each improves the picture quality but doesn't change the player's dimensions. The lowest quality videos aren't great on a large monitor, but they look good on smaller screens like phones or smaller tablets. As I mentioned already, video downloads aren't included with your membership - you have to buy tokens above the monthly membership cost. I wish I could tell you more about the downloadable videos, but even though I had credits, I was unable to download my selection as my attempt failed three times. I'm not sure why, but we'll bring it to the site's attention. Bound Jocks has told us videos come in three sizes ranging from widths of 480 to 1080, but we can't confirm that.
Each video comes with a set of photos. These are good quality, show off the men and the action well, and are sized at 960x540. It's hard to say whether the pictures are screencaps or digital stills, but they are sharp and clear with well-saturated colors. While the pics aren't offered for download in zip files, you can save them individually by right-clicking on each thumbnail and saving image as. The galleries do have a slideshow feature so you can enjoy them hands-free. There are from 10 to over 20 pics per set.
Bound Jocks is easy to navigate and includes brief model profiles, plus you can click on the dozens of linked keywords like Ass Play, Rimming, CBT, Big Dick, Hairy and Jockstrap to see more of the same type of action or men. While the site no longer offers any of the extras they used to like interviews and bondage how-to guides, members do get a 25% discount off the downloads tokens.
Were there any issues? Well, the big one is that this site no longer produces new content. I'm not sure exactly when they stopped filming, but I'm guessing it's been at least a couple of years. So while the tour claims there are "exclusive updates each month," what happens is that they recycle the older videos and move them to the front of the line. For instance, Spencer Reed is in the site's "latest" scene but he filmed his last porn scene in 2012. Another of the "newer" releases features Tate Ryder who retired from Pornland in 2013, but many of the site's performers like Leo Forte, Sean Duran, and Dirk Caber are still filming for other producers.
I'm not fond of sites that make members pay extra to download videos, but this is the growing trend. And in the case of Bound Jocks I wasn't even able to successfully download my selection, so I'm not sure what's happening there, although I had absolutely no problems streaming the videos on the site. There are also two links on the navigation bar that take you to other sites, one that sells DVDs and another that offers webcam live chats, but these will cost you extra money. One final note: Even though I was in the paid members area I continually saw a big join banner at the bottom of many pages.
Bound Jocks delivers athletic guys in sports gear, underwear, or naked in mostly rope bondage scenes. Expect some interesting positions with authentic knotting, cock and ball bondage, gags, tickling, blindfolds, and sometimes things get a little rough with manhandling, spanking, and even a couple of fisting sessions. The site offers 174 streaming videos, each with a small picture set, but it's no longer adding new content. Still, there's plenty here to keep you turned on for a month or longer depending on your viewing habits. I really like the mix of beefcake and bondage that Bound Jocks offers and I loved watching these sexy men squirm.
Click here to visit Bound Jocks
---
Bookmark and Share
---