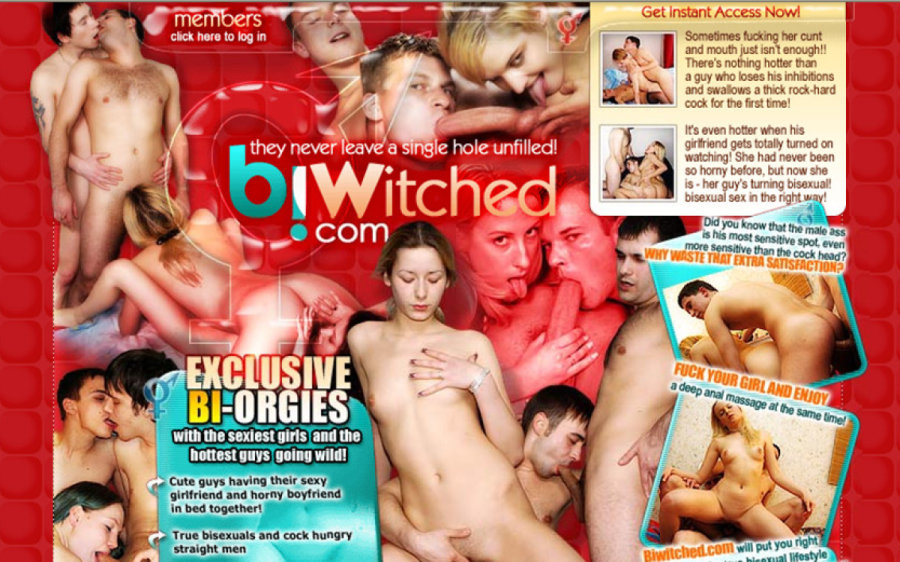 BiWitched is all about hardcore 3-way bisexual action between 2 guys and 1 gal. Picture yourself sandwiched between a hot pussy and a hard cock and you'll see where the site's name comes from. The tour promises plenty of true bisexuals and "cock hungry straight men," and there are plenty of guys sucking dick, getting sucked, and both men and women fucked in a variety of interesting combinations. Scenes vary in location, from shower stalls, to living rooms and kitchen counters, to the back of a van and even into the great outdoors.
The performers here are in their twenties, and most seem to be European. Both men and women range from average to very hot, with slim to average builds, and for the most part seem to be having a good time, which takes the fantasy enjoyment to an even higher level. There are models with a few tattoos, but more aren't inked. Don't expect twinks, hunks, daddies or bears, as most of the guys here are "regular guy" types, although some obviously spend some time at the gym.
BiWitched offers 254 videos, only 58 more than there were 5 years ago, and the site no longer updates. The videos are DRM-free full scenes offered in WMV format and sized at 640x480. The newer vids look good, the older are average quality but still watchable. Sound is fairly good, and while there are some shorter vids here, most of them are over 25 minutes long.
When it comes to photos, there are a couple different types. First are 37 sets of digital stills that are sized at 1024x768 and are good amateur quality, but I was disappointed they weren't offered in zip files, although you can download each pic individually. Also each video comes with a set of screencaps. These are sized at 720x540, and quality isn't great - I'd say they're average screencap quality, so expect some blurring and lack of detail. They're still a great way to preview the action in a video, though.
BiWitched also has a section called 3D Bi Fantasies. Here you'll find 10 sets of 3D computer-rendered toon art, each offered as a set and sized at 1024x768. These are good quality, sexy M/M/F threeway scenarios, and each comes with a description. Like the photo sets, these aren't offered in downloadable zip files nor are there slideshows, but you can save each pic by right clicking and saving as. Last is a small bonus video section with 8 bisexual videos, the same amount as there was last visit.
The biggest issue here for me is that the site no longer adds new content. Other than that, the link to personals leads away from the site, and last, I'd like bigger videos - you can't even buy a camera that shoots 640x480 vids any more.
BiWitched delivers horny male/male/female threesomes sucking, licking, fucking and getting off together. The men aren't just focusing on the women, either - these guys are definitely not afraid of cock, and seem to be truly into both men and women. The site offers 254 DRM-free, downloadable full scenes, and while they're only standard definition, they're pretty good to watch. The site does not update any longer; still, there's enough here to keep members busy for a month or two. BiWitched delivers men who suck cock, eat pussy and fuck - or get fucked by - both male and female partners in M/M/F threesomes.
Click here to visit Bi Witched
---
Bookmark and Share
---