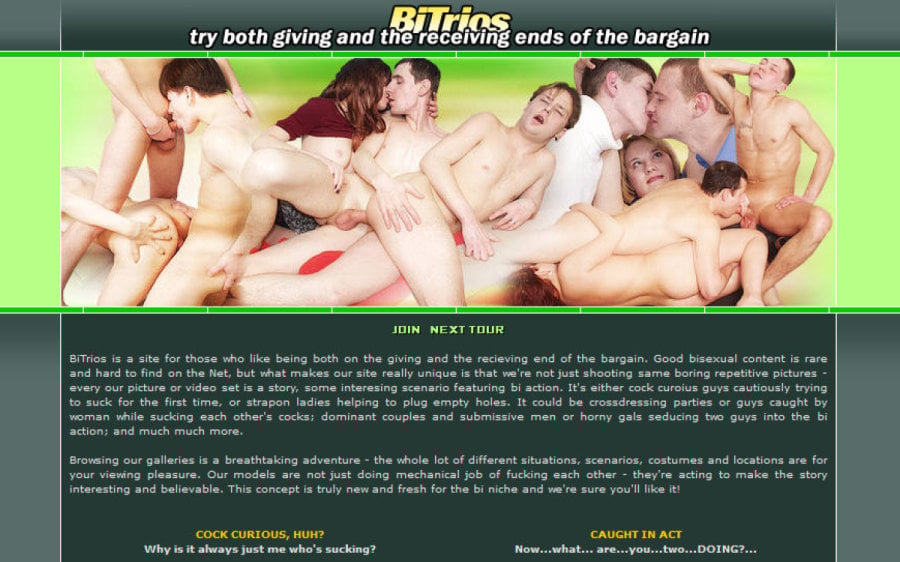 Bi Trios is a small, intimate site that offers collectors of bisexual hardcore the chance to collect a little more. The guys here are average looking amateurs with trim bodies and decent looks, a lot of them are smooth and hung with uncut cocks, and they are all up for a bit of bi-play too. The girls are similar in that they are also amateur performers, with decent bodies, trim and fit and sexy, and up for some hot MMF bisex action. The models give me the impression of being East European in origin and so fueled up with that Russian lust for hardcore.
And that's what it's all about: two guys and one cute girl in every hardcore video and gallery. There are some galleries where things go a bit further than your average bi-sex norm. The guys are into pantyhose as well as pussy and dick, and there are some really horny photo sets where you have these spunky guys dressed in nylons, covering - but showing - their cocks while they eat out pussy. They then get down to that classic spit-roast action with a guy being the one spit-roasted; a cock in the ass and his tongue in her pussy. Then things swap around and so we get to see every possible combination that you can try out when there are two guys and a girl involved. It's classic MMF bisexual hardcore.
It's been a while since we saw this site and, sad to say, not much has changed. In fact, nothing has been added to the collection for some years and it remains small, although possibly still collectible. There were 11 videos being shown as MP4 downloads that are actually offered in AVI format using the DivX codec and are sized at at 320x240. They are offered as clips that made up a whole once downloaded, but no full scene files are available. The quality is decent at the original size; unfortunately though well filmed and showing everything, the movies don't look good at full screen. There's no DRM in use and you can take them all. And while there are "coming soon" slots for more movies, I wouldn't hold your breath.
You do better in the galleries section where there were 176 photo sets. The pics are shown on small thumbnails pages with solo pics then clicking up to 768x1024 in size. They are an average to good quality with easy navigation and zip files to save, although there are no slideshows. You're given the name of the models with each set but there is no model index to link them to. These are decent enough images that give you some horny action moments from some of the videos and from other hardcore threeway sessions. Each gallery holds its own number of images with 60 being an average amount.
Don't expect any bonuses with this site. If you want to go the whole hog and sign up for the complete Ferro network, then you have to do this at the join page, as Bi Trios is otherwise a stand-alone site. If you do go for the full-network access you will have to pay a massive $84.95 for the first month and then $49.95 per month thereafter. Mind you, this will let you into over 50 sites and there are some fun themes explored: pantyhose fetish, nylons, shemales, strapon, lesbians and gay sites are all included.
I did have a few issues with this site. First, it is no longer updating so my advice there is to sign up, grab the content and move on. Also when you actually log into the site you are asked to do it twice for some reason. First on the entry page and then to get from the main page to the content. It's just a minor hassle that makes you wonder what they are protecting. And then, with the galleries, you need to register you IP address via the email address you used to sign up with. I have had to do this on other Ferro sites in the videos area as well, but here at Bi Trios I was able to access the move clips with no problems; it was just the galleries that required IP registration. These are minor annoyances really; the main issues are the lack of updates and the small amount of video content.
Bi Trios looks like a good idea started, and then was dropped. The content is decent enough, particularly the galleries, though the videos only come in clips and are not the best quality, and there have been no updates for a long time. You do need to fight through the IP registration and the double log in, but once there you get some horny threeway, amateur performers, possible East European, hot guys and cute girls in nicely varied MMF action. There's nothing interactive here and no information about the models or scenes. But for some exclusive bi-sex fun with dick slurping, pussy pounding, ass drilling boys with boys with girls with boys, all ways up and back to front, well, Bi Trios could be worth delving into.
---
Bookmark and Share
---