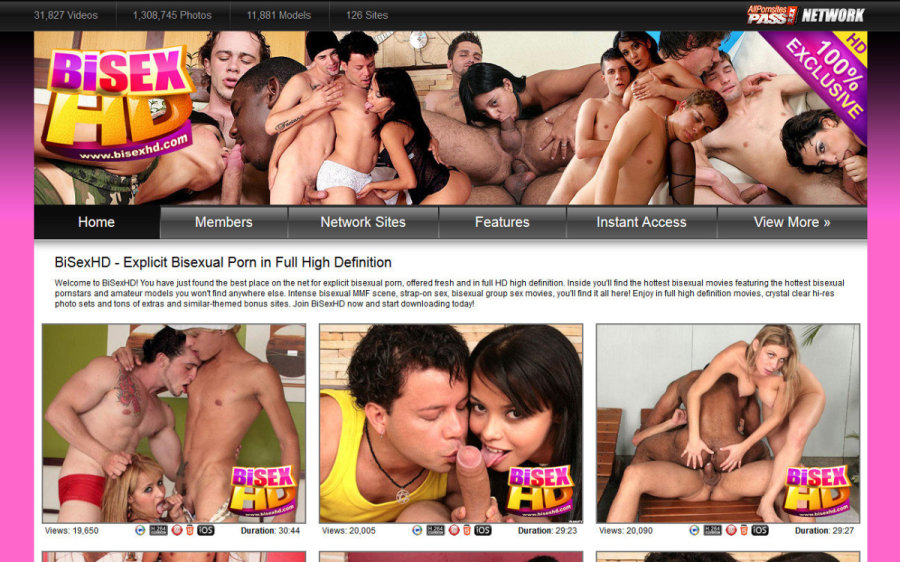 There's something alluring about bisexual guys, and the guys at Bisex HD are a hot bunch in a kind of street-wise, amateur way. You're looking at men in their twenties who can dick a babe as easily as a guy, and they get hard with any partner. There's a neat mix of white, Latin, and black models at the site, with a good variety of looks, too. There are a couple guys who are slightly chubby and rather ordinary looking, but they make a change from your classic porn model. There are others who are cute and others with a dangerous, urban look to them. Some are more cuddly than others, but there's no "ripped washboard abs" guys here, which means you have a collection of average amateur and yet very horny guys (with their good looking and sometimes busty babes) making up the cast list.
These guys and girls are up for as much horny fun as they can have where there are two dicks and one chick in each scene. These are what's called MMF movies (Male, Male, Female) so the emphasis is on the dicks. The guys' cocks are a mix of average to big; there are dicks both cut and uncut, and the performers get up to all kinds of stuff. There is plenty of cock sucking, both by him and her, and anal and pussy play, too, as this is, after all, a bisexual collection. A lot of these bucks like nothing better than to have a hard cock in their ass while their GF is going down on them. There are other scenes where you have a classic spit-roast with the chick as the filling in a bi-boy sandwich, and everyone makes sure that everyone else gets as much attention as possible.
These movies look more studio-shot than amateur; the scenes take place indoors in what look like porn sets. The lighting is good and there is decent sound with no music and minimal dialogue. There are no story lines - the scenes start straight in with the three models getting undressed and then getting it on. The sex progresses through all those combinations possible with two guys and a gal and end up in various variations of hardcore action until the cumshots. These are usually a guy cumming onto the other guy, and some of the scenes, after 20 minutes or so of heavy action, end up with the men simply jerking off. The action is pretty natural and there are only a few "off" moments when someone looks to camera for direction.
There were 15 Bisex HD movies when I called in, and the last one (a rather hot Blatino scene) had been added in October 2008, so the site is clearly not updating. The movies, however, have good viewing options. There's a downloadable WMV in several sizes, the largest of which is 1280x720; and there are also MP4s sized at 768x432 plus a smaller size for older mobiles. There are also two streaming options, one at SD and one at HD which plays at 1000x561 and looks pretty good enlarged to full screen. Both video formats are available as full scenes, and the WMVs are also offered as clips. The movies here are DRM-free, and I had no trouble downloading any of them.
Each of the 15 scenes come with a gallery of images. Pics click up to 1024x682, though they start off scaled down to fit the screen. The quality is good and you have no blurred images or bad lighting. These are a mix of posed shots and action pics shot while the scenes are shot, and they are digital stills, not screencaps. There are good navigation tools here with jump-to lists, slideshows and also through-navigation buttons, and you're able to take zip files of full sets if you want to. There are over 200 pics in most sets, although numbers will vary.
There is good news when it comes to bonuses. The tour offers you over 126 bonus sites, and I can confirm that number. Your membership lets you into a huge network, the All Porn Sites Pass, that updates every one to three days. Of the 126 sites, there are 16 gay sites, the rest being tranny, lesbian, and straight sites plus another bi site. A drop-down list will take you to the site of your choice and there is a search box as well. Searching for"Bisex" brought me 193 movie results, so there's plenty more bisexual action for you to discover in the network. You're also able to get interactive with ratings and comments; there's a model index to help you browse (though no information in it) and over 150 feeds to check out in the "Bonus Sites" section, too.
As you can guess, the site has its share of issues. There have been no updates since 2008 and, although the network updates several times per week. There's a pre-checked offer on the billing page that, if left checked, will sign you up for a second recurring site membership when you join BiSex HD. Trial members may get limited access, and they definitely pay $10 per recurring month more than the cost of the regular monthly membership. While not precisely an issue, there's no info on this site or the network about the models and very brief scene descriptions, too.
One more thing I wanted to discuss is claim accuracy. The tour is misleading, as just the first page of the tour shows 75 thumbs, ostensibly from different videos, yet the site has 15 vids total; besides, if you look closely, you'll notice that there's more than one thumb from each video. There's a list of features offered on the join page that includes daily updates, which isn't true of either this site or the network. It offers exclusive content, but I'm not sure if the content here is actually exclusive. Last, the "Free BISEXUALS live cams" are actually a third party live cam site where you can chat for free but must pay for nudity or action.
Bisex HD delivers content for those who like a bit of gal with their gay, a bit of bi with their boys. And the site delivers not so much because if its 15 videos with picture sets, which is older but decent quality, but more to do with the extras; the 120 + bonus sites that are a mix of straight, gay, tranny and over 150 more bisex scenes in there, too. The site is unlikely to update but with some searching around within the network, you should be able to find more bi action, and there are plenty of gay sites (and shemale and straight ones, if you're so inclined) included to keep you hard and happy while you search.
---
Bookmark and Share
---