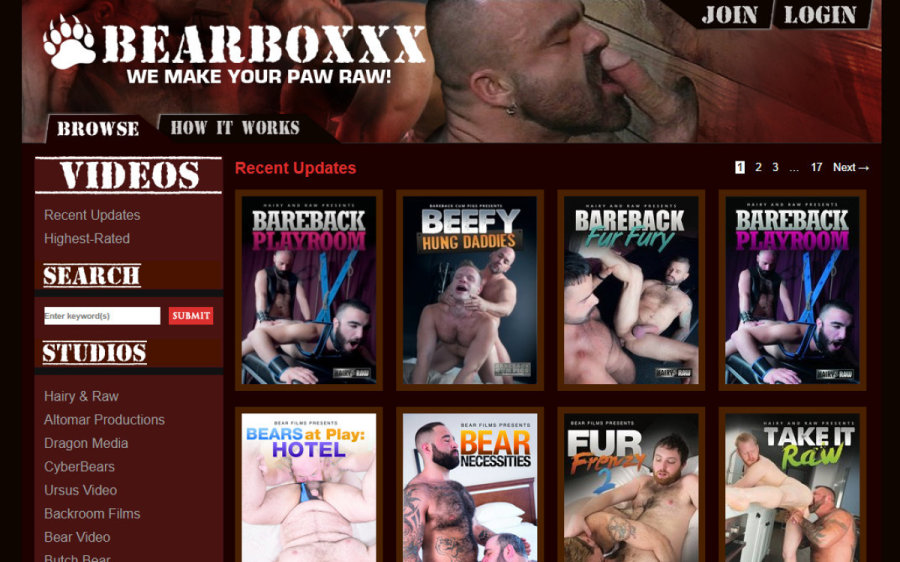 Bear Boxxx review updated on 7 Jan 2019
Bear Boxxx is a part of a streaming video network that's been around for over 20 years, and they offer a variety of DVDs from major producers like Bear Films, Butch Bear, CyberBears, Pantheon Productions and more. Regardless of the studio, you can expect lots of beards and hairy bodies plus a variety of cocks from average to super-sized, both cut and uncut. If you love bears, cubs, hairy daddies and more furry men, join me as we revisit Bear Boxxx to see what's new.
Because the men on Bear Boxxx represent a number of different studios, you'll find a variety of hairy men on the site. There are ten studios, each with its own style. Butch Bear is well-known for filming handsome, beefy muscle bears, and some of these bodybuilders are huge. Pantheon Productions films older men and their admirers ranging from 30 to 60 years old, and the men range from slender and athletic to bears sporting some belly. CyberBears and Bear Films both offer lots of bigger hairy bears, men who are packing some major belly, but they also have a nice offering of hairy daddies, cute cubs and more in-shape hairy men.
The action is definitely hot. You'll find hairy men and bears kissing, rubbing beards and bellies, nipple play, sucking dick, smelling armpits, rimming and fucking in duos, threeways and small groups. You'll find a good amount of both indoor and outdoor sex in a variety of locations. Of the 181 DVDs the site has to offer, 48 of them offer bareback sex, and there's the odd dildo fucking or bondage scene including a DVD called Bear Party where groups of bears get together in equipped dungeons and anything goes.
The 197 videos are are full DVDs offered to stream in MP4 format and sized at 770x434 at either three or four quality levels. The size of the player remains constant regardless of the quality you select; only the image quality changes. There is a full-screen option that is mostly pretty good if you're watching the videos at the highest quality. The lower quality videos and some of the oldest are decent in regular mode, but lack sharpness and clarity at full screen, which is to be expected. Good news is that the videos are compatible with most mobiles. There are no picture galleries, but each DVD has eight large-size thumbs sized at 450x338, and while they don't enlarge, they show the men and the action from each DVD.
Bear Boxxx offers two monthly viewing packages; 250 and 500 minutes of viewing, and there's also a non-recurring package that gives you 1000 minutes. With DVDs running from over an hour to 120 minutes each, the lowest viewing package will allow you to watch two or more DVDs a month, or you can watch shorter parts from a larger number of titles. And when watching movies, your account displays the amount of minutes that you have left. Bear Boxxx also allows you to watch short free previews of each DVD. And the viewing set-up also gives you a visual time line that lets you see key parts of each scene and jump forward and back within each DVD.
With the monthly viewing packages you can easily change to membership back and forth, so if you're going to exceed your 250 minutes, you can flip to the 500-minute package. Also, if you want to buy extra viewing credits, they're available in 40 or 80 minute blocks for an additional $8 or $16. And Bear Boxxx also has a download-to-own option, so if at any time you'd like to download a DVD, you can pay an additional $14.95 to $39.95 and the movie is yours to keep.
Now let's talk about updates. The DVDs aren't dated, and on our last visit, I said that meant that there's no way of knowing exactly when or if often Bear Boxxx was updating. Unfortunately since our last visit six months ago, the site hasn't added any videos at all, so it appears that it's no longer updating.
There are a few additional things worth mentioning. First is that when I clicked to the site, there was a pop-over that covered the entire tour and asking whether you wanted to join the email list. Clicking no thanks took me to the tour with no hassles. Some of the older videos' visual quality is not as high as the newer ones, and if you're paying per download, the older/lower quality videos are much less expensive than the newer, higher quality vids.
Bear Boxxx is right up my alley with a hot collection of hairy men, daddies, muscle bears, cubs and big-bellied bear men in all sorts of action including kissing, cock sucking, rimming, group sex, some kink and raw barebacking. There are 197 streaming DVDs to watch on your desktop and mobile devices, and most of the videos run from over an hour to two hours. Unfortunately the site hasn't updated in the past half a year, but with well over 200 hour of video, there's still plenty to watch. Bear Boxxx is a good option if you'd like a site offering a variety of hairy men and bears from a number of different studios and want to find them in one place.
Click here to visit Bear Boxxx
---
Bookmark and Share
---