Bait Bus
10 Nov 2023 Score 66 / 100 baitbus.com Mobile friendly
---
Videos

4 stars

Pictures

0 stars

Unique

4 stars

Size

4 stars
4 stars

Cost

3 stars

Updates

3 stars

Usability

1 stars

Claims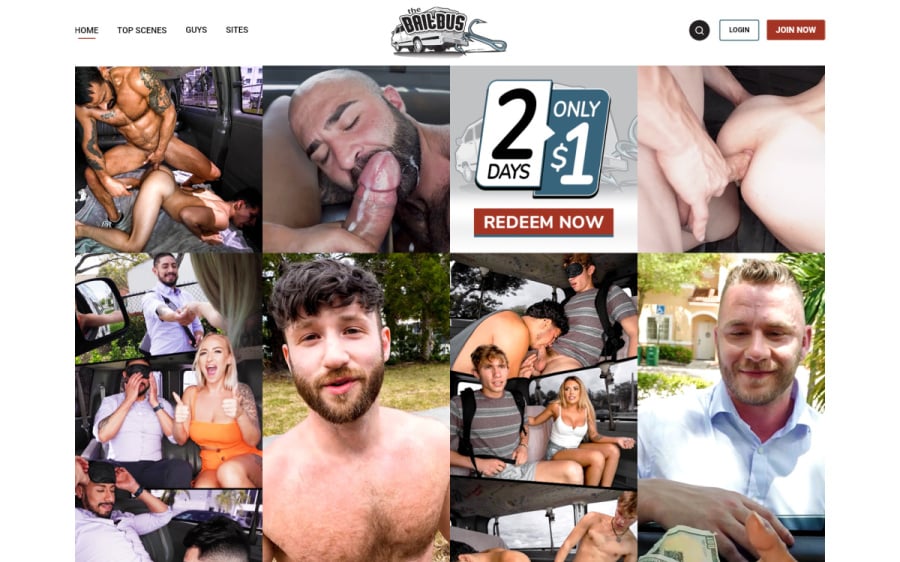 Click here to visit Bait Bus
Introduction to baitbus.com
Unsuspecting straight guys are lured in a van by a sexy woman offering them sex. The blindfolded man gets his dick sucked by a gay dude instead, and when he realizes what's going on, all kinds of things happen, but he usually pockets a wad of cash and fucks the guy. 382 streaming videos and bonus access to 12 gay porn sties with 832 bonus videos.
Video info
Videos are streaming with option for pay to download.
382 exclusive, streaming videos in MP4 format. Aaptive player with 4 or 5 resolutions; newer are good quality and include a 4K version, older videos are poor quality, grainy and look better on smaller screens. Downloads require a paid upgrade.
Picture info
No pictures.
Bonus content
Members get access to 12 other gay porn sites in the same network.
Site issues
Pre-selected offer on dropdown menu near top of billing page. 7-day trial rebills every 7 days, not monthly. Where applicable, sales tax may be added to your purchase. You'll pass through a full-page ad when logging in. Memberships must be cancelled 48 hours before they expire or you may be billed one final time.
Membership cost of Bait Bus
There are pre-checked options on signup page. If left checked, you will automatically be subscribed to another site.
Trial: $1.00 (7 days, recurring $7 every 7 days)
Monthly: $29.99 (recurring every 30 days)
Yearly: $119.99 (recurring every 365 days)
Bait Bus Review
Bait Buddies is one of the original tricked straight guy sites where a producer and his female and gay male sidekicks pick up unsuspecting straight men in their van. The man thinks he's going to get lucky with the sexy woman, but he's tricked into getting a blowjob from the gay guy. As the session unfolds, the producer offers the straight guy money to fuck the guy's ass – and he does. Bait Bus has been around for many years; I didn't even know it was producing new scenes, but it is, and it's moved to a gay porn network, so we're logging in to see what's happening.
The straight guys here are a mixed of Caucasians and men of color, and they're sporting athletic or muscular bodies. Some are hairy, others are smooth, and they appear to be between twenty and forty years old. There's no real type here except that they're horny and want to get off. The gay guys are also a mix of types, and I've seen both slim and muscled guys doing the servicing. Are the tricked guys really straight? I can't say for sure. I didn't recognize many of them, so I'm assuming they are, but several of the men in the newest scene are guys I've seen popping up in gay porn videos.
Bait Bus used to get the tricked guy all riled up with thoughts of the sexy girl giving him head, but before she starts, they blindfold him, then the girl and gay dude swap. At some point the blindfold comes off, and the straight guy sees what's really going on. He usually freaks out, but the producer convinces him to continue fucking the guy by offering him a wad of cash. While this set-up is still common in scenes, many other times the producer offers the straight guy money upfront, and quite a lot of it, to forego having sex with the girl and get his cock serviced by the gay dude instead. Even other scenes have the blindfolded straight dude fucking with his blindfold still on, so he doesn't realize what has happened until the end. Older scenes use condoms while newer ones are bareback. 
Bait Bus offers 382 exclusive videos in MP4 format. The videos are available to stream in four or five resolutions, and they play in a player that resizes to fit your device. The newest releases offer a 4K version, but the older scenes don't. The newer scenes are also much better quality; the very oldest scenes are pretty poor - they're grainy because they're been enlarged from a smaller original version. These look better on smaller screens and mobiles where the quality is average at best. There is a full-screen option on the video player, but only the newer, higher quality versions look good when enlarged. Your membership doesn't include downloads - they require a paid upgrade. There are no picture galleries here, either.
Updates are getting more consistent at BaitBus, and they seem to be going for biweekly releases that usually happen on Tuesdays. However, in January 2023 there were no updates, February only had one, March, April, and May had two updates each, June skipped an update, but August had three. Since then, the site has been added two scenes a month.
When you join BaitBus you'll get access to the entire GayWire network of 13 bonus sites with 852 videos. Out in Public offers 186 scenes offering us outdoor or public sex like guys fucking in grocery stores, parking lots, or back alleys. Rub Him and its 139 videos take us onto the massage table where rubdowns get very horny in a hurry. It's Gonna Hurt is one of my favorites, with guys taking massive dicks in 81 videos. Gosh, those dicks are humongous! Haze Him has 61 videos featuring college hazing with naked pledges forced to do all kinds of things and UnGlory Hole gives us 101 scenes of glory hole sucking and fucking. There are a handful of other sites including some with Black men and bareback sex, but it's important to note that only BaitBus is currently updating. 
There are some downsides. First, you must cancel your membership at least 48 hours before it's scheduled to rebill, or you'll be charged one more time. When you log in, you'll land on a full page ad. Next, if you purchase the 7-day trial, which is a full-access pass, you'll be rebilled $7 every seven days until you cancel, and while this works to around the same as the monthly option, during months with five weeks you'll actually be paying more. Near the top of the the billing there's a pre-selected offer in a dropdown menu, and leaving this selected will commit you to another membership if you don't change it to "No thanks ..." Downloads aren't included here, they cost extra. While the models do have profile pages, there's no information about them, and there aren't even any links to their scenes. If you sit idle for too long, the site will log you out and you'll have to sign in again to continue.
One final thing - Bait Bus has been around for many, many years so the fact that they only have 382 videos, possibly because there are several large gaps in updates, like three years of no content from 2003 to 2006, but that leaves me wondering what happened.
Bait Bus was always a fun site with straight guys tricked into getting blowjob from gay guys and sometimes fucking them. It's always a hoot seeing the guy's reaction when he realizes the sexy chick isn't blowing him but that gay dude is. The site has 382 exclusive, streaming videos to watch on your desktop and mobiles, and they are currently updating every other week. With 12 bonus sites offering another 852 videos in a variety of fun themes, you'll have plenty here to keep your dick hard.
Things we liked
Exclusive content
Straight guys tricked into gay sex
Car and public sex
Site and videos are mobile compatible
Lots of bonus content
Things we disliked
Downloads require a paid upgrade
Updates inconsistent but getting better
Model pages don't link to their scenes