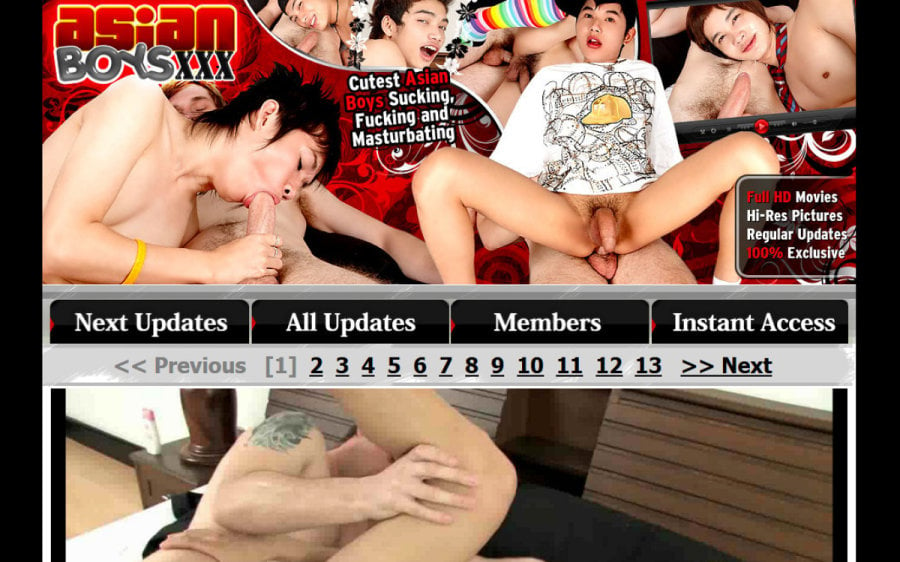 Asian Boys XXX has some of the cutest Asian twinks around and a couple boy-next-door amateur types. The models are slender with smooth bodies and hard cocks, and good news for foreskin lovers is that they are mostly uncut. Expect unshaved or trimmed pubes, and some of the models here have treasure trails, as well. Many of the guys are extra cute, and a couple have an androgynous look. A few wear typical schoolboy uniforms, with crisp white shirts and ties, but the rest wear casual clothes or are pretty much naked (always a good thing).
The action here varies - there's sessions with solo masturbation, fucking and sucking and some of the solo guys get touched and fingered (and once or twice fisted) by someone offscreen - probably the camera guy. A lot, although not all, of the fucking is done by a white guy - not sure who he is, but he obviously loves tight Asian ass, and who could blame him? The scenes take place indoors on a couch or bed, and the lighting and production values are good.
Asian Boys XXX offers 37 episodes, each with pics and videos, but unfortunately the site has stopped updating. The videos are available in big and beautiful HD, and are shown in WMV format at 1280x720. These videos are full scenes and look great - sharp, clear and well lit - and are definitely worth downloading, especially since the site doesn't use DRM, which is good news. There are no streaming vids, no mobile versions and no smaller sizes, but what is there I definitely like.
I was also very happy with the pics. Almost every video comes with a set of digital stills, and sets offer from 20 to over 150 pics - some over 250! The pics are shown at a size of 800x1200 or a little bigger. They're good quality, mostly well lit, and capture the boys at pretty much every angle. Because the pics are so good, I was a big disappointed that they weren't offered in downloadable zip files, but at least you can right click and save the ones you like best - and I'll bet you find some you like.
The big issue here is that the site stopped updating some time ago, so what you see is what you get. Also be aware that there's a pre-checked offer on the join page, so be sure and read it before you join. The join page lists $29.95 for a monthly membership, but once you get to the signup form, the price is $10 higher. Something that annoyed me is that near the top of every listing page in the site are two large ad banners for the other sites made by this company and one for a site from another company. And last, the few most recent updates feature guys who aren't quite as cute or engaged as the rest of the episodes offer.
Asian Boys XXX delivers some very cute and horny twinks in a mix of gay action and masturbation with some fondling and fingering by the camera man. The guys seem to have a blast being on camera in these exclusive HD videos, and all the movies are good quality and downloadable with no DRM. While the site is on the small side, currently offering 37 episodes, they are no longer adding new content and there are no bonus content to make up for it. Still, I think that the Asian Boys XXX twinks are some of the cutest and sexiest I've seen, and the content quality is a big plus, even if the site has stopped updating.
Click here to visit Asian Boys XXX
---
Bookmark and Share
---