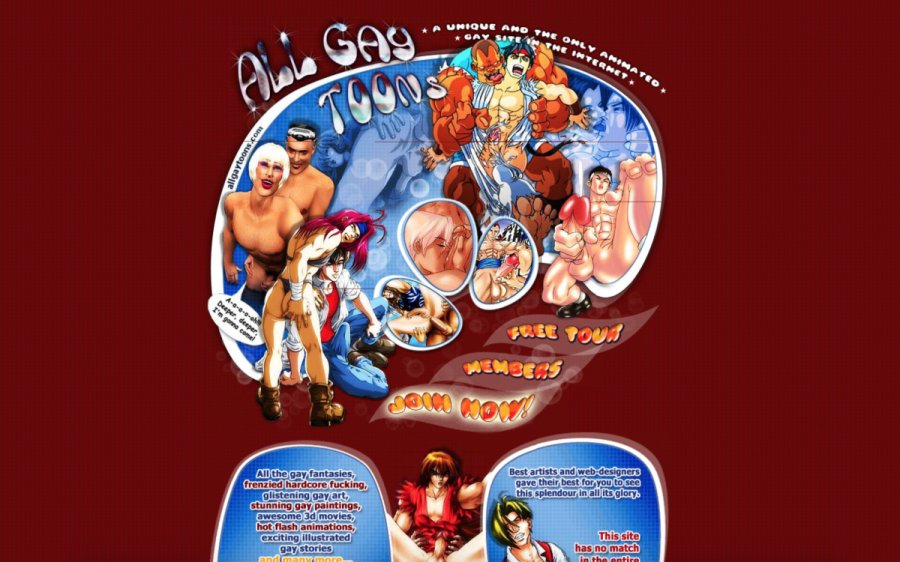 Today we're revisiting All Gay Toons, a site featuring a variety of styles of toons including anime, western erotic art and 3D rendered art. You'll find colorful, stylized hunks with impossibly large cocks, hardcore toon duos sucking dick and fucking, sometimes in romantic fashion. Beautiful, slender twinks with blue hair lick cocks, and I found a few super heroes in tight costumes with enormous bulges. Massive men with fantastic muscles are serviced by partners with giant poles, toons using huge dildos, and the occasional demon or alien has his way with horny toon guys who can't seem to get enough.
Next is the cartoon art of Robert Young. He's a talented artist who obviously loves the male form, and not only does the site have some colorful - and clever - toon art of his, but also pen and ink drawings that are hot and sometimes quite realistic. My favorite section of the site is Mr. Young's Passion Comics. This 64 page porn serial features horny guys, sex between coach and player and a story with - get this - an actual plot. I'm a sucker for comic art, and these guys were well drawn, and the sex was hot. Before I knew it, an hour had passed. Good stuff! And there's more.
All Gay Toons offers 68 pages of galleries, 4 videos that come with screencaps, 2 self-hosted comics and a third party comic, 10 stories that each come with a toon, animated gifs, games, a second set of stories and some non-toon bonuses. Most of the pics - particularly the anime images - are sized at about 600x760. These are good quality, well-colored and cover a variety of topics; posed pics, hardcore action and masturbation.
The 3D Movies are hot if you're into rendered art, and there's some kinky stuff in these videos. Sex with a devil, sex with dinosaurs, almost naked men wandering the streets and some spectacularly hung men getting all the sex they can handle - and these toons can handle a lot of sex. These movies are a little weird, but in a good way. Each is 9 to 10 minutes long, comes in 2 sizes - the higher quality version shown at 480x360 and the smaller at 320x240. Quality is okay, but the vids could be sharper. They're downloadable and use no DRM. Each video comes with a set of vidcaps.
There are 5 galleries in a section called Miscellaneous Artworks and 10 Flash animations with sound. There's also a feed called Hot Rod, which is a satisfyingly dirty comic, done comic book style. There are over 200 pages, and Rod and his friends seem to suck a lot of cock and shoot a lot of cum. Hot Rod comics are short on plot, but there's plenty of very hardcore gay sex and a few laughs, too.
The 10 stories in the Illustrated Stories section are worth mentioning separately. Each has a single pic at the top of the page, and these are hot and very nasty, not to mention well done. You can read each story - and some are down and dirty, and written in colloquial English - and click the pic to see a slightly larger version that you can save for later if you wish.
All Gay Toons also offers self-hosted bonus content that aren't toons - they're text-only stories, photos and videos. The videos are one minute WMV clips and the photos are older but could be worth checking out. There's also links to live shows and adult personals, but members must pay extra to make full use of these features.
Does this site have any issues? As already mentioned, the site doesn't update, so don't expect any new content to be added. Also some of the pics look like they were straight toons that were altered so that the characters that were female are now androgynous - or sometimes not so androgynous, which makes for a few weird pics.
All Gay Toons isn't a big site, but toon sites tend to be smaller and this one is at least a competitive size; there's also a lot of sections and styles. The site features 4 movies and the rest of the content is pics and comics, but for those of us that love gay adult comics and art, the site does have enough to keep you busy for several visits - especially if you read the comic books, although its been some time since new content was added. Since I love erotic and comic art, I enjoyed the toon men with huge erections and active toon libidos, and spent some time with the comics, and those into anime, western and rendered art may find All Gay Toons is worth joining for a month.
Click here to visit All Gay Toons
---
Bookmark and Share
---