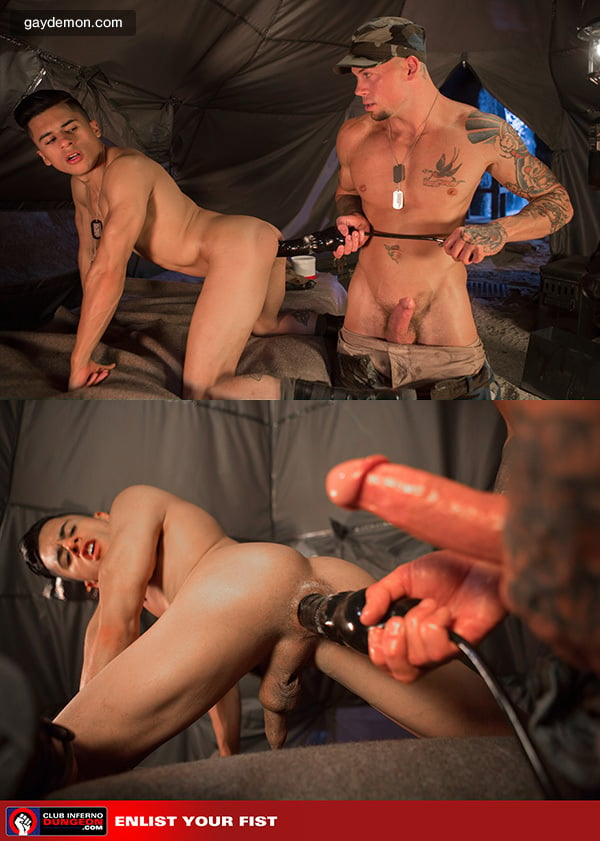 Have you ever had a cock up your ass and wished there were more? In this scene from Enlist Your Fist, Sean Duran shows Armond Rizzo how good an inflatable dildo feels. I've played with these and they're a lot of fun. Each pump of the bulb sends more air into the inflatable cock shoved it your ass, and it feels so good. I like these things a whole lot better than your regular big-as-your-fist dildos.
In this Club Inferno video, private Armond Rizzo is alone in his tent and he's horny, so he grabs a butt plug and starts having some fun. Sean Duran hears Armond's moaning and takes a peek inside the tent. He sneaks in and pulls out his stiff dick and watches. Then he scares Armond when he touches the soldier's ass. But when Armond sees Sean stroking his dick, he assumes the position back on all fours and lets his new fuck buddy play with his ass.
And that's where the inflatable dildo comes in and Rizzo loves it. I was dying for Duran to shove his big dick in Rizzo's ass, but it's not that kind of scene. Duran continues shoving various toys up Armond's hole until both guys are ready to spunk and they let it fly.
See more at Club Inferno Dungeon