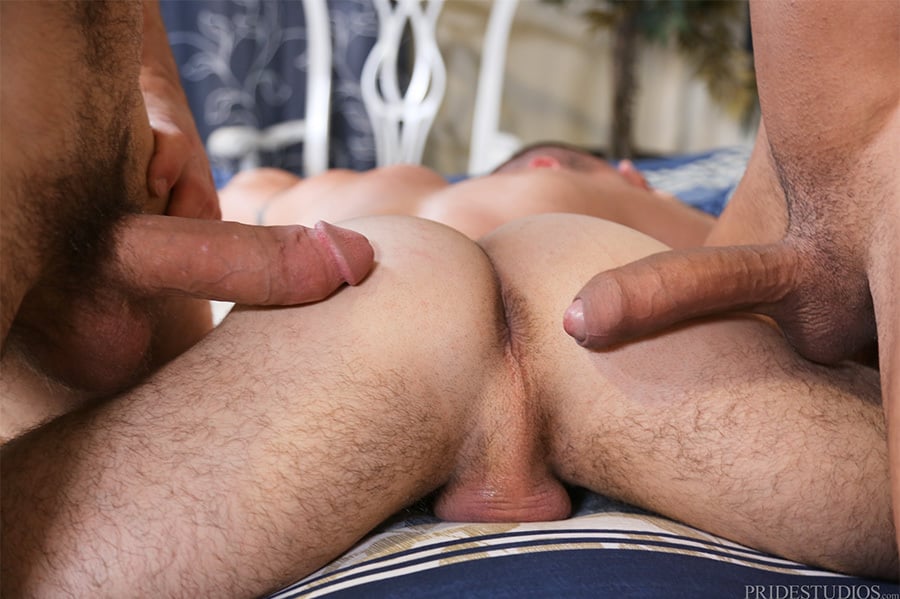 Isn't that a great picture? With a giant cock lying across each butt cheek, there's no question about what's going to happen here, is there? In fairly short order, those two big dicks are going to be plunging that bottom's smooth pucker. The only questions are these: Who is the bottom? Who are the tops? And is the thick cut cock or the long uncut dick going in first? Come inside and find out.
Top Affair 3 is the finale that brings Tommy Defendi, Mario Dacosta, and Braxton Smith together is one monster cock spit roasting. Tommy and Mario are hanging out and figure out that they each fucked the same cock-hungry bottom this week. In the first episode at Extra Big Dicks, Tommy was waiting for a friend at the park when beefy Braxton cruised by, shaking his tail and nodding for Tommy to follow him into the washroom. (Tommy Defendi is definitely not someone you want to try and have a discrete fuck with in a public toilet -- he's a loud fucker.) They screwed on the floor and Tommy sprayed Braxton with his big load.
In the second episode, Mario Costa is getting changed at the gym and Braxton can't stop staring and finally says, "You've got a lot going on there." Mario grabs his crotch and says, "You wanna suck it?" Braxton kneels, and after some pretty good sucking, he gets his ass plugged right their on the locker room bench. Having told their stories, Mario and Tommy are sufficiently horned up, but they're both tops, so Tommy texts Braxton to say that he's coming over. When Braxton opens the door he sees both of his latest sexcapades standing there. He's a little embarrassed but he invites them in and drops to his knees.