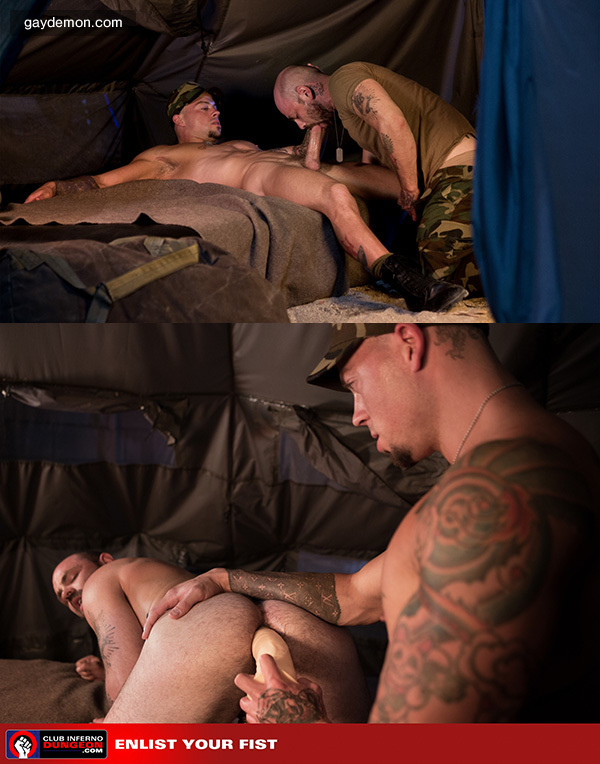 Sometimes all I can do is shake my head and laugh. So here's the set-up in the latest Enlist Your Fist from Club Inferno Dungeon. Sean Duran has already shoved a few dildos up soldier Armond Rizzo's ass in scene two and I guess Rizzo has been blabbing because Rogue Status shows up at Duran's tent looking for a dildo, or a hand, or whatever Duran is in the mood for.
After some deep dick sucking, Rogue assumes the position fours and Duran works a giant dildo into his hole. All of a sudden Rizzo busts in with his squeaky little voice yelling, "What the fuck is this?" Not only is Rizzo going all Glenn Close because Rogue is playing with his man, but this bottom has Rizzo's favourite dildo buried in his ass. "Take the toy and get the fuck out," Rizzo yaps.
Rogue Status gets up and leaves. Are you fucking kidding me? Rogue could have swatted Rizzo like a fly. I don't know what kind of power this soldier has over these guys, maybe he's sucking the sergeant's cock. And I was really more interested in see Duran finish off Rogue's furry butt -- we've already seen Duran and Rizzo play -- but Rogue pulls up his pants and scurries off with the greased dildo in hand. Then Rizzo starts giving Duran a heap of grief. And he's got him shaking in his boots! Duran spends the next several minutes making it up to his butt buddy by shoving big dildos up his ass.
See more at Club Inferno Dungeon