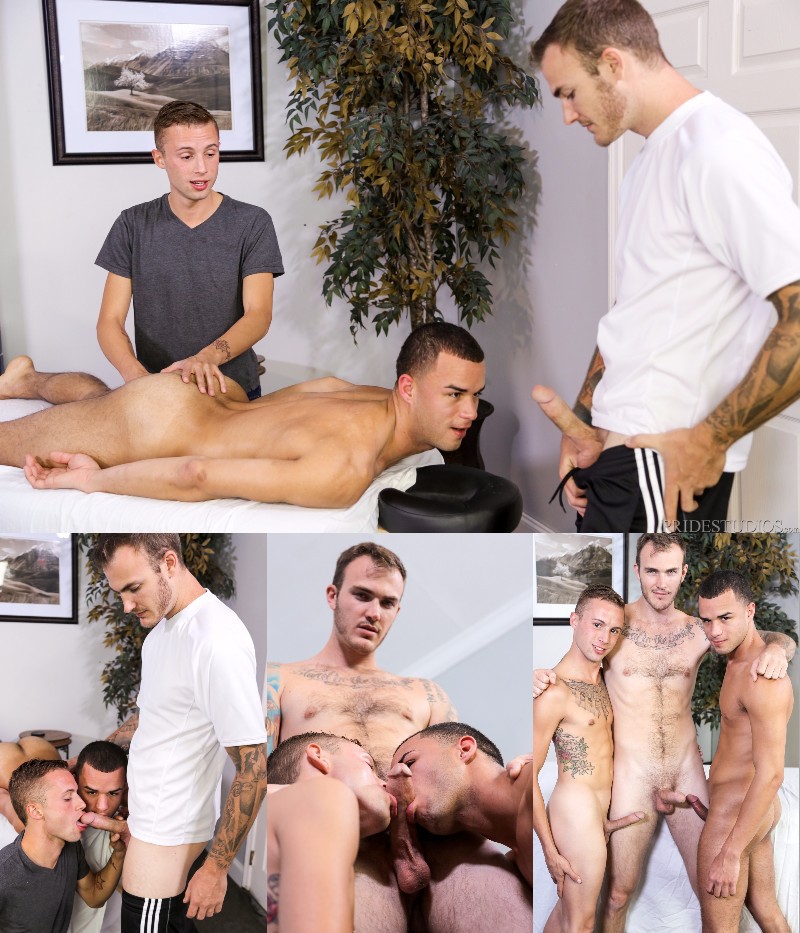 Get a 3-day trial at Extra Big Dicks for $1.00
Javier Cruz and Sean Christopher have been in a relationship for a little while and they've come to see sex therapist Christian Wilde because things just aren't as exciting anymore. It seems that once the pitter patter of little hearts slowed down, the boys figured out that they were both bottoms. Don't you hate that? They really want this to work, so they hope Wilde can help them out.
Christian Wilde is another performer who has been around for eons. Did you know that he actually got his start at Next Door Buddies? And this was back in the day when the site was a real amateur straight guy site, before anyone even coined the term gay-for-pay. He was a sexy guy back then, fresh faced and not many tatts, if he had any at all. He's still a sexy guy and I enjoy watching him.
Dr. Wilde recommends suggests that they need to explore their sexuality instead of just labeling one another. Javier strips and lies down on the massage table and Chrisitian teaches Sean how to use his hands to explore his partner's body. By the time the therapist moves to the front of the table, he's tenting in his pants. He figures a threeway is just what this pair needs, so he pulls out his boner. Now how's a big-dicked top going to help two bottoms figure out how to satisfy each other? Just asking.
Now the therapist has two horny lads ready and willing do his his bidding and he tells them what to do to make his cock feel good. Wilde orders the couple to bend over the massage table and present their asses. He fingers their holes open, then he fucks them one after another. I wonder how one finds a therapist like this, although I'm sure most HMO's or government health plans wouldn't cover Dr. Wilde's services. Still, it'd be fun to pay for a session out of pocket, don't you think?