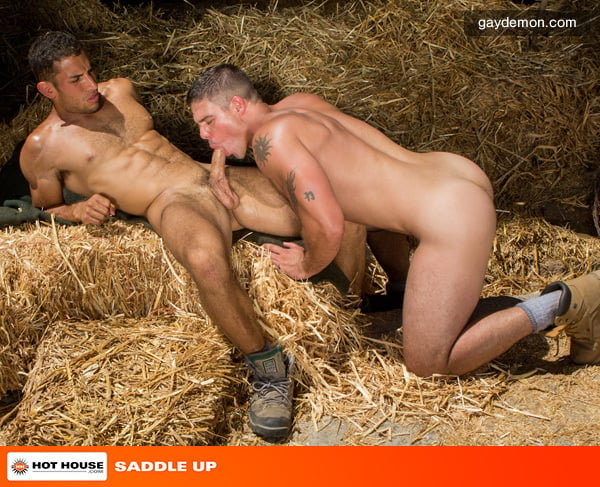 Cowboys and farm hands are sexy fodder for our cock-addled brains, like Derek Atlas fucking Ricky Decker in Hot House's "Saddle Up," but there's a reason that we don't see more farm action in gay porn: Hay is razor sharp and it's attracted to sweat, and even with a blanket between your ass and the hay bale, a lot of that prickly stuff is still going to find it's way in your ass crack, on your junk, in your hair, inside your socks and shoes, and all over your back.
Derek and Ricky make it look sexy to suck and fuck on this mound of hay, but I worked on a dairy farm for a couple of summers during high school and I can pretty much guarantee that they were stopping and starting so the crew could blow straw off their bodies. And let's not talk about how hot it is fucking in the sun, although we like sweaty, glistening bodies, don't we?
Still, the fantasy of a couple of farm hands dropping their pitch forks and taking a 30-minute cock break in the sun is bone inspiring. Derek gives Ricky the eye and his buddy is down on his knees slurping Derek's cock and getting it ready for his ass. But he's got a long time to wait because Atlas likes the feeling of Decker's big cock in his mouth. But eventually Ricky gets what he wants -- a long, hard fuck in the sun.
This is Derek Atlas first feature as a Falcon Studios Group exclusive, and if I remember correctly, this performance was the one that got FSG president Chris Ward chasing Atlas to sign on the dotted line.