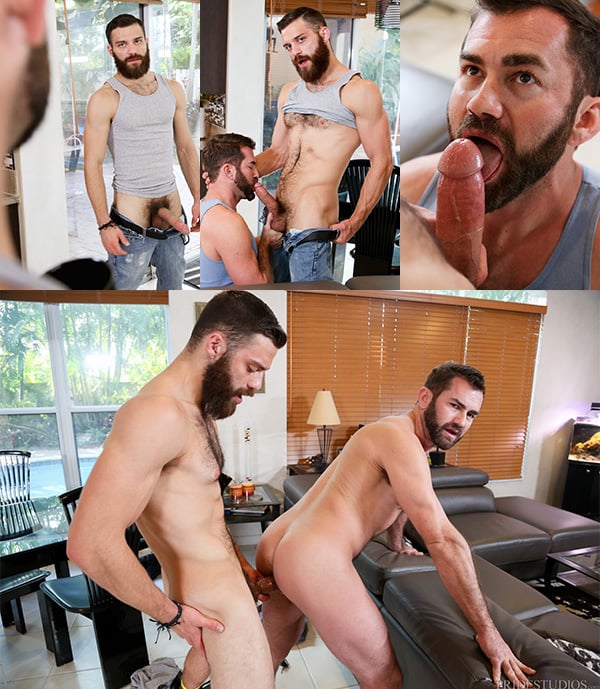 Tommy Defendi's new bushy beard is quite polarizing. Guys either think he looks like hell or they're quite attracted to his new hipster or Amish look, whatever you want to call it. I fall into the latter group. I've been distressed for months with all the bare pubes and sculpted eyebrows that have been taking over not only the gay porn scene, but gay men in general -- I hate that a lot of men have stopped looking like men. So I'm quite happy to see Tommy bucking the trend and bushing out his beard.
In this scene called "Pardon My Garden" from Extra Big Dicks, Jake Jennings heads downstairs for him morning coffee. He's unaware that the gardener is working in the backyard. He's even more unaware that the landscaper has pulled out his large cock for a quick wank. Jake is embarrassed that he's walked in on Tommy, and the gardener is afraid he's going to be fired.
Tommy stammers an apology, but his big dick is still hanging out of his pants. "I'm sorry, I don't want to lose my job," he says. "But once it gets hard I can't stuff it back in my jeans." Jake can't take his eyes of the gardener's beautiful penis and only replies, "You're not going to get fired." Tommy moves closer and Jake drops to his knees and begins helping Tommy solve his erection problem.