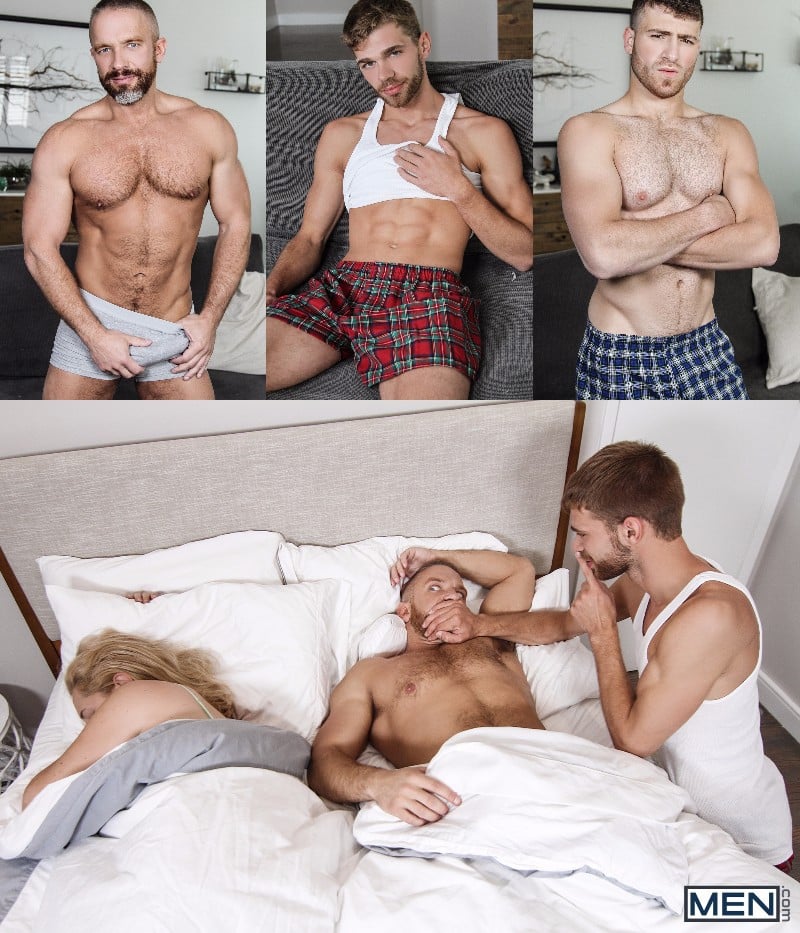 Watch the Whole "Stepdick" Series at MEN.com
MEN.com put sex with the stepdad on the map with Dirk Caber fucking Johnny Rapid in Stepfather's Secret, and he's played the dirty dawg Dad several times since. So it's only fitting that they call Caber back for their new series called Stepdick. Caber has sex with both his stepson, played by Dalton Briggs, and his son's lover Vincent Diaz. But there's an extra bit of fun in this series.
The theme of stepfathers and stepsons fucking was getting a little tired, but I have to say that MEN.com steps up the excitement (pardon the pun) with Stepdick. In the first part, Vincent Diaz is on his knees sucking Dalton Briggs' big cock when stepdad walks in the living room. Dirk Caber doesn't seen Vincent at the front of the sofa and the lad continues quietly sucking Dalton's cock while father and son have a brief exchange about watching a game later. Dirk leaves and the pair of boys fuck up a storm.
In the second scene, Dirk hears moaning coming from his stepson's room in middle of the night. When he cracks the door he finds Vincent jacking his dick on the lower bunk. Dirk sneaks in and has sex with his son's friend and Dalton sleeps through the whole thing on the upper bunk. A little jealous that his buddy got fucked by his stepdad, Dalton gets his revenge in the third scene. He creeps into his parents' room, cuffs Dirk's mouth so he won't wake his slumbering his wife beside him, then Dalton proceeds to suck his stepdad's dick. The pair head finally out to the living room where Dalton fucks the bejesus out of Dirk.