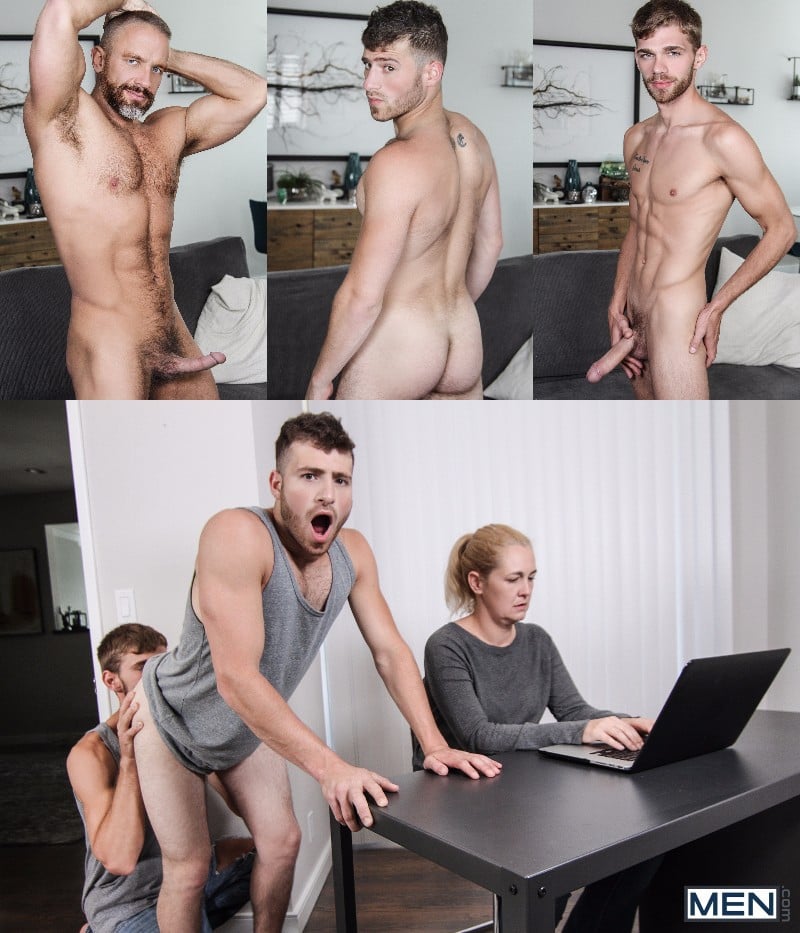 Have you ever done this? Pulled down your buddy's pants and eaten out his ass while he's talking to your mom? No? Well, welcome to Pornland where anything can happen, and does. This scene wraps up the fourth part of MEN.com's Step Dick and brings Dalton Briggs and Vincent Diaz together with dirty stepdad Dirk Caber for a horny threeway.
Poor Dalton's Mom is so over worked, so oblivious to her son Dalton Briggs rimming and fucking his friend Vincent Diaz right beside her on the desk. Mom needs a day off! When stepdad Dirk Caber sneaks in behind them, the trio decide things are getting a little too close for comfort. "I'm going to go," says Diaz. "I think I'm just a distraction." Mom doesn't even look up from her laptop. "You think?" she grunts. It's stupid, but fun, and who doesn't like a good laugh with their porn?
In the living room, the three men hit the couch. Stepdad and stepson flank Diaz, one stuffing his throat, the other fucking his ass. But Caber isn't going to let his stepson's big dick go to waste and he lies across the couch and gets his ass fucked, too. He also gets another helping of Diaz's dick. And when they can't hold off any longer, stepdad and stepson blow their cum loads all over Vincent's chest.