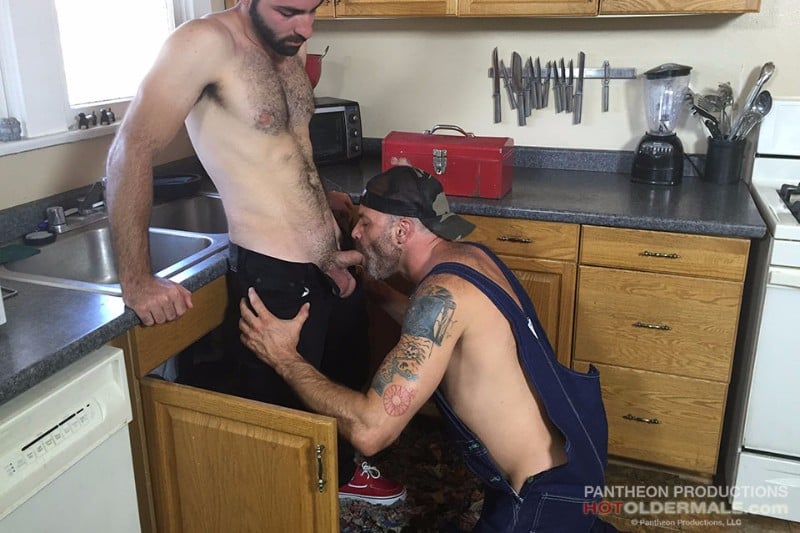 Watch Plumber Dave Rex Fuck Hairy Homeowner
Has this ever happened to you? You're standing in the kitchen with a hunky plumber on his hands and knees with his head buried under your sink, suddenly he reaches for his wrench on the counter, but he grabs your crotch instead. Come inside and see how this sexy daddy plumber cleans a hairy dude's pipes.
Dave Rex is a 44-year-old daddy with a rock-hard, slender body. He's sporting a nice pelt of fur on his belly and chest and even some curls across his shoulders, and as you'll see when he's fucking Anthony Naxos, a bit of back hair, too. He's wearing salt 'n pepper face scruff and he looks a bit like porn hunk Carlo Cox. And I'd be remiss if I didn't mention his big, meaty cock, which Hot Older Male says is 9.5 inches long. Whoa!
After Rex mistakenly grabs Anthony's crotch, he hauls out the homeowner's dick and gives it a suck, but it's not long before the plumber has Anthony on his knees gobbling his meat. Then Anthony lies back on the counter and hoists his legs while Dave positions himself between his legs. "Shove that huge cock in me, Daddy," Anthony pleads. And Daddy does what he's told ... well, he was going to anyway.