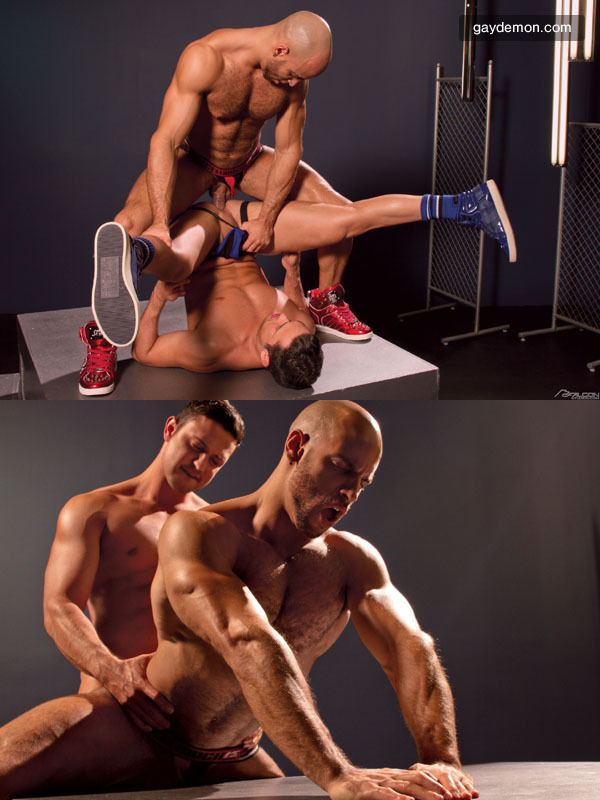 Falcon Studios have aptly called this amazingly intense and sexual scene "Stunners" - it stars two handsome, muscular and masculine guys - Sean Zevran and Josh Conners. They are well-suited to be filmed together too; both have amazing physiques - Sean is more massive, muscled, hairy and with bulges all-over the place (including a large one inside his jockstrap); while Josh is smooth and well-defined, nicely toned, with meaty pecs and lips that were made for kissing - and for sucking!
One watches in wonder as things start off - there is always a little thought in the back of the mind when watching two masculine men like these together - who is going to be the bottom? Well, I was pondering this thought when Sean's enormous cock plopped out of his red jockstrap and Josh moves in to go down on it. He services that boner with gusto, drenches it in saliva, sucking with amazing enthusiasm - when suddenly things change and Sean turns around and offers his hairy hole to Josh's eager tongue. Ah, I think to myself, Sean's gonna be the bottom today. And I am right, as once that amazing rimming ends, Josh rubbers up and rams his hard cock deep into Sean's bubble butt!
But then the twist - which I wasn't expecting - happens. All of a sudden it's now Sean who is now doing some rimming - on Josh's tight little back door and I think to myself; is this gonna be a flip fuck? Yep, major boner time! I really love watching two masculine men in a flip fuck session! Josh slaps Josh's butt cheeks as he expertly prepares his hole. Pre-cum is dripping out Josh'd piss slit and down onto his stomach with the anticipation. Then Sean stands up and impales Josh's hole in one well-aimed stroke and the rhythmic fucking begins. These two guys are simply made to fuck each other - and as the tile says - they truly are "Stunners"!