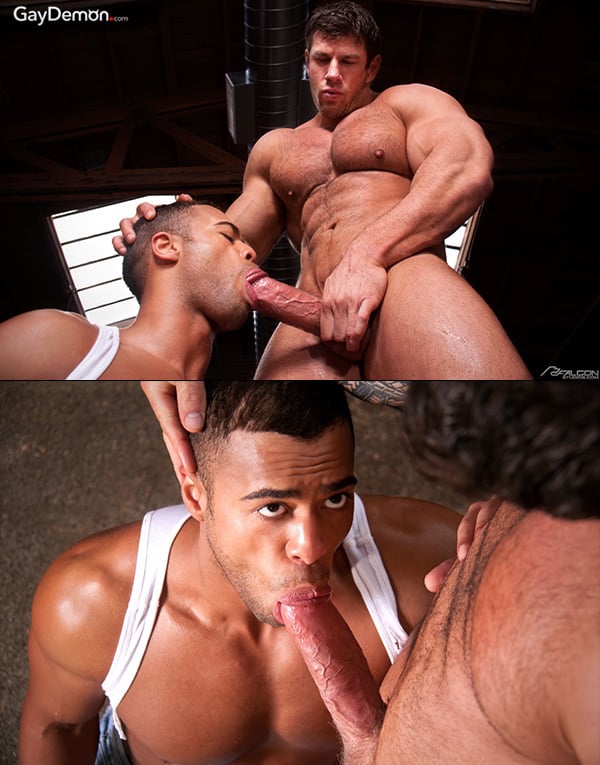 You'd think gay porn stars would learn by now: don't announce your retirement from gay porn until you haven't made a video for two years. After some final scenes with Jocks Studios last year, Micah Brandt announced on Twitter that he was retiring from gay porn: "I'm not dead, nor do I have an STD," he said. "I've left the industry for an extended amnt of time so I can gain back the confidence I lost whilst in it." Fair enough; I guess maybe he didn't retire so much as wanted to take a break.
Well, it seems he got his confidence back, because he's appearing in a new scene for Falcon Studios, and he's bravely submitting his ass for a deep fucking at the hands of Zeb Atlas. And it takes some courage for any bottom to do an anal scene with Zeb. First, the bodybuilder is massive and has a lot of ramming power built up in those muscles and mammoth thighs. Second, Zeb Atlas is pretty well hung, so letting him shove his big, thick cock up your ass is going to be challenge, especially if you haven't done a scene for a while.
But Micah Brandt does perfectly fine, lying back in the bed of a pick-up truck and getting his hole stuffed with this over-sized bodybuilder's meaty hard-on. Welcome back, Micah, we've missed you! And Zeb, we always love watching you drill horny bottoms!