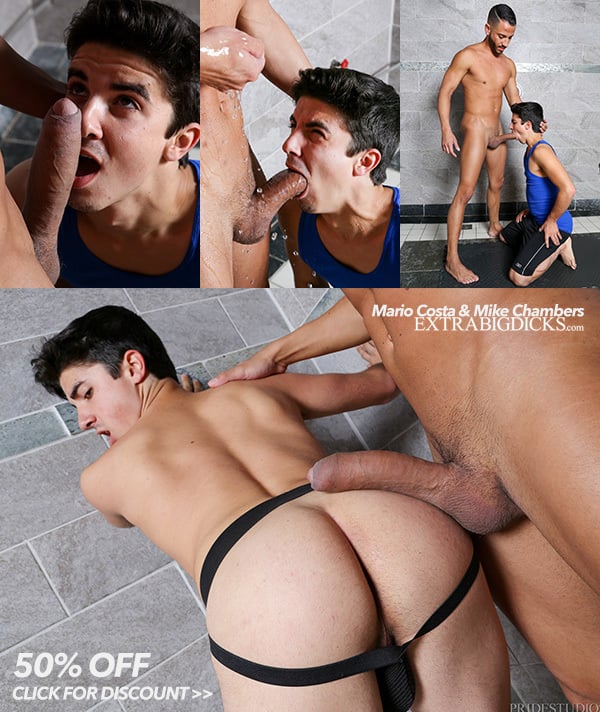 I wish porn gyms were real gyms. You know, the kinds of places where you can bend over in the showers and take a ginormous Cuban cock up your ass. Try as I might, this has never happened to me. How about you? Do you have a dirty gym story? Mike Chambers sure does. He's the cute, dark-hair bottom getting his tiny bum stuffed by Mario Costa in Extra Big Dicks "Wet Fun." But Mario's 9.5-inch cock isn't the main event here, Mike's massive cum gusher all over Mario's chest and belly is the scene stealer.
Mario is showering after his workout and Mike is standing off to the side, watching and groping his crotch. "You like what you see," Mario finally asks. "Why don't you come over here and suck my dick?" Mike fumbles an excuse, he thinks he has to go -- dude, what could be more important than seeing how much of this niner you can slide down your throat? Mike does eventually give in and drop to his knees, and in spite of lots of head pushing, he can't manage to get more than half of it in his mouth, and I'm being generous.
Mario bends Mike over and leans him against the wall and shoves his humongous dick inside Mike's tiny butt. After getting his hole warmed up and stretched out, Mike sits on Mario and rocks on his meat. Mike starts bouncing hard, he's seconds away from blowing his massive load -- nine pumps of creamy white jizz up and down Mario's smooth skin. Mario is completely and utterly drenched.
By the way, over the years, Mario Costa has appeared on Extra Big Dicks 22 times.