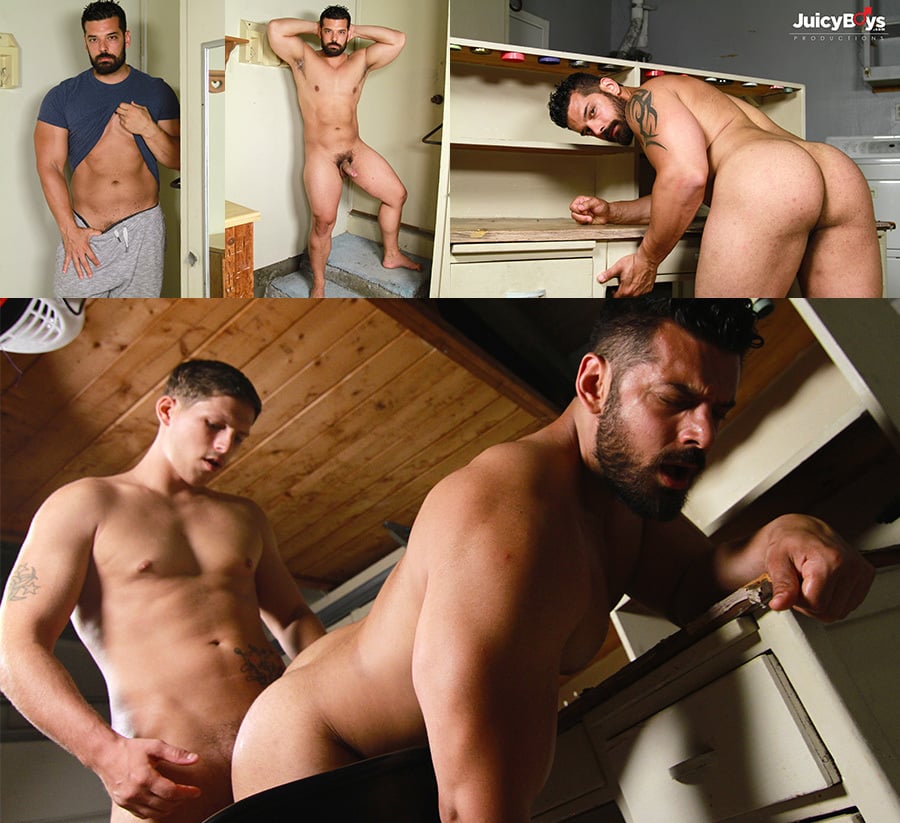 What a way to end the summer with Marcus Ruhl returning to porn filming. I always loved this big, beefy hunk and his gigantic ass, so I was pretty stoked when tweets started popping up on his feed that he was coming back. I don't know how long he's been gone, but it's been a couple of years I think -- far too long. But that's only half the news. His Juicy Boys scene with Roman Todd brings him back to Pornland, but it's his first bareback scene.
In The Garage, Marcus Ruhl posts an ad online and he's looking for sexy guys who want to make a quick buck. Roman Todd replies and says that he'll do anything for the money. Be careful there, Roman, anything is a big word. Marcus gives him the address and tells him to go into the garage when he arrives. A while later, Roman shows up and finds the hunky, bearded stranger greeting him with a camera. Remember Roman, you said you'd do anything. Marcus orders Roman to strip and sit in a chair, then Marcus walks over and leans his arm on the desk. Pulling on his cock he says, "So you're willing to do anything for that money?" Roman says again that he is. "Are you willing to suck this cock for the money?"
"Guess so," Roman says, then he leans in and swallows Marcus' fat uncut dick. But this straight guy isn't getting off with a quick blowjob. Marcus tells him that if he wants to leave with a pocket full of money, then he's going to have to fuck Marcus' ass and fill him with his jizz. I would have preferred a more dominant hunk slamming Marcus Ruhl in his return scene, someone as impressively big as he is, but Roman Todd does in a pinch. He fucks Ruhl's butt and creams all over his hole. This is the first part of a new Juicy Boys series, but I'm not sure if Marcus Ruhl is featured in the whole series, or just this episode, I'll keep you posted.