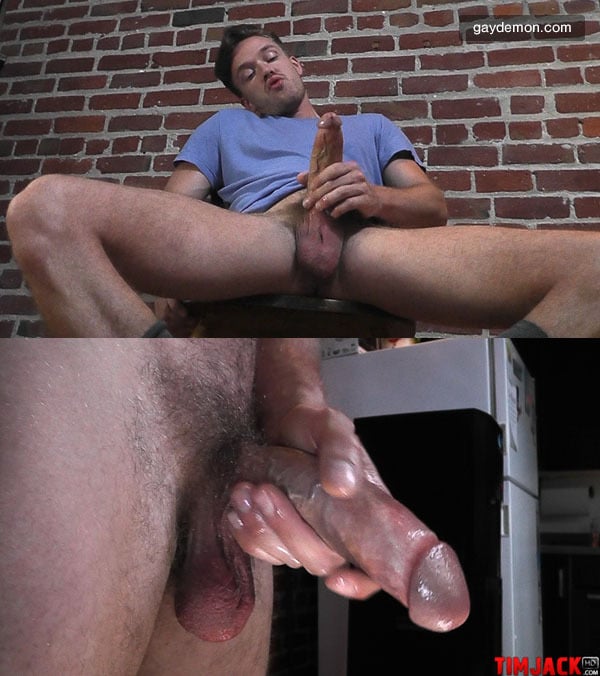 Lucas Knight is a good looking, masculine guy with a big fat cock, and in this scene from Tim Jack he gets to show us all just how far he can shoot his cum load...
Treasure Island Media Director Paul Norris was recently looking thru the background files of their Exclusive models, and something in Lucas Knight's original casting questionnaire stood out. His answer to the question: "What are your Turn On's?" Lucas had replied, "Showing how far I can shoot!" Well, that naturally piqued Paul's interest and he took the idea and used it in today's scene - let's see exactly just how far Lucas can shoot!
Lucas is a blue-eyed, brown haired masculine hunk of manhood. Six feet tall, 27 years old, unshaven look, with a very sexy smile and a nice fat, 8.5 inch piece of dick hanging between his legs. The scene starts off with Lucas taking off his pants and releasing his already rock-hard cut cock from his underwear. As he slowly strokes it, we get some nice close-up views of his face showing just how much Lucas loves to jack off - he is really relaxed, in his element and totally enjoying himself. Soon he stands up and removes all his clothes and we get to see what a really nicely defined body he has, as the camera gives us a tour of both front and back. Lucas's balls hang low and dangle back and forth as he jacks his well-lubed cock until he reaches the vinegar stroke. The cameraman quickly backs out of the way as streams of cum squirt past him onto the floor, landing in dozens of big white drops up to several yards away. Then it pans back up to see Lucas's face, with a very sexy, knowing smile, and then back down to his spend dick, all soft again, head hanging down, happy and content - it certainly showed us exactly what it is capable of - lucky Lucas!