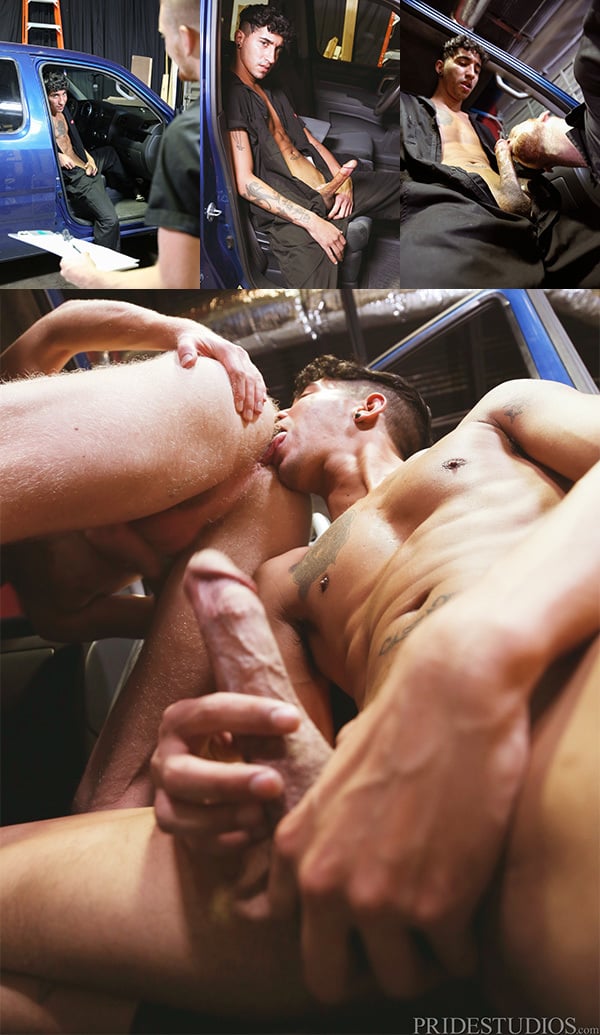 JD Ryder arrives at work to find that he's alone in the garage. So, before getting to work on a pickup truck's motor, he hops in the front seat and pulls his dick out of his coveralls. JD is enjoying his stroke session until he notices Billy Warren standing off to the side with a big grin on his face. How long has Billy been watching? "Do you like what you see?" JD asks. Billy nods, then JD asks if Billy wants to suck his cock. Who wouldn't? JD has a long dick that would get any cocksucker revving hard. This is Extra Big Dicks after all and JD Ryder fits right in.
This scene is called "Horse Power" and it got me extra churned up because it reminding me of an episode that happened many years ago. The summer before I headed off to university I worked at a gas station on the highway. Late one Sunday night, when the traffic heading back to the city had died down, a sexy man came in for a fill up. After he paid for his gas, he put the moves on me, so I took him inside the garage and blew him on my boss' desk. I wanted more, did a quick blowjob was all I dared risk.
In "Horse Power" Billy leans in the front seat and swallows JD's big dick. He polishes JD's cock head and gets it glistening with spit before sliding his lips all the way down this delicious shaft. What a way to start the morning, a blowjob from a hungry cocksucker is certainly better than a cup of coffee. But JD wants more, and he gets it. He bends Billy over the side of the pickup and fucks his hairy ass.