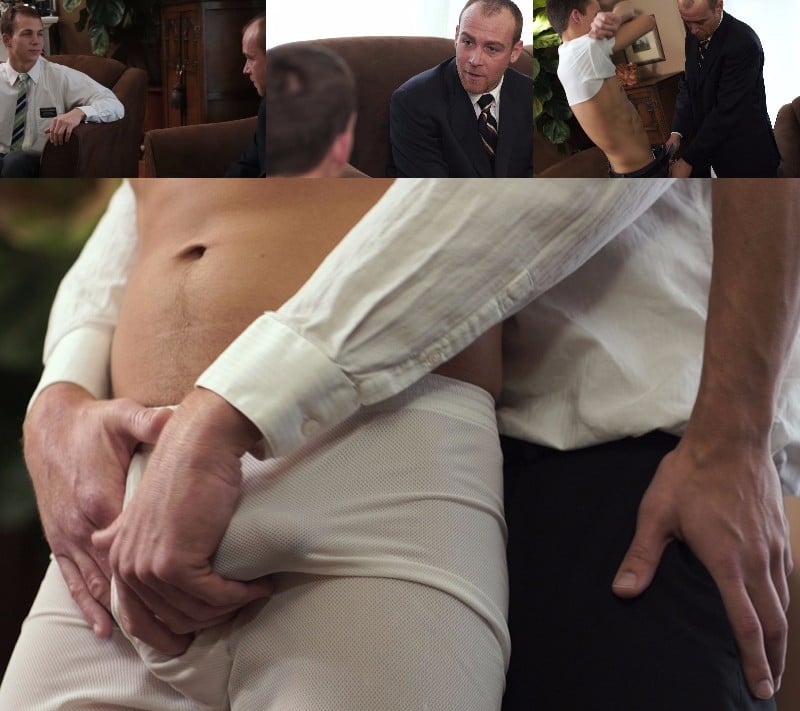 I don't know the story here, some older Mormon is perving on some younger Mormon's ass. Does it really matter if it's an interview, an initiation, a baptism, a conversion, or whatever other ritual they've dreamed up to satisfy their wicked pleasures? It's Mormon Boyz and some horny lad is always taking care of some daddy's dick.
Okay, I lied, I do know the story. But does it matter? Well, it sort of does because the back story is even more wickedly horny. Elder Lindsay has just been taken over Patriarch Smith's knee and punished for his countless sins with a hard spanking, but the lad got so excited that he blew his wad on the patriarch's leg -- while he was getting his beating! Lindsay thought he was going to get another walloping -- he hoped anyway -- but instead, Smith handed him over to Brother Daniels for something called an invasive evaluation, which is Mormon code for "I'm going to stick my long cock in your bum."
Brother Daniels and Elder Lindsay have met before when Daniels sucked off the lad in the Temple. Lord, these men have no shame. This time they're going all the way and Brother Daniels gets another taste of lad before he slides in deep and fucked Lindsay in a long, slow session.