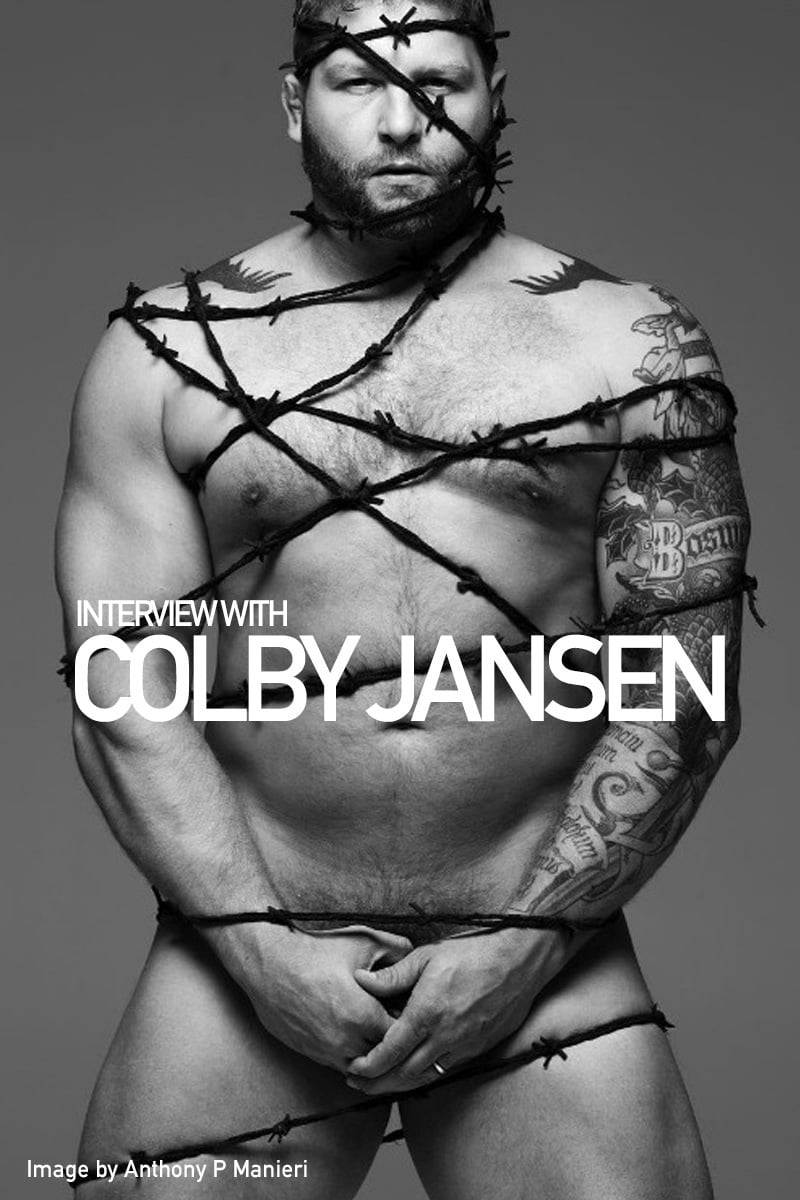 GayDemon interviews gay porn star Colby Jansen and talks about his career, interests, and inspirations.
Hi Colby! Thanks for doing an interview with us. We're excited to see you're launching a new site with predominantly a sports theme. Can you tell us a bit about that first?
It's sort of my fantasies come to life combined with sports themed scenes and sort of exaggerations of real life scenarios that have happened, like the office scenes.
How long have you worked in porn now? Tell us about how you got started.
I started in straight porn back in 2008 for a company called "Reality Porn Theater". The girl I was dating at the time was also a stripper and was like, hey do you want to do porn with me? And I was like ummm, FUCK YES!
Then while I was there, one of the male models was like, hey if you want to make some real money (the straight scenes paid $300/shoot and I did 4) you should talk to these guys I know, Doug & Jay (of Doug & Jay Productions, that owned "Amateur Straight Guys")
My ultimate fantasy, which is something that may happen, is to have two or three guys, bound hands and feet in a doggy style position - faces towards each other so they can kiss and see what's happening.
So, that was also the time when I was having a crisis of sexuality, I was hooking up with guys off of manhunt.net all the time. And then I was like fuck it, let me get paid to do this. And I sent an email with my pics, and got hired.
I did that but was afraid of being found out, also I married TS pornstar Gia Darling at that time - and thought we could live I obscurity near Buffalo. Well the shit hit the fan, people found out about the gay porn and that she was trans, really fucked up my family life (thanks to the asshat who did that btw). So I decided to go back to porn, but I had a plan this time, thanks to Gia.
What would you say have been the highlights of your porn career so far?
Being an exclusive for men.com for as long as I was, doing well over 100 scenes for them and other studios are certainly major highlights. But honestly the highlight for me now is being able to run my own site the way I want it done. To be in the position that I am in now is just very gratifying. I just know I have to work harder than ever and give my fans what they want!
Do you have a specific type or preference of models you like to work with?
I prefer to be bigger than the guy I'm topping. That's both in height and muscles, but I've done scenes with big guys, Marcus Ruhl and Jaxton Wheeler come to mind where I surprised myself on how into them I was.
If I'm bottoming, I want to be the smaller guy- but that's usually not the case since I'm 6'1" and about 250lbs (give or take). However, as long as there's passion and aggression, the type of guy doesn't matter- it's more about the chemistry.
Can you describe your ultimate fantasy for a porn scene. What would help fulfil your fantasies and who would you cast?
My ultimate fantasy, which is something that may happen, is to have two or three guys, bound hands and feet in a doggy style position - faces towards each other so they can kiss and see what's happening. Then I'd be behind them, paddling, spanking, caning and flogging their asses till they're beat red. Then, I turn them so they're side to side and start working their holes with dildos of various sizes. To finish, I stack them one on top on the other and fuck both or all three in succession, then when I'm about to cum, they all lay on their backs and I cover their faces with my load and they all kiss each other passionately swapping the cum.
(Now I'm gonna go jerk off)
What are you passionate about apart from your work?
Ahhh I feel much better... *grin*
I think anyone who is familiar with me on any level knows that I love the sport of rugby union. I've played for almost 20 years and coached and referred. A few years ago I became involved with the Bingham Cup and inclusive rugby. It's something that I think is very important as far as anti bullying goes and it also gives gay men of all ages something to do athletically - being part of a rugby club is not like being on a gay softball team. A rugby club, is a family. It's a band of brothers and the players, coaches, supporters and families have a deep connection and sense of community that is unlike anything else. I highly recommend that any and every gay man go seek out the inclusive club in his respective area. It's great fun, and you'll make lasting friendships and who knows, maybe even a husband.
Who do you find the most inspiring both in porn and in general life?
The gratification of seeing the finished product of hard work. I've put a lot of effort into my body to be ready for Colby's Crew and to see the final product just inspires me to work harder. Same goes for general life, I have man passions, and seeing where I was when I started golfing, painting or playing the guitar and seeing where I am now is pretty gratifying. And I'm horrible at guitar so it'll be a long time before I get the guts to play in front of people. My painting is something I'm more proud of, I paint miniature figurines- mostly Knights and ladies - medieval stuff. Sorta nerdy, but I have the first one I did and it's horrible, but still my favorite.
Do you have any goals for the future where your porn career is concerned?
I have a goal that I will eventually completely end up on the direction and executive side of porn. The first step is with Colby's Crew. I'm not in every scene, but I'm in most and I have input into everything we're doing. My ultimate goal is to make the kind of porn that I find hot and that will drive my fans crazy!
Name something your fans won't already know about you?
I was actually a really good baseball player and wrestler. I played first base and I could do a full split. So being so flexible, when I was like 14-17 or so (till I got too big) I could self suck my own cock. So I would do that for hours! I'd come downstairs and my mom was like why are you all red? And I always said I was doing push-ups!
What's your all-time favourite porn movie?
I don't know what it was called, but Dean Monroe was getting gangbanged. He's so hot and I was honored to be able to film with him.
Do you have a message for your fans? What would you like to say to them?
Thanks for taking the time to check out this interview. I really hope you like Colby's Crew and I just want to say that what we've done is pretty hot, and I just think that as we grow and get more creative it's just gonna get hotter!! And also feel free to tweet me, or email me with ideas or suggestions on what you want to see. This is about what you the viewer want to see! Thanks so much!
Thanks again for talking to us. We'd love you to come back soon for a catch up!